Previous Page
General Info
COVID-19: CLOSED PORT

See Biosecurity for details of the latest yachting protocols.
Description:
Nagasaki is a large natural harbor on the NW coast of the island of Kyushu.
Dejima, in downtown Nagasaki, was the only port open to foreigners (specifically, the Dutch) during Japan's isolation period from approx. 1639 to 1868 and Nagasaki became one of the first ports open to all foreign ships after the isolation period ended.
The city is associated with one terrible moment during World War II, memorialized at the city's Atomic Bomb Museum and Peace Park.
Entrance Notes and Cautions:
Nagasaki is approached along a steadily narrowing channel lined by the huge Mitsubishi dockyards. An elegant grey-silver suspension bridge crosses the inlet and about a mile further on, to starboard, is the small, artificially-indented rectangle of water called Dejima Wharf.
Position:
32° 44.61′N, 129° 52.10′E (marina)
Clearance
Related Businesses
Coast Guard – Nagasaki

Address: Japan,

Customs Office – Nagasaki

Address: 1-36 Dejima-machi, Nagasaki,

Harbour Master – Nagasaki

Address: Japan,

Immigration Office – Nagasaki

Address: 7-29 Matsugae-machi, Nagasaki,

The office is a short walk from the marina.... Read More

Quarantine – Nagasaki

Address: 4-32-5 To-machi, Nagasaki,
Docking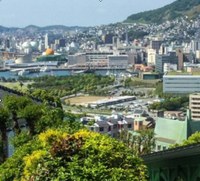 Marina:
Dejima Wharf contains two T-shaped floating pontoons, each with three 15m fingers on each side. These are available for passing yachts. All crew must register with the marina for gate pass keys, and it's not possible for anyone other than registered crew members to access the marina.
Dejima Wharf is in the heart of Nagasaki.
An alternative berth may be found at Sunset Marina, some five miles away.
Anchorages Outside Nagasaki:
Gonoura, Iki Island:

There are several moorage options on Iki, the best is at Gonoura on the southern end of the island (33. °44.8604'N, 129°40.7265'E). It's well protected, except for weather from the south. There are three large visitor-only concrete pontoons in a man-made basin to the west of town, it's a bit shallow at the inner-most pontoon, so that's reserved for powerboats (and occasionally catamarans).
Boats up to about 20 meters (65′) can be accommodated, with the moorage charge set at ¥20 ($0.20)/meter + 10% tax (so less than $9/night for a 40′ boat!).
No water or power on the pontoons. There is a washroom nearby, with an onsen hot-spring bath available at the View Hotel Iki a 10-minute walk away. Shops and restaurants are a 15-20-minute walk away. The island is quite large and hilly so exploring by bicycle is not recommended, but there are a few rental car companies in Gonoura.
To reserve a moorage spot at Gonoura, call City Hall at 0920-44-6114. If calling on the weekend or if you can't speak Japanese, you can also call Mr. Hayashida, manager of the facility at 090-1979-2578.
Taira, Ukujima:
Ukujima is the northernmost of the Goto Islands, a chain of islands off the west coast of Kyushu. The main port of Taira gets its name from the members of the Taira Clan who escaped to the island after the Clan lost the decisive Dan-no-Ura sea battle in 1185.
Fisherina Uku is a small marina operated by the local fishing co-operative. A cozy, well-protected facility that can accommodate boats up to about 16 meters (50′) and that is about a 15-minute walk from town (33°15.3812'N, 129°7.7552'E). Power and water on the docks. There is a toilet nearby, and on the hill above the marina is a hot-spring bath, from which one has a panoramic view of the harbour entrance.
Call the Fishing Co-op at 0959-57-2003 to make reservations at the Fisherina which is open year-end, except New Year's holiday, but best to have a Japanese speaker make the call. Moorage is ¥1,100 ($11) per night, regardless of boat size.
One can get sightseeing information and rent electric bicycles to explore the island at the Tourist Information Office at the ferry terminal.
For further details, see here.
Narao, Goto Islands:
There is a good moorage spot in Narao Port at the southern end of Nakadori Island. There is a floating dock on the south side of the main commercial port (32°50.8198'N, 129°3.5032E). The western side of the dock is occupied by a fishing boat but the eastern side is generally open (it shallows quite sharply there so mooring at the outer end is recommended). In addition, smaller boats (under 40') can usually moor on the inner south side of the ferry dock. Moorage at both spots is free.
There are toilets in the ferry terminal and a hot-spring bath, a ten-minute walk from the dock.
The town (a 15-20 minute walk), like most Japanese fishing ports, is dying, but one can find a few small shops and restaurants.
It is recommended to get a rental car to explore Nakadori Island and nearby islands. There is a car-rental office in the ferry terminal, but be sure to ask for a small car as the roads are narrow. In addition to the many churches, places worth visiting include beautiful Hamaguri Beach and the whaling museum. For the adventurous, it is also possible to find remnants of Wako Pirate lairs dating back 500 years. As for food, Nakadori Island is famous for its udon noodles.
Ikeshima:
Ikeshima island is 15NMs northwest of Nagasaki City. It sits on top of a major underwater coal seam and like several other islands in the same area, was the site of a large-scale coal-mining operation, starting in 1959, to literally help fuel Japan's post-war economic expansion.
At its peak in the 1980s, about 8,000 people were packed onto Ikeshima. The availability of cheap coal from overseas, however, led to the closing of all these offshore coal mines, with Ikeshima being the last to shut down, in 2001. Today, only about 100 people live on the island, all former mine employees and their relatives. The mine itself is now used as an occasional training center for coal miners from Indonesia and other countries.
The island's little harbor is man-made, created to accommodate the ships that came to pick up the coal. Cruisers can tie up on the north side of the ferry dock, which is on one's starboard side as one enters the harbor (32°53.2843'N, 129°36.2850'E). No fee. There is a toilet in the ferry building, a public bath that is open a couple of hours each day, and a small restaurant that is open sometimes.
Renting an electric bicycles is highly recommended to explore the abandoned town site and coal mining facilities. If one books at least three days in advance, one can also join a daily tour of the coal mine itself.
For further details, see here.
Last updated: May 2021
Related Businesses
Dejima Marina

Address: Location 32° 44.70′N, 129° 52.10′E, Nagasaki Ko, Nagasaki City,

Crew needs to be registered to allow access to the marina. HMs are very helpful.No fuel berth.The office is closed on Tuesday.... Read More

Nagasaki Sunset Marina

Address: 1892 Fukudahonmachi, Nagasaki City,

All facilities, fuel, chandlery. Boatyard with travel lift and repairs. Manager speaks English.... Read More
Courtesy Flag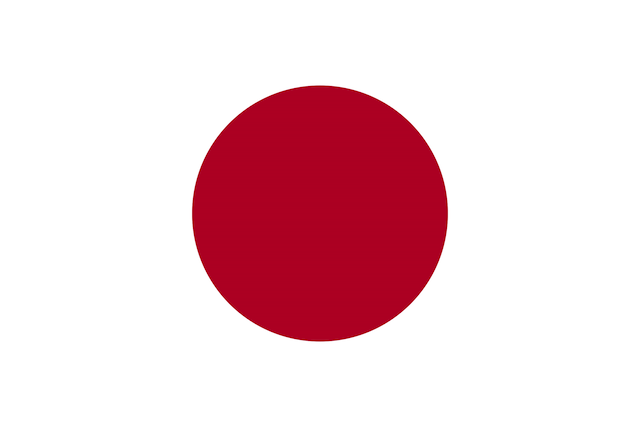 YachtFlags.com offers a discount to Noonsite members.
YachtFlags.com provides high quality courtesy flags that are manufactured in durable Knitted Polyester fabric. Knitted so that the fabric itself does not deteriorate in the constant movement that marine flags are usually exposed to, and polyester so that the flag does not weaken in the strong UV-light usually found in the main sailing areas of the world.
Use the coupon code NOONSITE_5A2B when checking out to get 10% off today.
Buy Now On YachtFlags.com