Previous Page
General Info
Nagasaki is sadly famous for one terrible moment in August 1945, and a visit to the site of the atomic bomb blast is on most visitors' itinerary. It is also the first port, which in the nineteenth century, was opened to foreigners after a thousand years of isolation.
Position 32° 44.61′N, 129° 52.10′E (marina)
Clearance
See Japan Formalities for detailed clearance information.
Notify the Coast Guard 24hrs before arrival. On approaching the port, call the port on VHF channel 16.
As is normal in major Japanese ports, a few minutes after arriving, you are likely to be besieged by a bewildering variety of officials from varying government departments, all impeccably polite but demanding that you fill in a multitude of forms: Customs, Immigration, Coastguard, and Police.
On departure, it is necessary to submit to the Transport Department a list of desired stops for the next leg. This will take some time as each port has to be carefully transliterated from Kanji into European writing, then back again. A further 24 hours is required for it to be processed and approved, after which it will be delivered back to you (with only the opening and closing dates noted).
Last updated June 2015.
Docking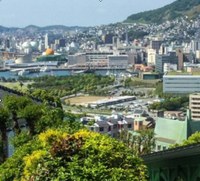 Nagasaki is approached along a steadily narrowing channel lined by the huge Mitsubishi dockyards. An elegant grey-silver suspension bridge crosses the inlet and about a mile further on, to starboard, is the small, artificially-indented rectangle of water called Dejima Wharf.
Two T-shaped floating pontoons, each with three 15m fingers on each side, are available for passing yachts. All crew must register with the marina for gate pass keys, and it's not possible for anyone other than registered crew members to access the marina.
Dejima Wharf is in the heart of Nagasaki.
An alternative berth may be found at Sunset Marina, some five miles away.
Last updated: June 2015