Previous Page
General Info
Nagasaki is a large natural harbor on the NW coast of the island of Kyushu.
Dejima, in downtown Nagasaki, was the only port open to foreigners (specifically, the Dutch) during Japan's isolation period from approx. 1639 to 1868 and Nagasaki became one of the first ports open to all foreign ships after the isolation period ended.
The city is associated with one terrible moment during World War II, memorialized at the city's Atomic Bomb Museum and Peace Park.
Position: 32° 44.61′N, 129° 52.10′E (marina)
Docking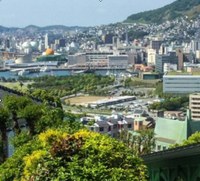 Nagasaki is approached along a steadily narrowing channel lined by the huge Mitsubishi dockyards. An elegant grey-silver suspension bridge crosses the inlet and about a mile further on, to starboard, is the small, artificially-indented rectangle of water called Dejima Wharf.
Two T-shaped floating pontoons, each with three 15m fingers on each side, are available for passing yachts. All crew must register with the marina for gate pass keys, and it's not possible for anyone other than registered crew members to access the marina.
Dejima Wharf is in the heart of Nagasaki.
An alternative berth may be found at Sunset Marina, some five miles away.
Last updated: June 2019