French Polynesia: Tuamotus, Tahiti and Gambier Islands
Allen and Maria Wadsworth have been contributing information to Noonsite ever since they cast off their dock lines from the UK in 2017. They enjoyed the Caribbean and east coast of the USA before transiting the Panama Canal and crossing the Pacific to French Polynesia where they have spent several seasons. In this report Maria provides some updates on a few of the many places they have visited.
Published 3 weeks ago
Tuamotus
Fakarava – July 2022, December 2022 and March 2023
When we arrived in Rotoava and tried to anchor in a spot we'd anchored in previously, a man came out in a skiff and said you need to anchor at least 200m from the shore and this is indicated by the buoys that are floating along the shore line.
We thought it was a new rule but Stephanie and Aldric at Fakarava Yacht Services said that the man doesn't like boats near his house so he's put the floats in and has even been known to throw things at boats. He was ok with us, probably because we moved when he asked us to.
Busy anchorage
The anchorage was very busy and this left limited space in the shallower water. In Rotoava there are only two public mooring buoys available the others belong to Top Dive and some of the charter catamarans, if you pick up a charter boat mooring and they come back then they will ask you to move, if it's night time they will wake you up, so be aware.
Recycling available
Recycling is now available in Rotoava for hard plastics, glass and cans. Please rinse before depositing in the recycling bins, you should also go and pay your fees at the Mairie. It was approx 2000xpf for 2 weeks for 2 people, this includes access to 20 litres of water per day, per boat. Water is available from a stand pipe at certain times of the day. Bins and recycling available at the dock.Recycling is also available near to the Boulangerie but no general rubbish bins here.
If anchoring in Hirifa or the south pass then take your rubbish with you to the town in the north. You can anchor in Hirifa and go diving or snorkelling in the south pass there is a dive boat that will pick you up. In the south pass we witnessed a few boats struggling with anchoring due to the coral there. There are four mooring buoys available and the one we had in June 2022 seemed to be in good order.
Pakokota is closed and the moorings are not in use. Rumours have been circulating that Fakarava are bringing in mooring buoys with a ban on anchoring in Rotoava. Apparently there is a project in place to add mooring balls in the south pass, Hirifa, at the airport and in Rotoava, it could be many years before this gets implemented. FYS still have the best laundry service and they also have E bikes and now electric scooters, you need a driving license to hire these.
Tahiti
Moorea – November 2022
We went to Opunohu Bay, it has a very muddy bottom so we decided to anchor on the right side of the pass near the Tiki snorkelling site. There is enough room for around five boats to anchor here, but be careful as it's shallower around the edges. Be mindful not to anchor in the channel, look at the channel markers. If you do anchor in the channel you'll have tour boats speeding past your boat all day, probably deliberately because you've anchored in the wrong place. We stayed here with 30+ knot winds and experienced great holding with our Rocna. You can take your dinghy to Stingray City and snorkel with the rays and sharks.
Papeete – June – December 2022

There is now 4G coverage on most of the main islands in the Marqueses and the Tuamotus. An overseas SIM card may not work at all in French Polynesia – although our UK Vodafone SIM card worked in some of the Society Islands in 2019. Visitor SIM cards are widely available.
However, it is cheaper in the long term to get a contract, for which you need proof of residence. We went to the Vini store near Papeete Marina and used our carte de sejour as proof of residence and this was accepted.
Hauling out in Papeete
We hauled out our Amel Super Maramu 2000 at Technimarine for 10 days initially but then decided to have all our antifoul removed and redone. They did an excellent job. They kept us informed of progress every day, and of the increased costs. We were out for three weeks in total. You pay for each day the boat is in the yard but we were very pleased with the work. They also applied PropSpeed and eight months later the antifoul and prop speed look like new.
You can stay on the boat here if you wish but the bathrooms/showers are not for the faint hearted! The dust from sanding of our boat also made it impossible to live aboard. We stayed in two different places: Sarah Nui Hotel, basic but clean and friendly staff and an air BnB next door to the Coffee Shop Tahiti. Both places are within walking distance of Technimarine and Papeete marina and all the chandlers. The Coffee Shop has great food, but is pricier than the local roulotte next door to Sarah Nui Hotel.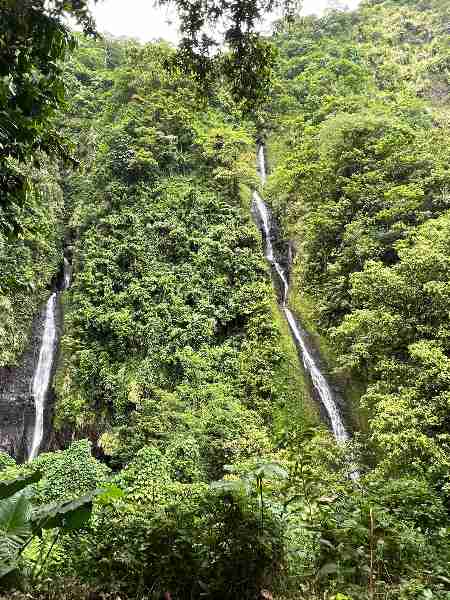 Supermarkets near to Marina Papeete
Champion is the nearest and easiest to get to. Just walk through the park and then cross at the traffic lights near the church on the main road, walk to the next road parallel to the main road and turn right.
You can also catch the bus near Champion to go to Taina Marina. There is also a Tahiti Pas Cher, like a Wilkos in the U.K. or a small Target, in the USA, on the next road further inland from Champion. There is a small local shop across from the cathedral in town selling eggs, bread, beer, wine etc.
Easy Market is a large supermarket on Prince Hanoi Street. It's actually a similar distance from Papeete marina to Champion, but the walk is not as pleasant. This supermarket sells foods that you can't get in Champion. We found an excellent small Asian food shop called Youn Youn, it's on Google maps but if you walk towards the Bora Bora Lounge cafe/ restaurant bar and turn down the side, it's on the road behind.
Laundry
Pont De L'est Laumdry – A load is quite small, she will put it in the baskets to measure it before you leave and tell you how much it will be. Very fast service 3 1/2 hours for wash dry and fold but the cost is 3000 xpf for one 7kg load .
Ph: 40.43.71.59 – Open Monday to Friday 7:00 a.m. to 4:00 p.m. Saturday 7:00 a.m. to 12:00 p.m. Washing Prices (for a 7 kg machine) Washing: 1200xpf Washing, drying: 2400xpf Washing, drying, folding 3000xpf. She can do large items such as duvets etc .
Pizza take away and delivery
We tried a couple of pizza places:
Pizza NY – Tel: 40 412 512, this place seemed to be more expensive but we enjoyed the pizza more. And you can eat in, although everyone was doing take away .
Pizza Croq'in – take away and delivery, within walking distance of Les 3 Brasseurs ( see info below)
Doctors
Dr David Provost is a GP who speaks good English and has an excellent sense of humour. He explains things to you, will ask if he doesn't understand you and he'll confirm that you understand what he means. Cost of an appointment is approximately £18.
Restaurants
L'O a La Bouche – an upmarket restaurant in the centre of Papeete. The food, service and wine were all excellent. A bit expensive but worth the extra to avoid disappointment.
Cafe Marquesan – a secret gem down a side street, serves delicious pastries , cakes, salads and sandwiches.
The 3 Brasseurs – Monday all day is half price beer and half price thin crusted pizza. It gets very busy on a Monday but the staff are great and have always found us a table outside. If it looks like it will rain, try to be inside!
Shops
There is a phone repair shop in the centre of Papeete, the owner spoke good English and repairs were a fraction of the cost of the Apple Store. He was able to do the repair within a couple of hours.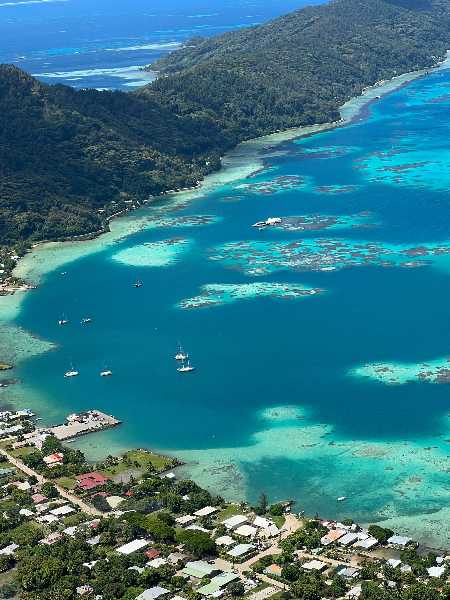 Gambier Islands
January 2023 – Mangarava
We arrived after a fantastic five day sail from Fakarava.
You need to go to the gendarmerie with your papers and clear in. You also need to go to the Mairie and pay to deposit your rubbish. 2500 xpf for one week, then we left and went back ten days weeks later and paid for our second week at 1500. They tell you they recycle here and ask you to wash your cans and glass before depositing them, we saw many locals separating their cans but, when we went to the dump to deposit our rubbish we could only see a place for glass bottles so we left our cans in a bag next to the bottles, as did most people. When you leave the Gambier you should advise the gendarmes, we told we were going to leave in about a week and where we were going and they were happy with this.
Rikitea
Juliette and Titouan are a French couple who have opened a yacht services on the main street opposite the bakery. They do laundry, butane, petrol, and they will bake bread for you and you don't have to get up at 5am to collect it as you do from the bakery. They were very helpful with information about the area and anchorages.
We hiked Mount Duff and we're told it was quite easy. It really is a proper hike! We did keep stopping and we had walking poles but it took about 3 hours up and 3 hours down. There are sign posts when you get up there but they had been turned around to point in the wrong direction. We used maps.me which is great if you've already downloaded it here.
We also took a tour of the islands by boat, this was a great tour. Cost was 10500xpf each, included lunch and we were able to pay by credit card by going up to the Pension. We booked it through Bianca and Benoir's Pension.
There are a few shops here, the best stocked one is Jo Jo' , we also ate at the restaurant but the times of opening were very random.
We put our dinghy at the back of the bakery with a stern anchor and a long painter. We used two other places for quick stays for the dinghy, by the rubbish dump to drop the rubbish and near the post office for the shop and to buy avocados next to the shop.
Taravai
We anchored in Anganui Bay , there were lots of jelly fish and although the reef goes around the bay and it looks as if it's too shallow for the dinghy we did manage to go over the reef to the beach. We couldn't walk anywhere as there is no way through the vegetation.
The snorkelling was better near to the north side of the bay as the water was clearer. It's quite directed here but there was also swell that made us roll a little. There are many jelly fish but we were told that they do not sting. We found the flies to be really annoying in all the bays except for in Rikitea.
Sunday BBQ at Valerie and Herve as other cruisers have reported, take your own meat and any dishes to share, I bit like pot luck. This couple also traded pork and fruit and wanted wine in return. I would suggest offering to pay cash rather than trade alcohol otherwise it can be quite an expensive trade given the value of wine here.
We sailed from here to Fatu Hiva, it took five days and was a lovely sail.
Maria and Allen Wadsworth
SV Jamala
………………………………
About the Authors
Maria and Allen Wadsworth sailed from England in June 2017, crossed the Atlantic, with Jimmy Cornell's Islands Odyssey – arriving in Barbados 16-days later. After a season in the Caribbean, they headed to Bermuda, then the USA for hurricane season, before heading south via the Bahamas, Cuba and Jamaica to Panama where they transited the canal in March 2019. After a stop in the Galapagos, they headed for French Polynesia where they have spent several seasons due to the COVID pandemic. They intend resuming their trek towards New Zealand this year.
………………………………
Follow their voyage at:
Read their Noonsite Portrait of a Cruiser:
Related Reports:
French Polynesia – making sense of the anchoring restrictions
………………………………
The opinions expressed in this article are the author's own and do not reflect the view of Noonsite.com or World Cruising Club.
………………………………
Find out all news, reports, links and comments posted on Noonsite, plus cruising information from around the world, by subscribing to our FREE monthly newsletter. Go to https://www.noonsite.com/newsletter/.