Previous Page
General Info
Meaning "Port Willow", Puerto Sauce owes its name to a big willow tree which was used for mooring vessels seeking refuge during storms.
It is the port of the city of Juan Lacaze in Colonia and is located between Colonia and Montevideo. In the past, it was the centre of the textile industry and there is an important paper factory here, however, the factory no longer operates.
The recently deceased popular poet and composer José Carbajal "el Sabalero", was from Juan Lacaze. Among his songs, several were inspired here.
There are fine beaches on the Rio de La Plata, however, the town itself has very little going for it and has a rather deserted feel.
Position:  34° 26.38′ S, 57° 27.30′ W (end of breakwater)
Docking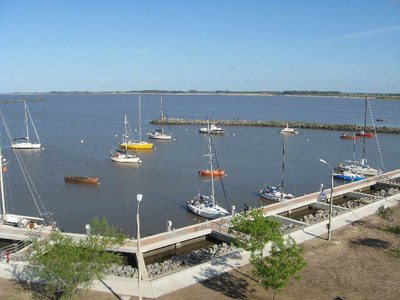 There is a long breakwater protecting the harbor from the south and a smaller one protecting the moorings on the northern side.
The DNH (National Hydrographic Directorate) manage an 80 berth marina and some mooring buoys. Prices are reported to be very reasonable (see comments at bottom of page). Water and electricity at additional cost (charged per 24 hours).
The Yacht Club has basic facilities for visiting crew. A travel lift has been installed, further improving facilities here and there is now  drydock space for 30 boats.
Fuel can be obtained from a petrol station half a km away from the marina and there is a supermarket and plenty of shops in town.
Last updated:  October 2018.
DNH (National Hydrographic Directorate)
Prefectura Nacional Naval –  Puerto Sauce
Yacht Clubs