Previous Page
General Info
Being the capital city of Uruguay, this is a busy and important port. It lies on the northern shore of the River Platte estuary which is, at this point, some 50NM wide.
It is a popular cruise ship destination having beautiful colonial buildings and attractive beaches.
The wreck of a British ship called Lord Clive, which was sunk by the Spanish in 1763, lies 4.8 meters (16 feet) below the surface and only 347 meters (380 yards) off Colonia del Sacramento, further up river and west of Montevideo. The ship contains 1.2 billion Euros of gold bullion. In February 2017 a team of divers was to begin recovery of this 64 gun vessel.
Position:  34° 54.2'S, 56° 12.2'W
Docking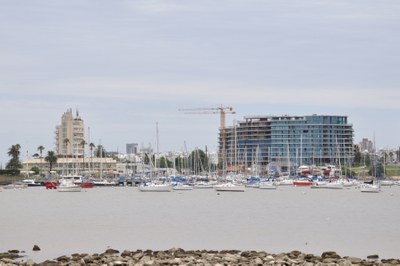 There are no yachting facilities in the commercial harbor, but both marina berths and other moorings are available at Puerto del Buceo harbor, approximately 9NM to the East (photo of harbor taken January 2018 courtesy of Capt. Stephan Nedelchev. The Yacht Club Uruguay (YCU) is based in Puerto del Buceo (see details below).
Local rules are that you must notify the authorities half an hour before your arrival at Puerto del Buceo on VHF Channel 16 (Puerto Buceo Control – Coast Guard station).
Santa Lucia: Santiago Vazquez
Another option is at Santiago Vazquez on the Santa Lucía river, about 20NM to the west. Here there is a marina and a yacht club, however, since the construction of a new bridge with high voltage power lines, it is only recommended for small cruising boats (see photo right).
In the middle of the river the wires are recorded as being at 11 meters, and at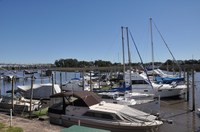 the sides, 16 meters above mean water level, but take care: with a strong wind from the southeast, the river rises up to 2 meters.
Before heading to Santa Lucia it is recommended to call Santiago Vazquez control, the local Coast Guard station. A 32 ft German yacht touched the power lines here in February 2013 and burnt to the waterline within minutes, so care should be taken to contact the authorities before attempting this trip.
Last updated:  February 2018.
Yacht Clubs
Places
Montevideo (Puerto del Buceo), Uruguay