Previous Page
General Info
This port lies approximately 50NM east of Montevideo, between there and Punta del Este. Piriapolis welcomes cruising boats coming from the Falklands and there are good new facilities here for both berthing and getting work done on your boat and also loading duty-free transit stores.
Position:   34° 52.41'S, 55° 16.95'W (harbor entrance)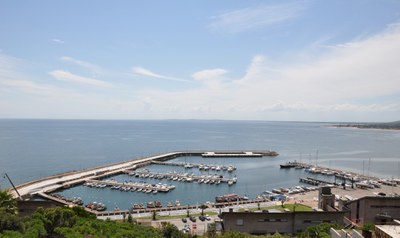 Clearance
This is a Port of Entry. See Uruguay Formalities for full details on clearing into and out of the country.
Call PIRIAPOLIS CONTROL on VHF Channel 16 at least 30 minutes before arrival. It's likely you won't get an answer and if you do it will be in Spanish.
Tie up in a marina berth as directed (see Docking) and handle the formalities later. All the officials are reported to be friendly.
Next, be sure to change some money as the rest of the Clearance process needs small amounts of local currency (Uruguayan pesos).
You will need to visit Immigration, Prefectura and the Harbour Master.
The immigration office is located 50 meters from the port and operates Monday to Saturday from 12:30 to 16:30. You will be stamped into the country and be given immigration papers.
Note: Every time you are issued a document/form, be sure to photocopy it three times. Ask Immigration to do this to save you having to visit the copy shop in town.
For domestic departures, visit the Harbour Master to check out and pay and then the Prefectura with your payment slip.
For international departures, visit all offices.
Last updated: October 2018.
Port Authority (Direccion Nacional de Hidrografia)
Docking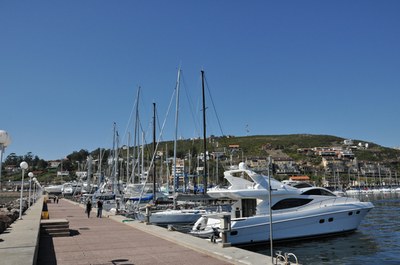 The marina offers good protection from southern waves, although the choice of the orientation of the pontoons is not efficient as boats are always taking wind from the side when the wind blows, either from the north (dry from the land) or from the south (wet, rainy, strong). Either way, strong winds make staying aboard comfortable and docking, challenging.
Visitors are offered stern-to berths with a mooring for the bow line.  The marina does not operate on VHF so you will need to hail a marina staff member to get help with the stern lines.
There is water, electricity and showers, all of which are charged for by the day with unlimited use, so remember to alert the marina staff of your requirements as soon as you arrive.
This is reported to be a popular place to take the boat up on the hard. Only port approved specialists can work in the port. The Hydrografia has a list.
You are free to travel, leaving the boat behind. The place is known to be windy, so care should be taken to secure the boat.
Last updated:  October 2018