Previous Page
General Info
Punta del Este lies on a peninsula about 80NM east of Montevideo. It is a city where wealthy Argentinians and Uruguayans come to be seen. Often called 'St Tropez of South America'. It is largely made up of high-rise apartments and hotels, plus many bars and restaurants as well as fast food outlets. It has good beaches.
During the low season, the cost of berthing here is reduced.  In the high season, it is very expensive as the population expands tenfold or more, as does the local yachting activity.
Position;  34° 57.52'S, 54° 57.04'W (marina entrance)
Clearance
Contact Control Maritimo when arriving and departing on VHF Channel 16 or 13.
Officials do not board yachts for clearance. Formalities are carried out in the marina complex and include Aduana (Customs) and Prefectura (Coast Guard).
Immigration at the port operates only from 09.00 to 15.00. If required after these hours, you need proceed to Laguna del Sauce Airport (20 kms/12.4miles away) on the outskirts of the city to carry out this clearance.
First you will need to visit the Prefecture, followed by a bus to the airport for Immigration, then Customs and finally Prefecture again back at the marina.
The marina complex has all the Uruguayan Authorities offices.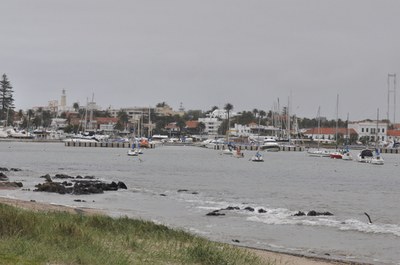 See the Customs and Coast Guard building on the right of the picture with the Punta del Este lighthouse on the left.
You will be required to show that you have paid the marina before you can be cleared out by the Prefecture.
Last updated:  February 2018.
Docking
The only place to stay in a marina in Punta Del Este is at the Municipal Marina. There are two yacht clubs but these are for members only.
Photo from Thibault of SV Moya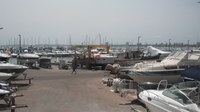 There are plenty of moorings, some are free and others can be hired for a daily fee which includes a launch service.  However, you may well be required to take and pay for a berth in the marina. In the high season, these are very expensive.
Last updated:  February 2018.
Yacht Clubs