Previous Page
General Info
This is an old city, founded by the Portuguese over 300 years ago, and sits in a privileged position on the northern bank of the wide estuary of the River Plate, opposite Buenos Aires. It is a UNESCO World Heritage Site and its narrow, cobbled streets and an abundance of ancient buildings form an interesting city.
Position:   34° 28.03'S, 57° 51.26'W (harbour)
Clearance
Immigration and Customs are very easy and hassle-free if clearing in at Colonia.
The Prefecture office is located next to the Buquebus terminal, about a 10 minute walk from Colonia yacht harbor. The friendly officials will process your paperwork for free in about 10 minutes, and your boat will then have nine months to enjoy sailing in Uruguay.
No other offices need to be visited.
When exiting the country, get a note from the marina showing your bills have been paid, and return to the same office, who will issue your Zarpe. The attitude everywhere is very welcoming and friendly.
Last updated:  February 2018.
Dirección Nacional de Hidrografía
Docking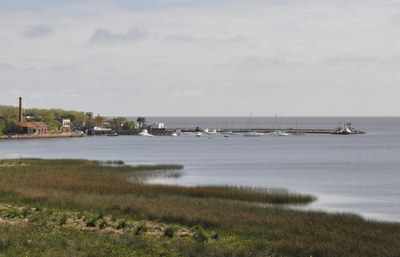 The harbor here is relatively shallow. The whole delta, apart from the dredged channels, is shallow, rarely more than four meters (13.1 feet).
The harbor has 83 med-moorings with buoys along the rock wall jetty and there are 51 mooring balls. Mooring is for boats up to 15 meters (50 feet).
Electricity (220v) and water are available at each mooring on the jetty and the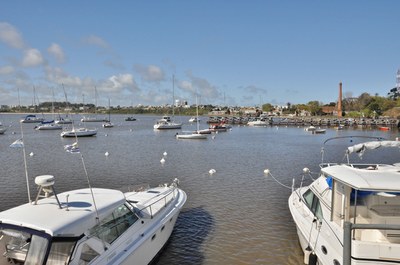 wood pier. There are also mooring balls (borneos) available, which cost half the price.
The water taxi is available on VHF Channel 21.
The marina is very safe, and many foreign yachts are left there for extended periods unattended, even more so now that Argentina is less friendly to cruisers.
Last updated:  February 2018.
Yacht Clubs
Places
Colonia de Sacramento, Uruguay