Previous Page
General Info
This Port of Entry is located just a few cables north of Cape "Santa María", and about 35NM north east of Punta del Este. La Paloma is well protected by two breakwaters. It comprises a commercial pier, the yachting marina, a local fishing marina, and a naval base.
The town is well connected with easy access to Punta del Este and Montevideo by bus.
The harbor is exposed to the north/northeast and can be uncomfortable in strong winds from that direction. Works are underway to build a protective breakwater on the windward side.
It is a holiday town (with prices to match) and is a friendly place.
Position: 34° 38.84'S, 54° 08.76'W (harbor entrance)
Clearance
Call on VHF Channel  11. The operator may speak English.
Check in with the Hydrografia (Port Authority) and Aduana (Customs) who are in the same building. The Port Authority will enter your details on the database (accessible by all ports).
Prefecture Naval is in the Armada building, check with military guards at the checkpoint.
All officials are nice and helpful. Prefecture will still ask you for the Safety Certificate (but won't insist if you don't have one). They will also ask for crew certification (habilitation) but, again, do not insist.
On departure, the Port Authority will issue a document valid for three hours after the specified time of departure.
Last updated:  March 2018.
Docking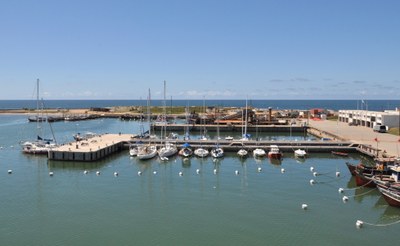 Take care to follow the channel across the harbor to the moorings as, although the harbor entrance is wide, the channel is narrow and the sandy bottom rises quickly.
The marina has a "T" dock: 70 meters long and 40 meters wide at its end. Yachts moor "Med style" on both sides of this dock and may also be moored to buoys off the pier. This is a high concrete pier and necessitates the use of protective pipes or chains on your lines as they run directly over a concrete edge.
The depth alongside varies from 1.50 meters to 4.50 meters (at "0" datum) depending on the mooring position.
The marina has good connections to fresh water and electricity and also hot showers. All services are charged by the day. You need to ask if you do not wish the water and electric to be switched on, otherwise, you will be charged.
See photo with the marina in the foreground and naval base beyond the marina with the fishing harbor behind. Our thanks to Stephan Nedelchev for taking this photo.
The main part of the town is about two kms (1.2 miles) from the port. There is a good fish market next to the fishing harbor.
Last updated:  March 2018.