Previous Page
General Info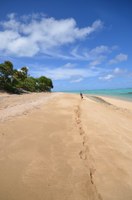 Lifuka is the capital of Ha'apai group of islands and is on the island of Pangai. Of the many small islands in this group, only about 15 to 20 are inhabited. Provisions are hard to come by on these islands so arrive well stocked.
Humpback whales are everywhere in the Ha'apai group between August and October. Humpbacks come to the warm, shallow and protected waters in Tonga to breed and give birth.
Ha'apai is one of the areas in Tonga which is now subject to Special Management Areas (SMAs) and Fish Habitat Reserves (FHRs).
See the Tonga Restrictions section for full details
Position: 19°48'09″S, 174°21′11″W.
Other Islands in the Ha'apai group:
Ha'ano Island
This island is about 8 miles north of Lifuka.
Location: 19° 40′ 26.4″ S, 174° 16′ 40.8″ W.
Uoleva Island
Just 5 miles south of Pangai with a large bay and long sandy beach providing excellent shelter against prevailing trade winds. The Uovela Yacht club is run by Craig Airey and Kristen Duirs and is located in the middle of the bay. A welcoming place for yachties including cruiser information for Ha'api/Tongatapu. More details below.
Location: 19° 50′ 56″ S, 174° 24′ 16″ W.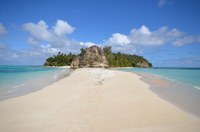 Kelefesia
Kelefesia is the southernmost island in the Ha'apai group, and it is only 35 miles north of Nuku'alofa (see photo right courtesy of SY Adina). It is a dramatically beautiful island. These combined characteristics make it an ideal stop between the Ha'apai and Tongatapu groups. The tiny anchorage at Kelefesia cannot handle more than three boats at any one time and is also prone to being very rolly. The island is privately owned, but they welcome boaters to anchor here year-round and to land on the shore.
Location: 20° 30′ 00″ S, 174° 44′ 00″ W.
Ha'afeva
A very small island which is keen to encourage visitors, villagers are very welcoming. It is located 30nm southwest of Pangai.
Location: 20° 2′ 30.12″ S, 174° 39′ 21.6″ W.
Download this useful pdf on cruising the Ha'apai Archipelago by SY Adina (2014).
Clearance
See Tonga/Formalities for full clearance details.
See Tonga/Fees for details of the charges.
When entering Tongan waters, fly the Q flag.
Anchor in front of the Ha'apai Beach Resort (19o48.3'S 174o21'W) at Pangai village and call on VHF channel 08. Matt will notify the officials if you require international clearance. The officials may visit the boat or you may be asked to tie up at the wharf in the village.
The Customs office is located in the same building as the post office, close to the inner harbor.
Note that only regional clearance is possible here, so if arriving internationally you must visit either Vava'u or Nuku'alofa on departure to complete clearance.
If you stop anywhere in Foa, Lifuka or Uolanga, you are requested to check in. If you come from Vava'u or Nuku'Alofa, you only need to show your Local Movement Report (Small Craft).
If you are intending to explore the Ha'aipi Islands request a domestic check-in and out as a trip back to check out can incur some significant mileage and normally Customs are happy to do this.
Open Monday to Friday only.
Last updated: March 2018
Docking
Most boats anchor outside the harbor, but in strong winds, Lifuka has a secure harbor in which visiting boats are welcome to anchor without charge.
Last updated: September 2014
Yacht Clubs
Related Businesses
Talitali'anga / Uoleva Yacht Club

Address: Uoleva, 19°52'S, 174°22W,

Located in the middle of Uoleva bay, a welcoming place for yachties including cruiser information for Ha'api/Tongatapu. Offers whale swimming, scuba diving, vegetables from garden... Read More