Previous Page
General Info
ALERT: A large eruption of the Hunga Tonga Hunga Ha-apai underwater volcano ocurred on 15 January 2022, causing a tsunami and ash fall in Tonga. The eruption was one of the biggest in Tonga in the past 30 years. See news item for details and useful links for further information.
Description:
This small island lying some 175 miles north of the main Tongan island group is a convenient port of entry into the Kingdom of Tonga for yachts arriving from the north.
Niuatoputapu Island suffered extensive damage following the 2009 Samoa earthquake and subsequent Tsunami. Approximately 192 families were left homeless. The Island now is recovering and comments from cruisers who have visited since about what supplies to bring to help the locals, can be found at the bottom of the page.
Entrance Notes and Cautions:
A small pass on the NW side of the island with a minimum depth of 12 ft leads through the reef. It is essential to line up the marks as the pass is very narrow. More markers lead to the anchorage area off the wharf.
Position:
15°55'29″S, 173°45'40″W (entrance to the pass)
Clearance
For full details on clearing into and out of Tonga see Noonsite's Tonga Formalities pages.
On arrival contact the local authorities for clearance.
This is done first by going to the Government offices in the middle village of Vaipoa. They are located on the approaches to the High School. The customs official will arrange for the other officials to meet you at the dock to come to your boat.
Often, someone will inform the officials of your arrival and a white van may honk at you from the dock. You need to transport them to/from your yacht.
Last updated: July 2017
Docking
There is an anchorage area off the wharf. This is where clearance officials will come to board your boat. You will need to transfer officials using your dinghy.
The best snorkeling is reported to be in the bight to the west of the pass.
Last updated: July 2017
Courtesy Flag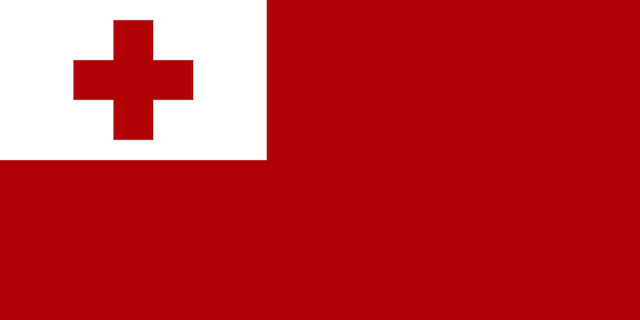 YachtFlags.com offers a discount to Noonsite members.
YachtFlags.com provides high quality courtesy flags that are manufactured in durable Knitted Polyester fabric. Knitted so that the fabric itself does not deteriorate in the constant movement that marine flags are usually exposed to, and polyester so that the flag does not weaken in the strong UV-light usually found in the main sailing areas of the world.
Use the coupon code NOONSITE_5A2B when checking out to get 10% off today.
Buy Now On YachtFlags.com
Places