Previous Page
General Info
It is NO LONGER compulsory for all yachts visiting French Polynesia to visit Papeete Customs and Immigration to complete the clearing-in process.
Yachts can now clear in or out of FP with the "gendarmes" offices (French Police) at the ports of entry in the other islands (Marquesas, Tuamotus, Gambiers, Australs etc.) and complete all customs and immigration formalities in the one place.
If visiting Tahiti or Moorea – within 50nm of the Islands (regardless of whether you have already cleared into FP elsewhere), it is compulsory to register with the Papeete Harbourmaster (this can be done by e-mail). Moorea, whilst a separate island, is under the same jurisdiction as Tahiti.
For full details on clearance into and out of FP and Papeete go to French Polynesia Formalities.
Boat Repair/Parts
Papeete is the first place from Panama that cruisers can source parts and individuals to do boat repair. There is no local VHF Cruisers net here so experienced FP cruiser Chuck Houlihan of SY Jacaranda has put together a very useful services guide. This is downloadable as a .pdf or viewed online. By downloading the guide and the gps waypoints and importing into maps.me you can then use this guide offline. It can also be viewed online by clicking "View in Google Maps" which will drop you into the exact location of the store or service.
http://www.tahiticruisersguide.com/
Cruisers that have been through Papeete in the last couple of years can contribute suggestions of services or individuals who they found helpful.
Courtesy Flag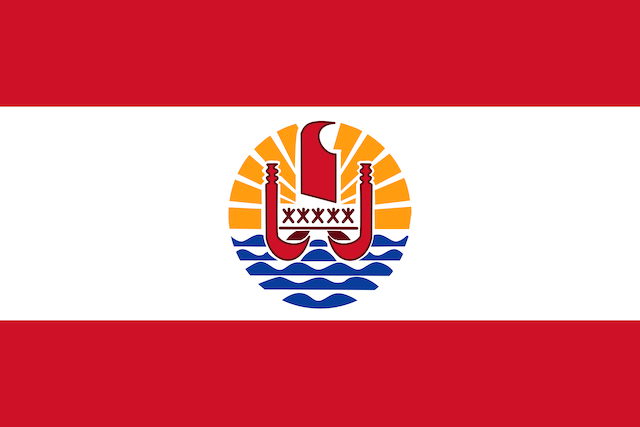 YachtFlags.com offers a discount to Noonsite members.
YachtFlags.com provides high quality courtesy flags that are manufactured in durable Knitted Polyester fabric. Knitted so that the fabric itself does not deteriorate in the constant movement that marine flags are usually exposed to, and polyester so that the flag does not weaken in the strong UV-light usually found in the main sailing areas of the world.
Use the coupon code NOONSITE_5A2B when checking out to get 10% off today.
Buy Now On YachtFlags.com
Publications
French Polynesia – Tahiti: Moon Tahiti

Since 1989, Moon Tahiti has been the leading travel guidebook to French Polynesia and this new edition incorporates the latest restaurant, resort, and transportation news. Stanley has been covering the South Pacific for over three decades and he knows the region better than any other travel writer. By David Stanley Publisher: Avalon...

Read More

South Pacific Islands: All The Colours of Polynesia

Join the author on a three year voyage through the islands of French Polynesia, discovering some of the most interesting places, people and wildlife of the South Pacific. From the world-famous island of Bora Bora to the remotest atolls of the Tuamotus, experience the challenges and rewards of the seafaring life...

Read More

South Pacific Islands: Charlie's Charts of Polynesia

This updated edition contains a number of full-color photographs to give a strong impression of the beauty and interest of the area as well as provides valuable information on the Ports of Entry in the Hawaiian Islands and South Pacific cruising areas. By Charles & Margo Wood Published by Charlies Charts (6th...

Read More
Places