Previous Page
General Info
Description:
Of all the Out Islands, this is the most "out" as well as the least developed and visited. It lies at the eastern extremity of the Bahamas, halfway between South Florida and Puerto Rico, approximately 450 nautical miles southeast of Palm Beach. Mayaguana does not see a great deal of yachting traffic, but it is a good place to break a passage on the way to the eastern Caribbean.
There are three settlements; Pirate's Well on the north coast, Abraham's Bay on the south coast (the largest settlement), and Betsy's Bay on the west coast. Abraham's Bay is the official Port of Entry for this island. There are no more than a few hundred permanent residents on the island.
Currently, it is a quiet eco-tourism destination.
Mayaguana – photo by Axel Schultz
Cruiser Highlights:
Scuba diving in pristine waters with reef and shipwrecks; Bonefish on the north coast; interesting fauna including the Bahamian Hutia, flamingos, Bartsch's iguanas, plovers, terns, osprey and nesting sea turtles; large stands of lignum vitae and other hardwoods; annual regatta festival (All Mayaguana Regatta) in June; Conchfest in early August; fresh seafood (conch, grouper, spiny lobster, snappers and tuna); remote and little-known.
Entrance Notes and Cautions:
Care is needed when approaching the island as Abraham's Bay is full of coral heads and yachts should exercise caution when anchoring. This bay is more easily approached from the west.
Position:
22° 18.74'N, 73° 03.36'W (Abraham's Bay)
Clearance
Review main Bahamas Clearance information for full details on formalities.
International Clearance:
Abraham's Bay is the official Port of Entry for this island, however, there is no official Immigration office here. This means clearance can be made with Customs, who will issue a 30-day entry permit for the Bahamas that needs to be extended at an official Immigration office before expiry (e.g. George Town, Exuma).
The Administration/Customs office in Abrahams Bay – photo by Axel Schultz
The Customs office (a short walk from the anchorage) must be visited the same day of arrival or the next day (if arriving late). Fees must be paid in cash, no credit cards accepted and the ATM is out of order most of the time according to the latest reports from cruisers.
Best advice in the outer Bahamas is to get cash whenever you come across a working ATM.
Last updated: July 2019
Related Businesses
Administrator's office

Address: Abraham's Bay, Mayaguana Island, Bahamas,
Docking
Anchorages:
Abraham's Bay is full of coral heads and yachts should exercise caution when anchoring.
There are at least two good anchorages in the bay over grass and sand:
Reef Anchorage West: This anchorage has deeper water but is a long way from town.
Reef Anchorage East: Suitable for shallow draft yachts and much closer to the dinghy dock.
East Plana Cay: There is a small anchorage on the south side at 22°35.3 N – 73°29.5 W. This is a nice place to stopover on the way to Acklins or Crooked Island if the weather is calm.
The dinghy dock at Abraham's Bay – photo by Axel Schultz
Dinghy Dock:
There is a small concrete dinghy dock in shallow water in front of the town and Reef Anchorage East. A small channel leads up to the dinghy dock marked with thin wooden sticks in the water. Approach slowly and watch the depth.
Town Dock:
The mailboat (MV Lady Mathilda) visits once a week for delivery and pickup. When the mailboat is not in town it may be possible to use the dock for loading/unloading/overnighting. Avoid other traffic and beware of underwater projections.
Ashore:
There are a few facilities, reprovisioning with local produce, home cooking, fuel and even propane gas. The locals will make you very welcome.
Last updated: July 2019
Courtesy Flag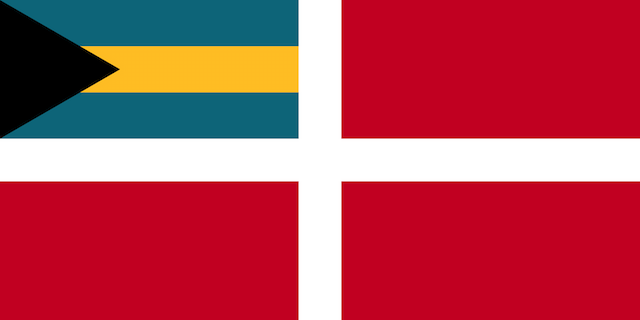 YachtFlags.com offers a discount to Noonsite members.
YachtFlags.com provides high quality courtesy flags that are manufactured in durable Knitted Polyester fabric. Knitted so that the fabric itself does not deteriorate in the constant movement that marine flags are usually exposed to, and polyester so that the flag does not weaken in the strong UV-light usually found in the main sailing areas of the world.
Use the coupon code NOONSITE_5A2B when checking out to get 10% off today.
Buy Now On YachtFlags.com
Places