Previous Page
General Info
This island is probably one of the less developed islands of the Bahamas chain and is worth a visit for that very reason. The highest point of the archipelago is on this island at 206 ft with a famous landmark and well worth the climb to the top. Cat Island is not a sophisticated island so don't expect to re-provision except for local products.
Port Howe is an old mail boat port on the southern coast of the island. It ceased to be used as a port when roads linking the various settlement were built 50 years ago.
It is the site of the Deveaux Plantation, which was once the scene of splendour and luxury. Today, it lies in ruins. It was the home of Colonel Andrew Deveaux, who settled with his family and slaves on Cat Island in the 18th century. It's worth seeing to experience the local history and the spectacular setting.
Position 24° 09'18″N, 75° 19'57″W (anchorage)
Docking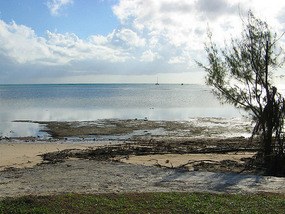 This is a secure and safe anchorage protected by a reef (photo courtesy of SV Pas de Deux).
See approach and anchoring advice in comments at the bottom of the page.
The entrance to the reef is 24.08,773N and 75.21.347W. Make your approach in good light. When you come through the reef make a right and go approximately 1/2 mile East.
Here you can anchor in 6-12 feet of water on a sandy bottom near the private moorings directly off the town, with the conspicuous ruins of the Deveaux Plantation and a concrete boat ramp nearby. If there is a heavy blow from the south you might get a slight surge over the reef at high tide, but it is perfectly safe.
A slightly calmer spot would be to anchor a little further west, although don't expect to be able to anchor close to shore.
You can bring your dinghy ashore any place on the beach which is accessible. A recommended spot is just to the west of a blue-roofed stone house with carport (and probably lots of large fishing floats hanging from nearby trees).
Note: If you attempt to go ashore near low tide you will be picking your way through shallows which can be challenging.
Last updated: December 2012.
Places
Bahamas, Cat Island, Port Howe