Explore: White Sound (Green Turtle Cay)
Previous Page
General Info
Green Turtle Cay is a good hurricane shelter with Black Sound being the best option.
White Sound has two fair sized marinas (Bluff House and Green Turtle Club).
Black Sound has a boatyard and 4 small marinas/docking facilities.
To get into the sounds is a bit tricky and best be done at HW. There are mooring balls available in both Black and White Sounds as holding is poor.
New Plymouth is a better option for very deep draft boats.
Position 26° 46'11″N, 77° 20'03″W (entrance to White Sound)
Docking
Both Black Sound and White Sound provide well-sheltered berths.
White Sound Channels to both marinas dredged to a depth at mean low tide of 7 feet.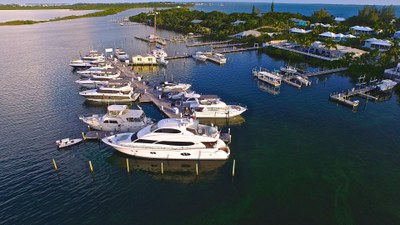 Photo: Bluff House marina ©BluffHouse.com
On entering the Sound, the first marina (to port) is Bluff House Marina. Green Turtle Marina is at the head of the sound, on the east bank.
Both marinas are fully operational and welcome transiting yachts.
Deep draft boats, however, need to use the anchorage off New Plymouth.
Last updated: January 2017.
Places
Abaco Islands, Bahamas, White Sound (Green Turtle Cay)