Previous Page
General Info
COVID-19: **OPEN**
Description:
Richards Bay is a large natural harbor on South Africa's eastern coast, about 90nm NE of Durban. Although it is a large commercial port, it is a pleasant port of call for yachts being the holiday destination of the Natal coast. The game reserves within 1-2 hours drive north of Richards Bay are the best in the country and definitely worth a visit.
When departing Richards Bay stick to around 100 meters water depth to make use of the excellent current flowing south at about 3knots. It runs all the way down to Port Elizabeth.
Entrance Notes and Cautions:
The approach is easy at any time, and the port channel is dredged to 12 meters.
Contact Richards Bay Port Control on VHF channel 12 (NOT 16) from no more than 6 miles away before entering the harbor breakwater. You will be instructed to either stand-off or enter – although you may not get an answer at all. In bad weather, you will most likely be permitted to enter the harbor immediately unless a large ship is also approaching.
Vessels arriving from Foreign Ports must proceed to Tuzi Gazi (Waterfront) to clear Customs, Immigration and Health before proceeding to Zululand Yacht Club. Stick to the left hand side of the channel as there is a sand bar to the right. Channel has an average depth of 2.5 meters.
Zululand Yacht Club – Fiona Linde – Email: [email protected] – Ph: 035 788 0256
OSASA representative and OCC Port Officer: Natasha Wolmarans – Ph 083 280 1659; Email: [email protected] to organise health clearance.
Position:
28° 48.63′ S, 32°06.08′ E (harbor entrance)
Clearance
COVID-19 coronavirus: New procedures are in place for arriving yachts. See Biosecurity for details.
All visiting yachts must abide by the entry regulations. These have been established (after a great deal of work on the part of OSASA) to enable easy access for foreign yachts into South Africa.
See South Africa Formalities for full details on clearing into and out of South Africa.
INTERNATIONAL ARRIVALS
Vessels arriving from Foreign Ports must proceed to Tuzi Gazi (Waterfront) to clear Customs, Immigration and Health before proceeding to Zululand Yacht Club. Stick to the left hand side of the channel as there is a sand bar to the right. Channel has an average depth of 2.5 meters.
Zululand Yacht Club – Fiona Linde – Email:

[email protected]

– Ph: 035 788 0256
OSASA representative and OCC Port Officer: Natasha Wolmarans – Ph 083 280 1659; Email:

[email protected]

to organise PCR tests
Checking In
1. Port Captain
Port Control (VHF Ch. 12) will ask the name and nationality of your vessel and the number of persons on board. Once they receive this information, you have been officially checked in with the Port Captain.
2. Immigration and Customs
An OSASA representative will meet you to assist with checking in.
International yachts must tie up on the concrete wall, in front of the Dros restaurant at the International Quay at Tuzi Gazi and await Customs and Immigration.
Cruisers report that this quay is difficult to find, and impossible to tie up to at low tide without line handlers above (and of course there are rarely line handlers available unless by chance other yachts have arrived before you). If no help is available to tie up, or the wall is completely occupied and it is not logistically possible to raft up against another boat, it is permissible to tie up on one of the moorings in the Marina, make sure to notify Port Control that is what you have done. Make sure you are flying the Yellow flag.
Immigration are located at Boardwalk Area, next to First National Bank, Penny Lane, 2nd floor.
Customs Office is at 2 Dollar Drive, Richards Bay.
After Immigration and Customs clearance, you may proceed to Tuzi Gazi Marina or Zululand Yacht Club.
3. Other Authorities
Health Department officers will also come and visit the vessel (see Biosecurity for more information). Port Police only tend to visit a few vessels.
Normally, the entire check-in procedure is quick and simple.
DOMESTIC ARRIVALS
Permission to enter must be requested from Port Control on VHF Ch. 12. As no Customs or Immigration is required you may proceed to either Tuzi Gazi Marina or to Zululand Yacht Club and tie up. You will need to confirm with the office at both Marina's that the mooring is available unless you have made arrangements before arrival.
INTERNATIONAL DEPARTURES
See https://www.zyc.co.za/index.php/about-us/rules-procedures

All foreign sailors and vessels must be cleared by Customs and Immigration before
leaving Richards Bay for anywhere down the coast. Bring vessel documents and passports.
Checking out takes longer and you need a car or taxi to visit the various offices which are spread out.
All recreational boats need to first go to the Zululand Yacht Club to get the "flight plan form" for departures. This has 5 stamp boxes that need to be stamped by the following authorities in the order below:
1. The Marina/Club – once payment for any outstanding monies has been paid.
2. Port Health
3. Immigration (they will give you a small form for Customs)
4. Customs
5. Water police division
Once all 5 boxes have been stamped, go back to the Zululand Yacht Club who will fax the flight plan with your departure date and time to Port Control. Port control then authorize the boat to leave if they are happy everything is completed.
Once approved, your final clearance is given or faxed back, and you have 36 hours to leave once you have checked out. If you do not check out in this time you have to check back in and then check out again.
Here is a Google pin showing the locations of the immigration and port heath buildings: https://goo.gl/maps/PpV8o9uCp9m1cAtq5

DOMESTIC DEPARTURES
Go to the office at the Zululand Yacht Club/Tuzi Gazi Marina and request a "Flight Plan". This must be filled in by yourself, then taken to the office again, where, once you have settled your account, they will sign that you owe no monies and are clear to depart.
Then, go to the Water Police Offices at the Tuzi Gazi Marina. Here they will also stamp your Flight Plan and will require a copy. Ask them to make one, if they are unable to, there is a small shop downstairs "Frankies" that does photocopies.
Once you have all these stamps on your Flight Plan you must take it to Zululand Yacht Club office, they will stamp the Flight Plan to clear your yacht with Port Revenue and then will fax the Flight Plan to Port Control on your behalf.
Once your Flight Plan has been received by Port Control you have 36 hours to depart Port.
Visa Extensions
Applications for visitor visa extensions can be made at the Home Affairs office beside the Boardwalk Mall. Extensive paperwork is required and a fee is charged before your application will be accepted. Cruisers report that results of applications can vary widely, from not getting an extension until well after the previous visa has expired, to get an extension from date of application (thus negating any time left on the first visa). If a cruiser has visited South Africa recently, then they may receive upon check-in, a visa valid only until ninety days after the earlier arrival in the country.
Last updated: October 2021
Related Businesses
Customs Office – Richards Bay

Address: 103 Dollar Drive, Richards Bay, South Africa,

Fax:+27 (35) 789 6909/5969

Located in the SARS Building on Dollar Drive, on the right-hand side before you reach Guldengracht Street.

... Read More

Immigration Office – Richards Bay

Address: Tawny Trce, 2 Krugerrand Grove, Arboretum, Richards Bay, South Africa, 3900

The office is located in an office building off Krugerrand Grove, just west of the junction at the Netcare Bay Hospital. The front of the... Read More
Docking
Anchoring:
Yachts can anchor in front of the Zululand Yacht Club in the bay to the right. The bottom is sandy and it is sheltered. The small anchorage just south of ZYC has only a small area deep enough for anchoring and it shallows rapidly to the east.
Contact Zululand Yacht Club in advance for a walk-on mooring.
Zululand Yacht Club (ZYC)
The YC has floating walk-on pontoons, plus a boatyard with a number of excellent marine trades. Latest reports are that security has been improved following a spate of thefts in 2018.
Zululand Yacht Club does not have access control on the moorings but keys are required for ablutions, laundry facilities, etc. and are only available from the office which is open 8:00 to 15:45 Monday to Wednesday, 10:00 to 15:45 on Thursday and 08:00 to 14:00 on Friday and 09:00 to 11:00 on Saturday.
The Friday night brais are good value and fun, often with live music.
Tuzi Gazi Marina
Docking here is also on floating walk-on pontoons, although at this marina they are very low.
The Marina access is restricted by a locked gate. This means you can open it from the Marina side but will not be able to re-enter the Marina without a key. Keys are available from the Marina office between 8:00 and 16:00 Monday to Friday.
During the weekends, music from the discos and restaurants can be very noisy.
Space in all marinas can become very limited in the Autumn when a great number of boats arrive, and berths are assigned on a first-come-first-served basis, not by advance reservation.
Last updated: April 2022
Related Businesses
Small Craft Harbour

Address: Richards Bay, South Africa,

Next to the tug boats in the basin far inside the harbour. Visiting yachts are offered one month's free mooring on the wall. There is... Read More

Tuzi Gazi marina

Address: Newark Road, Tuzi Gazi Waterfront, P.O.Box 9700, Tuzi Gazi, Richards Bay, South Africa, 3901

Tuzi Gazi marina, situated in the Small Craft Harbour (where you go for clearance), can only accept yachts up to 40ft length (10-12 tons). Offers... Read More
Yacht Clubs
Related Businesses
Zululand Yacht Club

Address: Commodore Close, P.O. Box, Meerensee, Richards Bay, South Africa, 10387

Located at Richards Bay Harbour in the province of KwaZulu-Natal, South Africa.The club offers all facilities like hot showers, laundry, bar, restaurant and swimming pool.... Read More
Courtesy Flag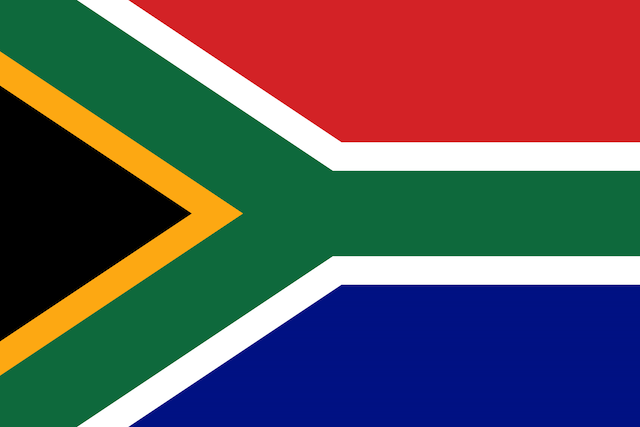 YachtFlags.com offers a discount to Noonsite members.
YachtFlags.com provides high quality courtesy flags that are manufactured in durable Knitted Polyester fabric. Knitted so that the fabric itself does not deteriorate in the constant movement that marine flags are usually exposed to, and polyester so that the flag does not weaken in the strong UV-light usually found in the main sailing areas of the world.
Use the coupon code NOONSITE_5A2B when checking out to get 10% off today.
Buy Now On YachtFlags.com
Places