Previous Page
General Info
This large commercial port lies on Algoa Bay, on the eastern end of South Africa's southern coast. It is an industrial city which covers both banks of the Baakens River.
The general safety rule is when you exit the Port on foot, turn left. The MBDA is upgrading the area and a very visible police force is currently on the ground if you do turn right.
Port Elizabeth has an Uber Service (book services via your mobile phone).
Position 33° 57'04" S, 25° 38′ 25″E (harbour entrance).
Docking
Anchoring
Yachts can anchor opposite the Shark Rock Pier, which is to the south-west of the harbour. When anchoring here beware of Devil's Reef which lies approx. 500m from the end of the pier in a direct line bearing SSW to Shark Rock. It is not chartered on most charts.
The wind in the harbour normally turns North at about 02h00.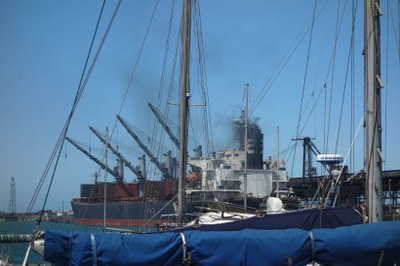 Marina
Yachts usually berth at the Algoa Bay Sailing Marina (see details for ABSM below) in the SW corner of the harbour, just North of the Oil Tanks and West North West of the Iron Ore Depot. Prior notification of arrival is recommended. See a detailed map of the Marina area here.
Although the yacht club is now officially closed, the facilities can still be accessed for a nominal fee. There is also a single toilet and shower block available free of charge.
It should be noted that if Iron Ore (dry dust) is being loaded at the Depot and there is a strong easterly wind, black dust can be a problem in the marina and surrounding area and cover decks and deck equipment (photo courtesy of SY Pipistrelle who visited in December 2015). Speak with the marina on arrival to check the current situation. Berths on the eastern side of the marina are more sheltered from this problem, and from the swell which can also be quite prevalent here.
The Port Authorities have a public plan in place for the Iron Ore Depot to be moved across Algoa Bay to a more modern and environmentally friendly facility in the Port of Nqura – building of which has already commenced and is estimated to open in February 2019.
Latest update: January 2019
Yacht Clubs
The Red House Yacht Club mentioned in below comments is a small boat racing club and not suitable for cruising yachts.
Places
Port Elizabeth, South Africa