Previous Page
General Info
Subic Bay is situated on the western coast of Luzon, which is the largest island in the Philippines. It is about 100km north of Manila. It is rich in panoramic views, green landscapes, and old Spanish houses.
Position 14° 48.72'N, 120° 17.5'E (approach to marinas).
Clearance
This is an Official Port of Entry.
For full details on clearing into and out of the country see Philippines Formalities.
Whilst officially there should be no clearance charges for the Philippines, in practice many ports do charge and this is one of them. Be warned that clearance fees here are high.
If coming from the South it may be better to clear in at Puerto Princessa, for example, where no fees are charged.
Cruisers report being charged US$50 by Customs for both inward & outward clearance, plus US$50 per person for immigration and US$50 for quarantine.
All officials will want to come to your boat so they can claim the above overtime/fieldwork charges, so taking the time to visit the various offices yourself is a waste of time. Some officials are reported to be more friendly than others.
It is now possible to get visa extensions here at either Olongapo or at the One Stop Shop in Subic Bay Freeport Zone. Remember you only get a 30-day visa on arrival. This avoids having to travel to Manila. Take cash as there may be no card service. See report adjacent.
Latest update: April 2017
OLONGAPO IMMIGRATION FIELD OFFICE
Docking
The mountain ranges around the Subic Bay area and the deep natural harbour provide an excellent, protected anchorage. In addition, these features make it a natural shelter from typhoons as well as from the effects of the eruption of Mt. Pinatubo.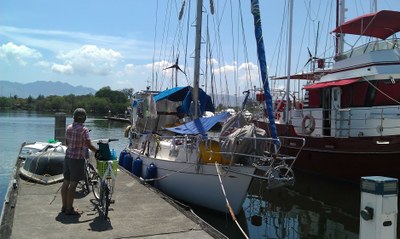 Photo by SY Janna (who visited in May 2013)
The Subic Bay Yacht Club was developed as a world-class resort, however recent reports from cruisers say that the marina is less well maintained than previously. Note, however, that this is a private member club that offers some visitor berths. Whilst rates are cheap for members, they are much higher for visitors. The staff is reported to be friendly and helpful. Some repairs are possible.
Most cruisers tend to choose Watercraft's small marina (next door to the Yacht Club in the tax-free zone in the former US naval Base) which is cheaper. The Yacht Club does let "yachties" use their facilities for a small charge (including a pool).
Alternatively, yachts can anchor out, or pick up a mooring at Blue Rock Resort.
Latest update: April 2017
Yacht Clubs
Places
Luzon (Northern Region), Philippines, Subic Bay