Previous Page
General Info
This city lies in the central part of the southeast coast of this long, thin island. It is one of the Philippines oldest cities and is an important center as well as being a busy port.
Cebu Yacht Club is not on the Island of Cebu, nor in the City of Cebu. Instead, it is on the north-west side of Mactan Island. Cebu Airport is close by.
Position 10° 19.83'N, 123° 58.63'E (Cebu YC)
Clearance
This is an Official Port of Entry.
See the Philippines Formalities page for full details of clearance.
The Quarantine and Customs clearance formalities can normally be completed by the officials meeting you at the yacht club. There is a charge for quarantine clearance but there should be no official charge for Customs and Immigration. However, you are likely to be asked for one, for which a receipt should be given. See reports adjacent and at bottom of the page by cruisers who have and have not paid these charges.
For Immigration clearance, it is necessary to visit the central immigration office in the City of Mandaue which requires a taxi ride. It is important not to wear shorts or sleeveless shirts/tops or you will not be permitted entry. Sandals are best avoided as well.
There is a new immigration office just down the road from the marina, suitable for renewing visas.
Latest update: September 2017
Docking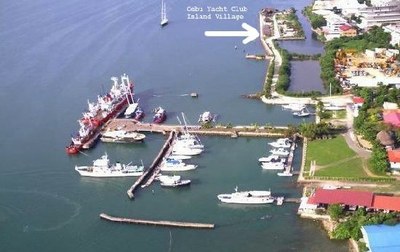 The yacht club has a marina which tends to be full most of the time, including many large commercial boats.
Either side of the Cebu Yacht Club has good holding if you want to anchor. The north side has moorings but these are very light and should be carefully checked before using. There is more space to the north of the marina and this side is under the watch of shore-based security, however sensible precautions should be taken to secure anything of value. Holding is good in mud, however, bear in mind the strong current and tidal flow. A daily fee is payable for use of the dinghy dock.
The water in the anchorage is very polluted, there is loud music from restaurants onshore and heavy wash from passing boats.
Latest update: July 2015
Yacht Clubs
Places
Cebu City, Philippines, Visayas (Central Region)