Previous Page
General Info
January 2018: The anchorage and marina in Cienfuegos are now open following a period of closure and visiting yachts are once again welcome here.
Lying on the southern coast of the island, the town of Cienfuegos is some 1.5 miles inland from the port. You can either walk there in 20 minutes, take a bicycle taxi or horse-drawn carriage. The town centre is beautifully restored with lots of colonial buildings.
This is a good place for exploring more of Cuba overland as there are three car hire companies within walking distance of the port, and it is just a 3-hour drive to Havana.
Position 22°07'.50 N, 80°27'.20 W.
Clearance
All offices, immigration, customs, dock, and harbourmaster, are present. Clearance is straightforward, although you may be asked for a small "present".
See Cuba Formalities for detailed information on clearing into and out of Cuba.
Docking
Marina
The marina here is open to transient boats but is very small and active with four charter companies operating there. Generally, a berth can be found during the week, Monday to Friday (and perhaps at weekends too, although this is when the charter companies turn around) – best to call the marina in advance to check for space.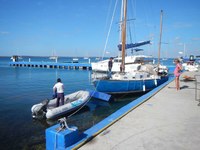 The marina has good solid concrete berths and new floating pontoons, however, with a strong Southerly wind, there tends to be some swell. All personnel speak good English. The channel to the marina is well marked.
The Yacht Club is used exclusively by charter boats and is closed to transient vessels.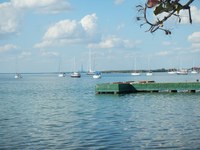 Anchoring
The anchorage here has a good holding. When going ashore, dinghies can be left on the beach inside the Marina fenced perimeter, which is secure. The marina charges a fee for anchoring, but does allow the use of their bathroom facilities and has a security patrol through the anchored boats at night.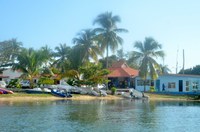 A short walk from the marina is the place where everybody goes out in the evening and there is music playing here. In addition, right next to the marina and Anchorage is the Cienfuegos Club which plays very loud music at night, making it difficult to sleep.
Security
Whilst marina staff do make security patrols of the pontoons and anchorage day and night, there have unfortunately been incidents of theft around the marina and anchored yachts (last report June 2017). As with everywhere, be sure to lift and lock your dinghy at night, secure your outboard and carry a minimum amount of gas in your dinghy tank.
Photos courtesy of Mary Buchanan who visited Cienfuegos in 2015.
Last updated April 2018.