Previous Page
General Info
COVID-19: OPEN PORT
This international marina opened to foreign boats on 19 October, 2020.
See Biosecurity for full details.
Description:
Varadero lies about 70NM east of Havana on Cuba's north coast.
Take care when sailing close to Cayo Piedras. There are hidden concrete and steel blocks (surplus building material) close to the shore at the SW of the Guarda Fronteras base NE of Varadero.
There are two marinas in Varadero, Marina Darsena and Marina Gaviota on the extreme northeast end of the Hicacos Peninsula. Marina Gaviota is open to International visitors for clearing in, however, Marina Darsena can only be visited once you have cleared into the country.
The approach to Gaviota is well marked with large metal buoys that are lit and radar reflector equipped. The difficult part is the entrance to Bahia Cardenas which is straight forward but best left for daylight as you need to avoid a shoal that extends eastward from Cayo Piedra del Norte.
The markers for the channel leading into Marina Gaviota were damaged during the 2017 hurricane season. See comments at bottom of the page for details.
Position:
23° 11'N, 81° 07'W (entrance)
Clearance
See Cuba Formalities for detailed information on clearing into and out of Cuba.
Marina Dársena de Varadero
Vessels can now proceed directly to Marina Darsena after clearing in at the new customs and immigration facility in Marina Gaviota. Previously yachts were required to wait 24 hours but that requirement has since been waived.
This change benefits US citizens who were concerned about violating the OFAC/US State Dept. list of restricted entities by remaining at Marina Gaviota.
Note that some shoaling has occurred in the approach channel. Whilst this won't affect the majority of cruising boats, if you have a deep draft boat you should take care.
Marina Gaviota
This marina has a new Customs and Immigration building, a white two-story structure, easy to find as you enter the channel. Yachts can tie up at the new concrete dock in front of the building to starboard. The dock is faced with timber, so fender height is not critical and has good cleats. These are widely spaced, so ensure you have long lines. Its likely marina staff will be there to help you with tying up (daylight hours only).
The officials are friendly and professional and the clearance procedure is quick and efficient (should not take more than an hour). The photo identification procedure that has been in place at all international airports and Marina Hemingway is now also in place at Marina Gaviota. This means all crew will need to disembark and have their digital photo taken.
Fees can be paid in USD cash at a discounted rate of 12.5%. This is the only marina in Cuba where this is possible.
Last updated: November 2018
Docking
Marina Dársena de Varadero
Now open to International Arrivals (see listing below). Docking prices are improving, yet facilities remain poor. The Internet is pretty much non-existent here.
As reported by Addison Chan of Cuba Land & Sea Facebook Page: For deep draft vessels heading for Marina Darsena Varadero take note that there is a bar that is building up in the channel. The controlling depth is still above 9 'and with a little creative navigation 10 feet can still be accommodated, but the 12' plus of a couple of years ago is no more. The bar is only about 50 'wide and is likely just sand, but caution is advised.
Marina Gaviota
Tucked just inside the extreme northeast end of the Hicacos Peninsula. Rather remote. To get to the farmer's markets or to meet Cubans who are not working in the resorts requires either a $5 hour-long bus ride followed by a 20-minute walk, or a $25 taxi ride (that could easily cost much more if you are not careful).
That said, Marina Gaviota is a modern facility with good installations on new floating concrete docks and good WiFi. There are restaurants around the marina and a well-stocked grocery store. Security at night is fine, but during the day tourists come onto the docks for the dive/fishing boats, so it can get busy.
Varadero is a holiday town with hotels, restaurants and banks. There are a couple of cash machines near the bus station.
Note: Marina Gaviota Varadero is on the OFAC list of banned marinas and American citizens are prohibited from spending money to stay there. See this report for more information.
Last updated: November 2018
Related Businesses
Marina Chapelin

Address: Carretera de Las Morlas, km. 12, 5, Varadero, Cuba,

VHF Channel 16, 72

23°11' N, 81°11' W

Principally a facility for motorboats on the southern side of the peninsula between the shore and the mangroves.... Read More

Marina Gaviota Varadero

Address: Peninsula de Hicacos Km 21, Varadero, Cuba,

VHF Channel 16/68

Official Port of Entry. This marina has been rebuilt and extended since 2014 and is now Cuba's most modern marina with 1400 slips.... Read More

Marina Puerto sol Darsena de Varadero

Address: Carretera de Vía Blanca, km. 31, Matanzas, Varadero, Cuba,

VHF Channel 16, 19, 68, 72

This marina is now open to international arrivals but the 15-day garbage ban has not been changed. This means that... Read More
Courtesy Flag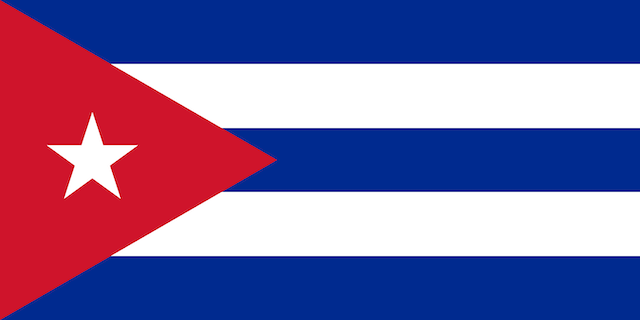 YachtFlags.com offers a discount to Noonsite members.
YachtFlags.com provides high quality courtesy flags that are manufactured in durable Knitted Polyester fabric. Knitted so that the fabric itself does not deteriorate in the constant movement that marine flags are usually exposed to, and polyester so that the flag does not weaken in the strong UV-light usually found in the main sailing areas of the world.
Use the coupon code NOONSITE_5A2B when checking out to get 10% off today.
Buy Now On YachtFlags.com