Previous Page
General Info
COVID-19: OPEN PORT
This international marina opened to foreign boats on 19 October, 2020.
See Biosecurity for full details.
Description:
Located on the southeastern tip of Cuba, the mountain-encircled Bay of Santiago is connected to the Caribbean Sea and home to the 500-year-old city of the same name. A large seaport, the harbour contains a cruise ship dock and container terminal and pleasure vessels are only allowed into the harbour as far as Marina Marlin at Punta Gorda. The historic city of Santiago with its colourful colonial buildings, craft markets, music venues, cocktail bars, monuments, and parks is a ferry, car or bus ride away.
Cruiser Highlights:
Marina; clearance; ferry/bus to town; shopping; restaurants and bars; provisioning; tours; sightseeing; this is where the daiquiri was invented.
Entrance notes or cautions:
The entrance to the port is clearly marked by a large white lighthouse on the cliff top. This is also by the airport, which is invisible from the sea but you can see the planes take off and land. The channel is deep, around 10 to 13 metres for the commercial traffic, and is well buoyed. The Marlin Marina is reached by heading straight through the channel and then bearing to starboard, heading for a blue and white building. It is located in Gaspar Cove.
Position:
19° 58'N, 75° 52'21″W (entrance to the Bahia)
See this report for feedback from Cruisers who have visited this port.
Clearance
See Cuba Formalities for detailed information on clearing into and out of Cuba, including fees.
General Clearance:
Make an effort to hail "El Morro" as you approach. You will be answered in Spanish. You may not have success and can also try Marlin Marina on Channel 16 between 1800 and 0800, otherwise CH 72. Sometimes Marlin Marina will hear your call and hail you in English.
On arrival, you will either be instructed to anchor in the "quarantine" area on the other side of the harbor (approx. a mile from the marina) or you can opt to berth at the marina. If you proceed directly to the marina be sure not to step ashore until you have been cleared. You will be told to berth alongside a concrete wall and officials will come on board.
A health inspector will come on board to check everyone on board is fit and well and inspect the fresh food on board.
Other officials may come to the boat. Clearance can involve up to 6 different people and a fair amount of paperwork. The entire procedure can take between 3 and 5 hours.
Expect up to three sniffer dogs which will not have shoes. Handheld VHF, GPS, flares and Very pistols are wrapped and sealed and must not be taken ashore.
Note that if you declare that you have come from Haiti you may be put on "Cholera Watch" – all crew temperatures to be taken every four hours and logged until the Sanitary Department say you are clear.
Immigration have an office in the marina where you can visit them to deal with paperwork.
Outward clearance is much quicker.
Last updated: August 2020
Docking
Santiago de Cuba photo courtesy of SY Calliope 2015
Anchorages:
There is a charge for anchoring out off Marlin Marina (approx. half that of taking a berth). The cove nearby is very deep (50ft +), however depths of 17-20ft can be found just off the marina and they will want you to anchor as close to the marina office as possible. Holding either side of the pier is patchy and you will need to ensure your anchor is well dug in as the winds will turn through 360 degrees in the course of the day.
Dinghy dock:
If at anchor you may only dinghy into the marina – the naval police will prevent you from going anywhere else.
Marinas:
The marina has two rather rough concrete piers – be sure to have good fenders. Showers and toilets at the marina are poor (cold water, no toilet seats or paper). Frequently the water is off; sometimes for two days at a time. It may be possible to obtain fuel by jerry can, this must be paid for in cash when dispensed.
There is a hotel on site with a restaurant and bar (open 10 am to 4 pm). The hotel has two free terminals for internet access (no WiFi). There is also a hotel bar just a short walk down the road. The marina gates are locked at 10 pm.
Be aware that as soon as you step outside the marina grounds you will be hassled by people asking for things. The marina can order a taxi for a ride into the city. It takes about 20 minutes (or 30 minutes by bus). There is also a ferry that departs from nearby the marina to downtown Santiago. It takes about 35 minutes and is altogether a cheaper and more pleasant way of getting to the city.
Note: Cruisers report that yellow soot from the cement factory close by will stain your decks but it can be removed with oxalic acid diluted with water which is left on for five minutes before scrubbing.
Last updated: August 2020
Related Businesses
Marina Marlin Punta Gorda

Address: Avenida 1A, Punta Gorda, Santiago de Cuba, Cuba,

Will probably call you in English on the VHF on approach. Yachts can berth here for clearance, alongside a concrete wall. All officials will board... Read More
Courtesy Flag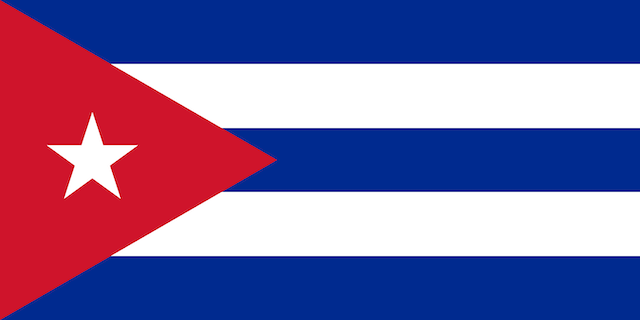 YachtFlags.com offers a discount to Noonsite members.
YachtFlags.com provides high quality courtesy flags that are manufactured in durable Knitted Polyester fabric. Knitted so that the fabric itself does not deteriorate in the constant movement that marine flags are usually exposed to, and polyester so that the flag does not weaken in the strong UV-light usually found in the main sailing areas of the world.
Use the coupon code NOONSITE_5A2B when checking out to get 10% off today.
Buy Now On YachtFlags.com
Places