Previous Page
General Info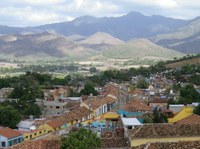 This small port lies about 30nm south-east of Cienfuegos on the southern coast of Cuba.
Casilda is the commercial/fishing port for the town of Trinidad (see photo courtesy of SY Calliope).
The port is off limits for cruisers, however, the marina here offers reasonable berthing for yachts with a draft of less than 1.7m (5.5 ft), and it is a convenient place to stop in order to visit Trinidad.
Note: There is still no fuel dock here (November 2016).
Position 21° 44'09″W, 79° 58'23″W (entrance to the bay)
Clearance
There is no longer a dockmaster or Guarda Frontera on-site at Marina Trinidad. The closest Guarda Frontera station is at Casilda. Yachts are not permitted to go there but must wait at the marina for the officials from Casilda to visit when they have time.
Consequently, be prepared to wait several hours both on arrival and departure for an official to turn up.
Last updated April 2016.
Docking
The approach channel into the harbour is shallow (1.7m) as well as wind. See comment at bottom of the page with tips on entering. It is worth the effort however as it is a beautiful place and a possible choice if wanting to leave your boat for a while and travel overland in Cuba.
There are 2 floating docks in the marina . The lagoon is well protected in all wind directions.
Try to call the marina once you are in Cuba to make a booking, or just arrive and anchor until you get dock space.
The marina here continues to offer good value for berthing. For the latest berthing and anchoring charges see comments at bottom of the page. Unfortunately, there is still no fuel dock.
Last updated November 2016.