Previous Page
General Info
COVID-19: OPEN PORT
Description:
Located on the south of Cuba in the Los Canarreos archipelago this is a useful port of entry if arriving from Islas Mujeres, Mexico, with a decent marina in a sheltered lagoon.
Position:
21°37.8'N, 81°34.8'W (marina)
Clearance
See Cuba Formalities for detailed information on clearing into and out of Cuba.
The marina monitors VHF Channel 16 and being used to yachts, formalities are relatively straightforward. Officials and marina staff are reported to be friendly and helpful.
Clearance is possible 7 days a week and the bank is also open 7 days a week for currency exchange.
You can enter the marina and tie up for your clearing in formalities, but you do not have to stay. Alternatively, anchor and dinghy in with your papers.
Your papers will be taken away to be processed and visas will be provided within the hour. A doctor will want to make a short health check of all crew members and Agriculture will want to come on board to inspect foodstuff.
Any rubbish landed is automatically burnt.
Cayo Largo is a good place to extend your tourist visa because all of the requisite services are in the same place.
Last updated: January 2019
Docking
Marina Cayo Largo
Approach
The channel to the marina is buoyed but is both shallow and narrow in places (see useful report April 2013).
Anchoring
There is plenty of room to anchor in the outer bay with shelter from the North and East. Yachts at anchor do have to pay a fee here (as with Cienfuegos and Casilda) of $.30 / ft/day.
Marina
The marina serves the many local hotels with tours and ferries to the best beaches.
The marina is made up of a concrete dock that runs along the shore with three long floating jetties extending seawards, all with 8m finger pontoons attached.
The first jetty as you enter is for locals. The second jetty is for international visitors with the larger berths closer to shore. The third jetty is still not complete.
Available water is not potable and the power supply is extremely variable (reported to be more "off" than "on").
There is a plan to dredge the shallow lagoon beyond the jetties to make a hurricane hole.
Ashore
There is fuel available here at a modern fuel dock around the corner from the marina, a bar/restaurant, a small convenience store that sells a few expensive staples and a decent selection (for Cuba) of wines and spirits. Fresh bread is also available, but it must be reserved. There is a bank (but no ATM) and a post office.
The Internet is available by the usual Cuban 1hr or 5hr cards and there are daily flights to Havana.
Restrictions
Note there is no fishing permitted at Cayo Largo. There are game wardens on duty and they will confiscate your equipment if they catch you fishing.
Last updated: January 2019
Related Businesses
Marina Cayo Largo

Address: Cayo Largo del Sur, Archipelago de los Canarreos, Marina Cayo Largo, Cuba,

All clearance facilities (reported to be friendly). Floating modern 8m pontoons. Water (non-potable) and unreliable electricity on the pontoons. Very limited provisions in two stores... Read More
Yacht Clubs
Related Businesses
Cayo Largo Marina & Yacht Club

Address: Marina Cayo Largo, Cuba,
Courtesy Flag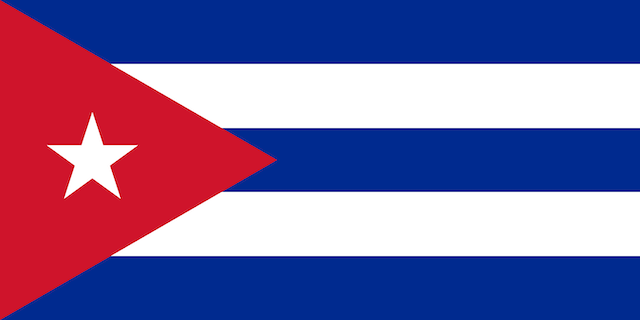 YachtFlags.com offers a discount to Noonsite members.
YachtFlags.com provides high quality courtesy flags that are manufactured in durable Knitted Polyester fabric. Knitted so that the fabric itself does not deteriorate in the constant movement that marine flags are usually exposed to, and polyester so that the flag does not weaken in the strong UV-light usually found in the main sailing areas of the world.
Use the coupon code NOONSITE_5A2B when checking out to get 10% off today.
Buy Now On YachtFlags.com
Places