Previous Page
General Info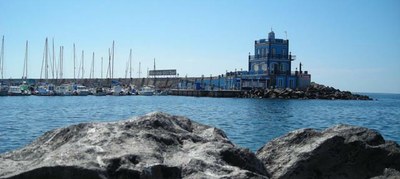 This small fishing port lies on the southern tip of Tenerife. One of the last traditional fishing harbors left in Tenerife, fresh fish can be bought daily.
The town surrounds the harbor with supermarkets, pharmacy, banks, shops, medical care, etc. all within walking distance. It is a charming, laid-back town with attractive narrow streets and a private marina.
The harbor is situated next to the nature reserve of "Punta Rasca", with its beaches and coves, and stands under the watchful eye of Mount Teide, a truly magnificent panorama.
Position: 28º 00.43'N, 16º 39.73'W (harbour entrance)
Docking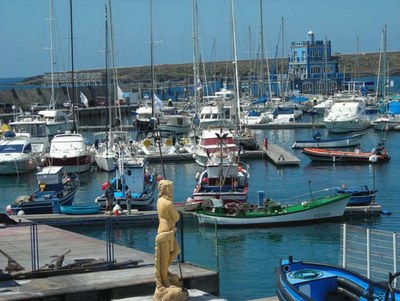 Entrance:
To approach the marina, sail quite close to the land until the green harbor light on the breakwater is seen. Do not go too far to port as there are rocks. Be aware that there is a ruin on land with a green door which looks like a green navigation mark!
Call on VHF Channel 9 before entering, proceed straight to an allocated berth otherwise go to the reception pontoon immediately to starboard on entry. It is co-located with the fuel berth.
Marina Information:
Maneuvering in the marina is tight. Whilst the pontoons do not have locked gates, there are 24-hour security patrols.
A significant surge builds during strong S or SW winds often requiring additional springs and fenders.
It is essential to call the marina in advance as space is limited.
Anchoring:
Do not anchor in front of the town, it is full of rocks, and anchoring inside the harbor is prohibited.
It is possible to anchor in the bay just to the east with a sand and rock bottom. It's very comfortable here if the wind and swell are from the east.
Last updated: November 2018
Related Businesses
Marina del Sur – Las Galletas

Address: Puerto Deportivo Pesquero Las Galletas, Torre de Control 2ª Planta, Las Galletas – 38631 Arona - Tenerife, Las Galletas, Tenerife, Canary Islands, 38631

Reported to be a very friendly marina.

All facilities (metered, facilities block (requires a key + deposit), weather service, fuel dock, WiFi, laundry service, provisions, restaurants.... Read More
Places
Canary Islands, Las Galletas, Tenerife