Previous Page
General Info
Gran Tarajal lies four miles SW of Punta Lantailla on the South East coast of Fuerteventura. This attractive town is surrounded by hills on three sides giving shelter from the almost constant trade winds.
Owned by Puertos Canarios, this is a government-run port. Details of the ports they operate and the services they provide can be found on the Puerto Canarios website here. See Canary Islands/Formalities/Restrictions for more details.
Gran Tarajal is a small town but with a good range of shops and restaurants. There is a boatyard with secure hard standing and repair facilities.
Unfortunately, the port of Gran Tarajal suffered extensive damage during Storm Emma in March 2018. After being closed for repair for some time, the marina has now reopened. Debris has been cleared aside from one sunken ship which is well marked. It is not recommended to enter at night.
Rats can be a problem here – see comment at bottom of the page.
Position: 28° 12.5'N, 14° 01.7'W
Docking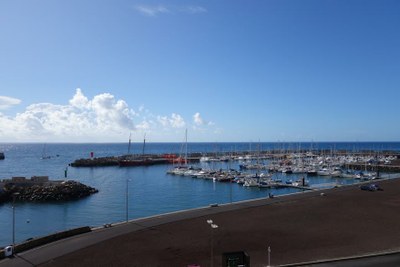 Entrance
Call channel 9 before entering and security will assist with berthing outside of office hours. Note however that cruisers have reported getting no response from this marina via VHF, phone or e-mail.
There is a green buoy off the breakwater, which should be left to starboard.
Marina Information
The new marina (photo courtesy of Jackie Byrne), provides berths for yachts and the local fishing fleet as well as a center for the new sailing school. There are 2 pontoons for visitors as you enter.
The marina is open to swell in southerly winds and leaving a boat unattended here for a long period of time is not recommended. Mooring compensators are recommended and it is advisable to get as far into the marina as possible, even so, the swell can make conditions very uncomfortable.
Pay for your berth at the marina office – open every morning, Monday to Friday. Berthing, electric and water are all charged separately.
Very little, if any, English is spoken here.
Anchoring
Yachts can anchor off the beach in settled weather, good holding with a sandy bottom. There is less swell when the wind is N/NW.  Generally, if there is any east in the wind, swell works its way into the anchorage, but you can anchor in the lee of the cliff in light easterlies.  There is nowhere to secure a dinghy ashore, most anchored yachts seem to leave them on the beach.
To the west of the marina is a small rocky bay where boats also anchor.
Last updated:  November 2018
Places
Canary Islands, Fuerteventura, Gran Tarajal