Previous Page
General Info
The distinctive shape of Montana Amarilla (Yellow Mountain) marks the western limit of the large bay. This is a tourist resort close to the southern tip of Tenerife where a range of sporting activities are available.
This port is very convenient for the Tenerife Sur (Reina Sofia) airport with cheap charter-flight connections to Spain, UK, France, Germany and Holland. So a good place to leave your boat for a trip home, however, a hire car would be needed to do major reprovisioning.
Position: 28°01.12'N, 16°36.97'W (marina entrance)
Docking
Entrance:
Access from the sea is easy, and the marina is reported to be well protected in most conditions although the wind is often abeam when manoeuvring into the tight berths.
A line of yellow buoys to port as you enter mark a shallow area with rocks best avoided, particularly at low tides. Wait to be directed to a free berth if one is not visible and the reception pontoon is full.
Anchoring:
There is an attractive anchorage in a bay about 8NM NE of the marina. It lies close to the town of El Poris de Abona. There is an anchorage off the beach (in the sand in 4-6m) on the northern side of the bay. Be careful of swimmers and old mooring buoys close to the wall. There are two walls with ladders and stairs where it is possible to leave the dinghy. Bars and restaurants in town.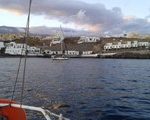 Photo of the northern side of the bay at Abona from Thibault Goncalves.
The southern side of the bay lies close to the lighthouse of Abona. Here, it is possible to anchor between the southern mole and the small cliff in front of the beach in 3 to 5 meters over sand. There are a lot of rocks east and close to the southern mole. Due to wind shifts, anchoring fore and aft is helpful. It is an attractive anchorage, that offers good protection. It is not advisable to enter the bay by night.
Last updated: October 2018
Places
Canary Islands, San Miguel, Tenerife