Previous Page
General Info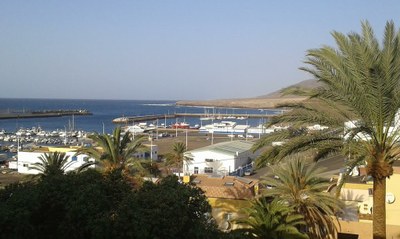 This is a lively tourist destination on the southwestern corner of the island. It has great sandy beaches.
Owned by Puertos Canarios, this is a government-run port. Details of the ports they operate and the services they provide can be found on the Puerto Canarios website here.
See Canary Islands/Formalities/Restrictions for more details.
This port is well protected from southerly winds.
Position: 28° 03'02″N, 14° 21'56″W (harbour entrance)
Docking
Entrance
When approaching from the east, yachts first pass the long sandy beaches, then hotels and apartment buildings to the east, and finally the massive breakwater comes into view. When approaching from the west, Punta Jandia should be given a wide berth to avoid some shallow patches.
Marina Information
The harbor/marina is divided into two sides: western and eastern.
The western side of the harbor has plenty of room with 2 pontoons (see photos courtesy of SY Moya), however, there is no electricity or water on this side. There are rocks to the north which are close to the surface so take care. This side of the harbor is close to the beach and from where there are walking paths into the mountains.
The eastern side of the harbor has water and electricity available and it's possible to top up water tanks by jerry can or by moving the boat to a berth on the eastern side for a short period of time (check with the port authority). There is also a fuel station on the eastern side and toilets next to the post office.
The town is a 15-minute walk from the harbor where there are a Spar supermarket and a hardware store. There is a big resort east of the town.
Anchoring
It is forbidden to anchor in the harbor.
There is a good anchorage west of the harbor, from the bay to just east of the lighthouse. The holding is good in the sand but put out plenty of chains as the wind gusts can be very strong.
Last updated: October 2018
Related Businesses
Harbour Office – Morro Jable

Address: Morro Jable, Fuerteventura, Canary Islands,

Morro Jable Marina

Address: Morro Jable, Fuerteventura, Canary Islands,

Water and electricity, no showers, fuel. Boatyard with a 30-ton travel lift.

Close to the town and restaurants.... Read More
Places
Canary Islands, Fuerteventura, Morro Jable