Previous Page
General Info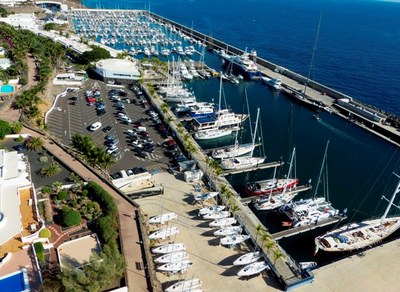 Puerto Calero has situated just SW of Puerto del Carmen on Lanzarote's south-east coast.
A preferred base in the Canaries for leaving boats unattended, standards are high and the marina is well-kept and maintained. Despite many restaurants and a fully-equipped yard, the area is quiet and relaxed.
The airport is 15 minutes drive from the marina and car-hire, taxis, bike-hire, and a bus stop can all be found on site. There is a market on twice a week and Endeavour Sailing, the local RYA center, offers many courses for cruisers.
Discounts are offered for sailing visitors in Cabrera Medina car hire; the well-equipped Mc2 Action gym and Amura restaurant. Mention "Noonsite" for a 10% discount off short stay berthing.
Position: 28º 54'55″N, 13º 42'25″W.
Docking
Entrance:
It is advisable to call the marina on Ch 9 prior to entry. The entrance is narrow and a good lookout should be kept for fishing boats and the high-speed ferry leaving the harbor.
Marina Information:
There is a full-service marina here and arriving yachts should tie up at the receiving dock, located to port upon entry, opposite the control tower.
Security is very good and this is a good place to leave a yacht unattended.
Last updated: October 2018.
Related Businesses
Puerto Calero Marina

Address: Edif. Antiguo Varadero, 2º, 35571 Urb., Puerto Calero - Yaiza, Puerto Calero, Lanzarote, Canary Islands, 35571

450 berth marina (8-70m) with max. depth 5m. All pontoons with water and electricity (single and three-phase 220v and 400v electricity with up to 200... Read More
Places
Canary Islands, Lanzarote, Puerto Calero