Previous Page
General Info
Description:
Lying south of Mustique and north of Mayreau, in the middle of the Grenadine archipelago, Canouan is an island of only five square miles.
Despite that, Sandy Lane Yacht Club in south Glossy Bay (a multi-million dollar development and the first superyacht marina) opened to yachts in April 2017. Situated next to the airport runway on the SW side of the island, the marina is now open to visitors.
The island is "divided" in two. The northern portion is run by a large resort development exclusively for guests. The southern portion, for the locals, is where the new marina is situated.
Cruiser Highlights:
The island has incredible beaches and great walks and hopefully, Canouan will still manage to retain some of its sleepy, rural charms with all the new development.
Entrance Notes or Cautions:
Airport:
The safety department at SVG Air strongly urges yachts to avoid the area within 3.2 km (two miles) of the airport's final approach area. On numerous occasions vessels have been crossing the final approach path at Canouan, at the same moment, an aircraft is on its final approach. This poses a problem to both the aircraft and the yacht alike, especially at night or in low visibility. This is especially difficult for a pilot unfamiliar with the area.
The airport closes at 19.00. Flight movements are pretty infrequent (4 SVG Air flights per day, one by Mustique Air and a few private flights).
Anchoring: Anchoring is banned on the east side of Canouan.
Kite-Surfing: Kite-surfing is also banned on the east side of Canouan.
Yacht Security:
Cruisers need to be cautious if visiting Canouan. Unfortunately, boardings and thefts are common here, particularly in the summer months. Do not leave your boat unlocked when ashore or at night – make sure all hatches are properly secured and your valuables are carefully hidden from view. This should be best-practice throughout the Caribbean. See Canouan Security Reports for more details.
Position:
12° 42.6'N, 61° 20'W.
Clearance
For full details on clearance, fees and regulations see SVG Formalities.
Customs and Immigration office is the Canouan Revenue Office located at the ferry port at the main harbor in Charleston Bay.
There are also Customs and Immigration offices at the airport, adjacent to the new marina. Open 07:30-19:00 daily. The marina operates a shuttle bus for yachts clearing in or out.
Last updated: January 2020
Docking
Charlestown Bay
This is the main anchorage on the west coast of the Island, lying open to the NW. Visiting yachts can anchor anywhere, except close to the Tamarind Beach Hotel which is full of moorings.
It can be uncomfortable here in strong NE winds with a northerly swell. Whilst holding is good in sand, the strong gusts coming off the hills can cause boats to swing all over the place and this can be worrying, especially with the wind howling all night. It can often be quite rough here.
The mooring buoys close to the shore belong to the charter fleet and are not available to visiting yachts.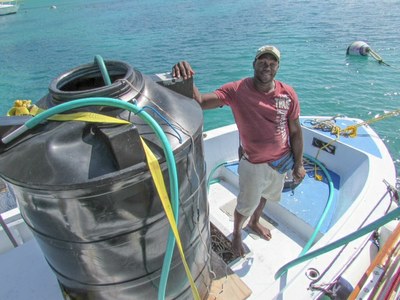 Other moorings in the bay belong to Marcus and John, both provide a number of services to visiting yachts.
The jetty at the Tamarind Beach Hotel can be used to come ashore in your dinghy, but use an anchor to keep your boat clear of the pier. With a swell running, it can be quite tricky to land on the dinghy dock safely. If landing on the beach, be aware that huge waves can appear from nowhere and somersault the boat.
The hotel welcomes cruisers and has WiFi and will sell you bread. Also, boats will call to sell you fish, lobster, bread, water, ice, and diesel.
If buying diesel be sure to filter it well – it is unlikely to be clean.
Moorings Yacht Charters have a new big dock here right next to the Hotel and there is also a small wooden dock in the southern part of the bay.
Other Anchorages
Yachts can also anchor in Rameau Bay. With the current and tides yachts tend to swing randomly here, so be sure to leave enough room between boats. Snorkeling is reported to be good and the Coastguard do patrol this bay.
It is however no longer possible to anchor in Corbay – a useful protected anchorage but now out of bounds due to new ownership (see Related User Comments section).
Last updated: May 2017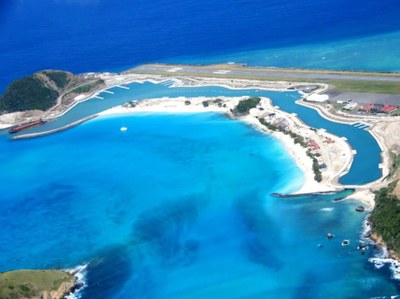 Marinas
A new marina opened here in April 2017 alongside the airport runway called Sandy Lane Yacht Club. It does suffer from noise from the airport but is a convenient place to clear in and refuel.
Safe water mark and full buoyage lead into the marina. Visiting yachts should call the Marina on VHF Channel 68 and normally will be directed straight to a berth depending on size, draft and utilities required. Otherwise, yachts may proceed and moor port-side-to along the quay directly in front of the Marina Office from where they will be allocated a berth.
Smaller yachts should be aware that the marina can berth yachts up to 100 meters LOA which may be restricted in their ability to maneuver on and off their berth and in the entrance channel. Security messages will be broadcast on VHF16 and 68 whenever a large yacht is entering or leaving a berth.
Taffia Hill breaks most of the prevailing wind so conditions along the marina channel are slightly less boisterous than outside, but not by a lot. The smaller yacht berths are at the eastern end of the marina where the shelter is greater.
There is a fairly well stocked (but expensive) supermarket and an up-market restaurant on site with other shops. The marina is five minutes by taxi to Charlestown where you can find a supermarket, fresh fruits and vegetables, and an ATM machine at the only bank. There is also a LIME shop where you can buy a data mobile card.
Last updated: September 2020
Related Businesses
John's Marine

Address: Canouan, The Grenadines, St Vincent & the Grenadines,

(photo courtesy of SY Wild Goose)

Moorings, Ice, and high quality desalinated water from the Tamarind Hotel complex at $1 EC per gallon (.37 US).... Read More

Marcus (Iceman)

Address: Charlestown Bay, Canouan, The Grenadines, St Vincent & the Grenadines,

Supplies ice, gas, moorings and water and will try to assist in other ways.... Read More

Sandy Lane Yacht Club

Address: Glossy Bay, W.I., Canouan, The Grenadines, St Vincent & the Grenadines, VC0450

120 berths up to 100m LOA. Electricity 50 & 60 Hz, 16, 32, 50, 63A Single phase. Water, Duty-Free Diesel & Gasoline, Marina Office, Marina... Read More
Courtesy Flag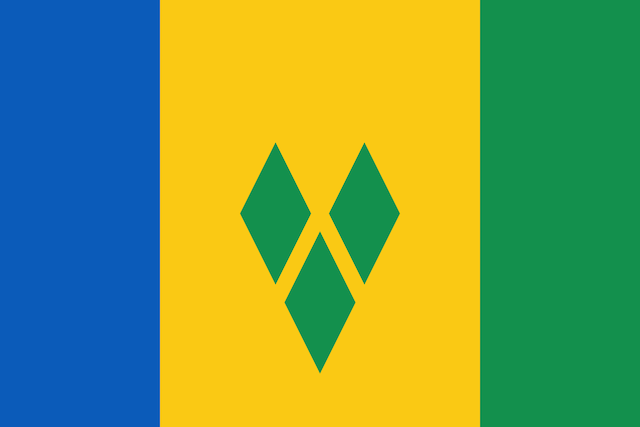 YachtFlags.com offers a discount to Noonsite members.
YachtFlags.com provides high quality courtesy flags that are manufactured in durable Knitted Polyester fabric. Knitted so that the fabric itself does not deteriorate in the constant movement that marine flags are usually exposed to, and polyester so that the flag does not weaken in the strong UV-light usually found in the main sailing areas of the world.
Use the coupon code NOONSITE_5A2B when checking out to get 10% off today.
Buy Now On YachtFlags.com