Previous Page
General Info
Description:
Lying just 14.5 kms (nine miles) to the south of St. Vincent, Bequia is the largest of the Grenadine islands. Its traditional boat building and fishing industries are still active.
Cruiser Highlights:
Cruising guides, apps and happy-hour chitchat can all be good sources of information for sailors in the Caribbean. Tune into the Bequia Cruiser Net at 08:00 on VHF Channel 68, daily.
Position:
13° 00'27″N, 61° 14'45″W (bay entrance)
Clearance
See SVG Formalities for full details on clearing into and out of St. Vincent & the Grenadines.
Bequia is used to visiting yachts, so clearing in at Port Elizabeth is straightforward.
The Customs and Immigration offices are in the building marked 'Bequia Revenue Office'. It is opposite the ferry dock.
Customs are open every day, including Sunday, but do close for lunch (re-opening at 13:00) and closed end of the day at 18:00.
Be sure to clear in as soon as you arrive to avoid any problems. All payments must be in cash.
Last updated: February 2019
Docking
Anchorages
Admiralty Bay:
This is a busy bay with lots of boat boys competing for your business. It's very sheltered and can accommodate a large number of yachts. Mooring buoys are available in addition to a small marina, or you can anchor either side of the central ferry channel. Be aware of the depth and be sure to leave plenty of room for the ferries or you will be moved. If you use a mooring, dive down to check it – you may be surprised. Because of the crowding, you may end up a long way from shore.
To the SW of the ferry dock there is a pair of large red and green buoys – nothing to do with port and starboard – the tanker moors between them when it comes in, so keep well clear.
There are several dinghy docks available around Port Elizabeth.
Garbage facilities are by the market at the northern end and water is available from a floating boat/barge.
Tony Gibbons Beach:
Also called Princess Margaret Beach, this anchorage may be a better option although break-ins have been reported here in the past.
Friendship Bay:
Another good anchorage located on the south-eastern side of Bequia. It is a short distance over the hill from Lower Bay. This sheltered bay provides a secure anchorage for yachts with good holding in sand, but watch out for the small moorings on the east side of the bay. The bay is also sometimes affected by bad swell. It also offers excellent snorkelling, scuba and windsurfing conditions.
Note: West Cay, at the far south-west of Bequia, is shown as being 2 cables further west than it actually is on the Navionics electronic chart.
Communications
The local VHF channel for hailing – which is locally monitored – is channel 68. Every morning at 0800, Cheryl from the Fig Tree Restaurant runs a cruisers net on this channel.
Last updated: February 2019
Security
In recent years, thefts from yachts have been a problem in this area. Most incidents are similar, that is, while the crews are ashore for dinner or excursion the yacht is burgled – however, some yachts have been boarded at night while people are asleep on board.
The Government of St. Vincent and the Grenadines periodically puts patrols in the area, but the patrols do not appear to remain in place for long.
Be sure to close all hatches and lock your boat when going ashore, and secure any loose items on deck and in the dinghy. It is even better if someone can remain on board.
Theft of items like dinghy lights, stern anchors and fuel tanks from dinghies at the dinghy dock in Port Elizabeth continue to be reported. Follow safety guidelines for dinghies and outboards.
It is also advisable to lock the boat and hatches during the night whilst sleeping.
Yachts should avoid anchoring within easy swimming distance of Princess Margaret Beach or the abandoned Plantation House Hotel. See the security reports section for more information.
Last updated: December 2019
Related Businesses
Bequia Marina

Address: Admiralty Bay, Port Elizabeth (Bequia), Bequia, St Vincent & the Grenadines,

Lat 13° 0' 47" Long-61° 14' 11"

Stern-to docking; marine railway, 40-ton capacity.... Read More
Courtesy Flag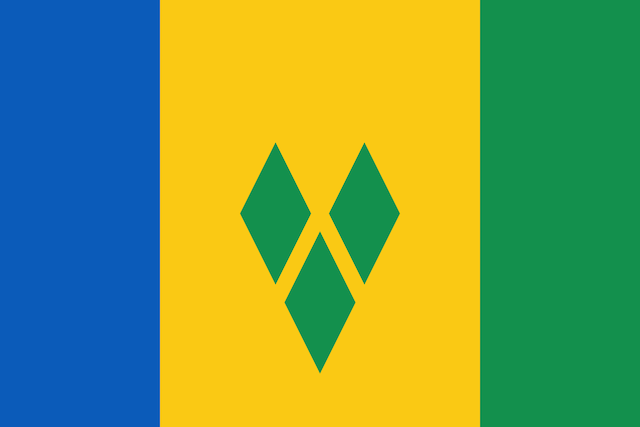 YachtFlags.com offers a discount to Noonsite members.
YachtFlags.com provides high quality courtesy flags that are manufactured in durable Knitted Polyester fabric. Knitted so that the fabric itself does not deteriorate in the constant movement that marine flags are usually exposed to, and polyester so that the flag does not weaken in the strong UV-light usually found in the main sailing areas of the world.
Use the coupon code NOONSITE_5A2B when checking out to get 10% off today.
Buy Now On YachtFlags.com