Explore: St. Vincent & the Grenadines
Previous Page
Facts
COVID-19: Entry protocols for yachts have been affected by the pandemic. See the Biosecurity section for details.
ALERT: La Soufrière volanco on the northern end of St. Vincent erupted on Friday April 9, 2021. 16,000 people had to be evacuated and falling ash was felt on all neighbouring islands. See this news report. Keep abreast of the current situation if sailing 

around the north of the island.

The island of St. Vincent plus over 30 Grenadine Islands have always been a popular yachting destination. Cruising attractions include the unspoiled Tobago Cays (now the Tobago Cays Marine Park) and the exclusive Mustique.
The Northern Grenadines are administered by St. Vincent, while the smaller southern group belongs to Grenada.
On Bequia, Port Elizabeth in Admiralty Bay is one of the most famous watering holes on the international cruising scene, however, the range of repair facilities is more limited than St. Vincent.
Ottley Hall Marina and Shipyard near Kingstown, St. Vincent, provides a complete range of repair and service facilities; there are also good repair facilities at Young Island and Blue Lagoon.
A new marina development opened in April 2017 on the south-west side of Canouan, offering some services. On the other Grenadines, facilities are very basic.
Security
Overall Crime and Security
While most visits to SVG are trouble-free, visitors should be vigilant as in the rest of the Caribbean. Avoid walking along isolated roads and on beaches at night and don't carry large amounts of cash around or wear flashy jewelry.
Despite the relaxed atmosphere, there have been incidents of violent crime, including murder. While these crimes mostly occur within the local community, trouble may still affect visitors. Muggings, theft from yachts, hotels and holiday homes do occur.
Maritime Issues:
Reports to Noonsite of theft from yachts at anchor in this part of the Caribbean (in some cases armed robbery) have increased over the last few years (see reports adjacent). Current advice is to be vigilant if planning on anchoring in Cumberland Bay and Chateaubelair and to be extra vigilant with security measures in all anchorages on the West Coast of St. Vincent and around the Grenadines, in particular, Admiralty Bay, Bequia, Tobago Cays, Canouan and Mayreau.
Bequia Coastguard is now patrolling at night, however, their resources are limited and cruisers need to remain vigilant. St. Vincent Coastguard Advice to Yacht Owners. Noonsite continues to receive reports of burglary/attempted break-in, from yachts in Bequia.
Be sure to lock all hatches when leaving the boat unattended and in particular during the night whilst sleeping on board and don't leave loose items in the dinghy or on deck.
Dinghy and outboard thieves operate throughout the Caribbean. Noonsite and CSSN continue to receive regular reports from boats who have had their dinghy and outboard stolen because they left them in the water overnight, tied to the back of the boat, unsecured.
Remember to padlock your dinghy and outboard at all times to the yacht, even when at anchor or in a marina. We recommend you lift your dinghy out of the water at night using a lifting strap and halyard, or lift it on deck. When leaving your dinghy ashore, always padlock it to a permanent structure using a wire that runs through the engine and fuel tank, with a padlock.
Latest Reported Incidents:
See related reports for more.
The Caribbean Safety and Security Net provide information by anchorage or by the island. If you experience a boarding, robbery or attack on your yacht or have information about a yachting-related security incident, go to the CSSN homepage and click on the "Report an Incident" icon.
VHF Channel 66 Repeater was privately donated to the Grenadian Government and is used by the Grenada Cruisers Net to provide coverage to all Grenadian waters. It can also be received in southern parts of St Vincent and the Grenadines and the northern parts of Trinidad including Chaguaramas Bay. The Grenada Cruisers Net supplies weather, advice, and information on many subjects to help make Cruisers' stay in Grenada more rewarding. It's broadcast each day at 7:30 AM.
Rescue 1 is a private rescue service of the Prickly Bay Marina, Grenada, and is on call 24 hours each day. As well as the rescue vessel it provides excellent liaison between cruisers, Police, Coast Guard, and other Authorities.
Emergency Numbers: See General Info for more details.
Last updated: January 2022
Weather
The islands lie in the tropical trade wind zone. December to May are the best months, dry, and outside the hurricane season, which lasts from June to November.
The SVG Met Service does not have a functional website.
Phone: 458-4477 / 458-4011
Alternative SVG weather info. on the web:
See the Caribbean National, Regional and Island Weather Websites report for more.
For links to free global weather information, forecast services and extreme weather information see the Noonsite Weather Page.
Courtesy Flag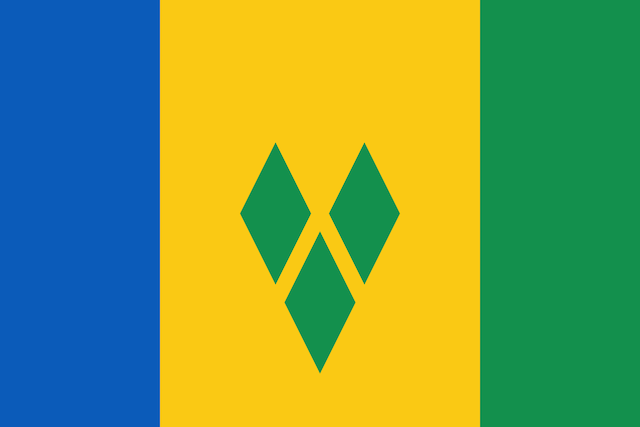 YachtFlags.com offers a discount to Noonsite members.
YachtFlags.com provides high quality courtesy flags that are manufactured in durable Knitted Polyester fabric. Knitted so that the fabric itself does not deteriorate in the constant movement that marine flags are usually exposed to, and polyester so that the flag does not weaken in the strong UV-light usually found in the main sailing areas of the world.
Use the coupon code NOONSITE_5A2B when checking out to get 10% off today.
Buy Now On YachtFlags.com