Previous Page
General Info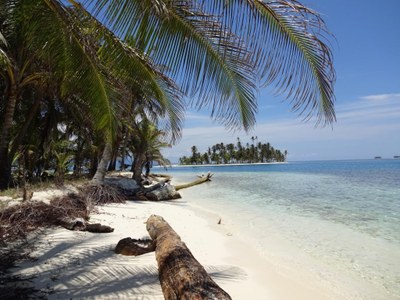 Photo courtesy of SY Juliane who visited the San Blas in April/May 2016.
The San Blas Islands of Panama is an archipelago comprising approximately 378 islands and cays, of which only 49 are inhabited. They lie off the north coast of the Isthmus, east of the Panama Canal. They are home to the Kuna Indians and a part of the Comarca Kuna Yala along the Caribbean coast of Panama.
Whilst technically part of Panama, these islands and their people are a long way removed from mainland Panama. The Kunas have their own rules and regulations, and whilst mainland Panama might want to make immigration and clearance policies consistent throughout the country, it appears that the Port Captain in Porvenir has his own way of doing things.
Many cruisers think the San Blas Islands are all about the blue skies, palm trees and white beaches. In reality, they are a challenging cruising ground, with shallow water, unprotected anchorages and unsettled weather (normally) until April arrives. The popular cruiser anchorages are all in the Western San Blas (Porvenir; Chichime; East Lemon Cays and the Eastern Holandes Cays). About 80% of all the cruising boats in the entire archipelago can be found here. Anchoring space is tight and wind shifts can present all sorts of problems.
If you have the time, discover the real San Blas and sail further to the east, away from the overcrowded bays. Give time for the weather to improve as April approaches, the conditions will then become calmer and the visibility for snorkelling improves greatly. Only then will you discover why the San Blas is the popular cruising destination it is.
Some General Comments on Cruising this Area
Charting is inaccurate and Navionics is out by 200 yards West and 100 yards North. See the Navigation Warning at the bottom of the Porvenir page. C-Map charts are also reported to be inaccurate. The Bauhaus chartbook is reported to be the best resource.
You need high sun and a foredeck/rigging lookout to enter many anchorages.
Bring everything with you. You will not find any diesel, occasionally petrol (but poor quality and expensive), banks (you need US Dollars small denomination), mobile phone reception (except at Ustupu and Nargana) or internet. If you buy a Movil pre-paid USB stick you may get internet where there is phone reception but make sure it is properly configured for your computer before you set off.
Take care where you anchor. In general, if anchoring off a settlement always choose to anchor off the town pier to avoid a possible fine. Then check ashore that your desired anchorage is permitted.
Reports received from yachts indicate that the Kuna Yala is not trying to collect excessive charges, generally, yachts are asked to pay: $20 for the boat for 30 days and $20 for each crew member on board (children exempt). The anchoring fee of $10 per month at each Island is not always requested. See this report for more details.
As well as seeing some very beautiful islands, you will also see some very dirty ones – rubbish disposal is a real problem here.
Prohibited activities include kite surfing, drones, wakeboarding, surfing, scuba diving, chartering, spearfishing.
Useful Reports:
Fatal Boarding and Attack in Guna Yala (May 2019)
Guna Yala, Isla Surdub (Isla Mono): New Zealand Cruising Family Attacked and Father Fatally Injured
Adventures in Guna Yala
http://currents.bluewatercruising.org/articles/adventures-in-guna-yala/
Article January 2016 published by the Bluewater Cruising Association.