Previous Page
General Info
This is an old seaside town on the NW coast of Tenerife with a brand new marina. It's about 60km west of the capital Santa Cruz, and 50km from the north airport, 67km from the southern one.
The town itself is nestled below a very high cliff, with twisting cobbled streets and a wonderful atmosphere. This area is very Spanish still and probably the least spoilt coastal area of Tenerife.
Owned by Puertos Canarios, this is a government-run port. Details of the ports they operate and the services they provide can be found on the Puerto Canarios website here. See Canary Islands/Formalities/Restrictions for more details.
Docking
Entrance
This coastal area is pretty exposed and as a result, the swell in the approaches can be untenable and entry should only be made when it is less than 1.5m. It is not advisable to enter at night.
It is advisable to call on VHF Channel 9 to check the state of the swell of the entrance. Once inside the breakwater, there is plenty of room with pontoons well spaced out. Large yachts can be berthed alongside the breakwater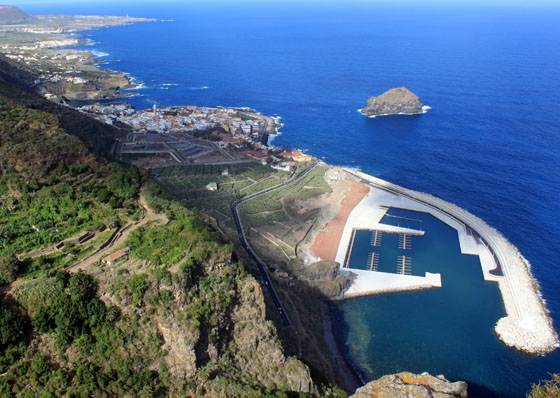 Last updated: October 2018
Related Businesses
Puerto de Garachico

Address: HM Anisieto, Garachico, Tenerife, Canary Islands,

(Harbour Master 08:00-14:00 / Security 24hrs)

This new marina opened June 2013. See comments above about the restrictions on entering the marina. Water and electricity. Fuel... Read More
Places
Canary Islands, Garachico, Tenerife