Previous Page
General Info
COVID-19: OPEN PORT
See Biosecurity for details of the latest yachting protocols.
Description:
Salvador de Bahia is situated in a large bay (Baia de Todos os Santos) which offers a multitude of marinas and anchorages.
Security:
Cruisers are warned not to visit secluded anchorages in the Bahia de Todos os Santos. There is a notice to this effect (June 2012) posted at the Aratu Yacht Club to advise their members – who are Brazilian.
It is also strongly recommended that, unless taking up a berth in one of the marinas, vessels should avoid anchoring in the Port area where several armed boardings and robberies have taken place.
That said, an armed boarding, assault, and robbery occurred at Itaparica Island in April 2014 (see report adjacent), so great care should be taken when anchoring in this area.
The historic center of the town, which is within walking distance of the marinas, is worth visiting for its remarkable and well restored colonial buildings. Be very aware of street crime here and use common sense (no flashy jewelry etc.).
Generally speaking, Salvador is not cheap.
Position: 12°58.48'S, 38°31.23'W (Bahia marina entrance).
Clearance
See Brazil Formalities for full details on clearing into and out of Brazil.
All administration (Immigration, Customs, Navy) are less than 100 metres from Terminal Nautico and three kms away from Marina Bahia.
For international clearance, you need to go to these different offices in this order as the next step requires documents from the previous:
Immigration, Policia Federal, on Ave. de Franca, inside a non-descriptive port authority building. Ask to be directed to the right place. The building faces the Brazilian Navy Marines barracks. two to three kms from the Marina. Both skipper and crew have to check in.

The Policia Federal office hours are 09:00-12:00, 14:00-17:00 (Mon-Fri). 09:00-12:00 (Sat). Checking in with the Policia Federal is mandatory here.

Customs, Receita Federal, in the commercial port, on Ave. de Franca, 300m to the left of Terminal Nautico when exiting the premises. Some English is spoken. Everything is done on a computer under the guidance from officials there (the computer service is available in English). The only skipper has to check the boat in. The boat will be temporarily imported on the basis of the skipper's length of stay as stamped in the passport. If the policia federal from step 1 gives you 90 days then the boat will also get 90 days.
Capitania do Portos, Marina Do Brazil, in the big white building 300m to the right of the TN gates. You will have to clear at the gate. Inside the building are many different counters. Go to "F" "1" counter, on the very right after entering. No English is spoken but people are reported to be quite helpful.
Be sure to wear long trousers, no caps or hats inside the military area, or you might be refused service.
The staff at both marinas are most helpful and will advise about formalities, as will Marcelo Brocchini of MB yacht services.
Note: If you are unable to stay in a marina here, a safer option for clearance is to anchor at the NW tip of Itaparica, across the Bay from Salvador. There appears to be no enforcement by the authorities for the requirement to check-in immediately on arriving in Salvador. Once established at Itaparica it is an easy ferry trip across to Salvador to complete entry formalities.
For domestic clearance, you only have to visit the Receita Federal and the Capitania.
Clearing Out
If leaving Brazil, visit all the offices in reverse order. If leaving Salvador for somewhere else in Brazil only a visit to the Capitania do Portos is required.
Last updated: December 2021
Docking
The approach is straight forward and deep, but with surprisingly strong currents in the middle of the bay and also at the northern end. The night approaches are well marked to all the marinas. Beware of wrecks off the cape on the eastern side of the entrance to the bay.
Terminal Nautico
Terminal Nautico at Forte de Sao Marcello is a good choice if you wish to be close to the city but do be aware that theft of loose items on deck can be a problem here.
Alternatively, Bahia Marina (1 nm to the east of TTNB/TN) is best if you want to leave the boat for a while, however, visitor space here is limited.
A quieter spot would be NW of Itaperica, either anchorage or marina. Note however that a boat was boarded here and the crew assaulted and robbed, in April 2014 (see report adjacent). The anchorage close to the Fort offers good protection and the holding is good in mud, however, there is only a very dodgy beach at which to leave the dinghy and the moorings appear to be run by the guy that does the laundry and odd jobs in the marina.
There are several marinas in this bay, Baia de Itapajipe, Riberia, north of the city. (see comment below on Angra dos Veleiros marina).
At Aratu, a small bay about 10 miles north of the city, a new marina is being built. Accessed by a well buoyed and deep channel. It will have haulout facilities. There is also a yacht club here which welcomes visitors and is a good place to leave your boat if traveling inland with easy airport connections. They advise against anchoring here.
It is also recommended not to anchor off the marinas in the port area of Salvador where a number of boardings and armed robberies have taken place.
Leaving your boat in Salvador
There are only three marinas here licensed to keep foreign boats when the owner is not in Brazil. These are Terminal Nautico, Pier Marina, and Aratu Iate Clube.
If leaving your boat on its own, you will have to complete a form with the marina and have it verified with the Capitania dos Portos. You will then have to visit the Receite (Customs) to get an extension to the existing 90-day permit for as long as you want (within a two year period). On returning to Brazil you will be given a 90 day stay for you and the boat from your date of entry. It is likely the marina will also want you to employ a local person to take care of the boat in your absence.
Last updated: February 2018.
Related Businesses
Yacht Clubs
There are a number of yacht clubs in and around Salvador, and repair facilities at some of them are very good as they cater to a large local boating community.
Related Businesses
Aratu Iate Clube

Address: Rodovia Paripe – CIA, S/N, Simoes Filho, Salvador de Bahia, Eastern Coast, Brazil,

Half a day's sail from Salvador, Aratu Iate Clube is the biggest nautical club in Bahia, offering fully serviced berthing and club facilities. Very convenient... Read More

Bahia Yacht Club

Address: Sete de Septembro 3252, Salvador BA, Eastern Coast, Brazil, CEP 40130 001

Excellent facilities including a restaurant.Swimming pool on site. Safe and very pleasant surroundings to pass the hot days. Visitors welcome.

The club runs a ferry. Advisable... Read More
Courtesy Flag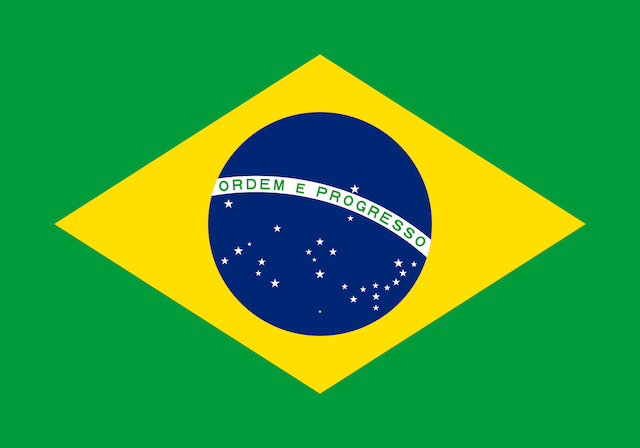 YachtFlags.com offers a discount to Noonsite members.
YachtFlags.com provides high quality courtesy flags that are manufactured in durable Knitted Polyester fabric. Knitted so that the fabric itself does not deteriorate in the constant movement that marine flags are usually exposed to, and polyester so that the flag does not weaken in the strong UV-light usually found in the main sailing areas of the world.
Use the coupon code NOONSITE_5A2B when checking out to get 10% off today.
Buy Now On YachtFlags.com