Previous Page
General Info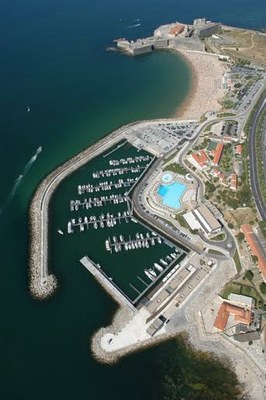 Oeiras lies 20km west of Lisbon and 10km east of Cascais.
This attractive and interesting town offers an alternative to the crowded berthing in Lisbon city itself.
Position 38° 40.59'N, 09° 18.95'W (marina entrance)
Docking
Approach
The harbour entrance is approximately 0.5 miles, on the east side of S. Julião beacon (0c R 5s), with a range of 14 miles, placed on a grey prismatic tower with red dome, 41 meters high.
Leading Line
The entrance is approached on a 277º course, up to the alignment of the small breakwater beacons, and then the course must be corrected to SW (nearly 225º), in such a way as to pass between the southern breakwater and the top of the pier breakwater.
Entrance
The Yachting Harbour entrance is located between the north and south jetties.
Note that the entrance here is very narrow and can become rough with swell from the south combined with the ebb current.
On arrival come alongside the welcome pontoon (fuel berth).
This small, purpose-built marina has excellent facilities and offers a number of services useful to visiting cruisers with multi-lingual staff (English, French, German, Italian and Spanish).
The bars, restaurants and shops are just a few feet from the boats and it's a 15-minute walk into the town (20 minutes to the train station).
Many small repairs can be carried out by dedicated marina staff. Use of swimming pool (April to October) included in the berthing fee.
There is a nice sandy beach next to the marina and several cultural events on during the year.
Last updated August 2017.
Places
Oeiras, Portugal, West Atlantic Coast (Portugal)