Previous Page
General Info
Lying 10 nm N of Leixoes and only 18km from Porto airport, Povoa is a useful port. It is however not a particularly attractive one and although the town is over 100 years old, it has been taken over by high rise flats and hotels for tourists attracted by the long sandy beach.
A convenient stopover in the summer, but be aware that most of Portugal has fiestas in the summer and particularly in August the revelry can go on into the early hours.
Position 41° 22.12′ N,8° 46.18'W (harbour entrance)
Clearance
This is an official Port of Entry.
See the Noonsite/Portugal/Formalities page for full details of clearance.
Clearance can be completed at the marina office. All yachts, whether from another Portuguese port or not, must present passports and ships papers at the office.
Last updated December 2015.
Docking
Approach
When entering, the northern breakwater should be given a wide berth as there is often breaking water at its extremity. In addition, there is an isolated rock close to the inside of the northern breakwater. After entering between the two breakwaters, turn to starboard passing around a row of unlit green buoys which mark shallow water near the breakwater.
Also, be aware that the entrance can be rough when there is a heavy swell running and on occasions, the harbour may be closed.
Moorings
The fishing boats use the northern part of the harbour and the marina lies in the southern section.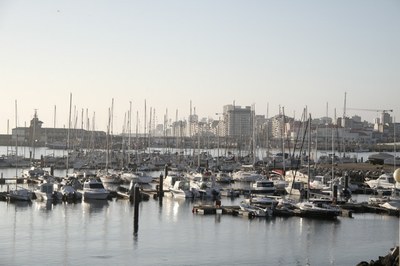 The marina here (photo courtesy of Kieran Higgs) provides an economical longer-term berth for cruising yachts. As with the majority of ports on this coast, however, care should be taken in deciding to winter your boat here in the water, due to the surge that develops during southerly winter storms. Improvements to the breakwater have helped dampen the swell somewhat. However, care should be taken with tying up your boat correctly to allow for surge, in particular in the winter and if leaving your boat for any length of time.
The new security gates installed at Povoa Marina do also operate with traditional magnetic cards, which are available for those visitors who would rather not register biometric data (fingerprinting) with the marina.
The marina has hard standing for approx. 100 yachts, ideal for winter storage although not as a place for winter repairs as electricity usage is limited. Hardstanding should be booked in advance (see boatyards for further details).
Local contractors can be sourced via the marina, however, there is very little available in the town in the way of boat parts.
Anchoring
Anchoring is not permitted in the bay.
Last updated: September 2018
Related Businesses
Doca de Alcantara

Address: Lisbon, Portugal,

Lying 1.2 miles upstream of the large suspension bridge, this is the first place in Lisbon itself to clear in. The basin has been dredged... Read More

Doca de Recreio das Fontainas

Address: Praca de Rupublica, Setubal, 2904-508

Located near the city centre and principally used for local boats, however do keep a visitor berth available for emergencies or short stays. Max. length... Read More

Doca de Santo Amaro

Address: (150m beyond the suspension bridge), Lisbon, Portugal, 1350-353

All facilities, no fuel, no laundry, ATM, WiFi, restaurant, bar & provisions, security. Clearance.

Noisy due to the overhead road bridge.... Read More

Doca de Terreiro do Trigo

Address: Portugal,

Close to the old quarter (Alfama). Rather run down and prone to silting.... Read More

Doca do Bom Sucesso Marina

Address: Portugal,

Care is needed as there are strong cross-currents at the entrance. This is the first marina as you travel up river. The entrance is on... Read More

Harbour Master – Leixoes (nr Porto/Oporto)

Address: Portugal,

Harbour Master – Viana do Castelo

Address: Portugal,

Marina da Figueira da Foz

Address: Avenida de Espanha, Figueira da Foz, Portugal, 3081-901

All facilities, bathrooms, fuel (available weekdays, Sat & Sun 8.30 - 12.30pm - cash only), laundry, WiFi, ATM, chandlery, provisions, bar and restaurant. The marina... Read More

Marina da Povoa

Address: Rua da Ponte no.2, Povoa de Varzim, Portugal, 4490

Approximately 50 visitor's berths for yachts of 10m (min depth 2.4m) and 4 berths for yachts of up to 18m (min depth 3m).

All facilities, fuel... Read More

Marina da Ribeira

Address: Porto de Pesca de Peniche, Peniche, Portugal, 2520

Berthing for 140 boats up to 15 metres. All facilities, fuel, laundry, ATM, chandlery, internet, bar and restaurant, accommodation. Card and keys for marina gates... Read More

Marina da Torreira

Address: Associação Náutica da Torreira, Avª Eng. Duarte Pacheco, Torreira, 3870 - 322

All facilities, fuel, 5-ton crane, some repairs, slipway.... Read More

Marina de Cascais

Address: Casa de S.Bernardo, Cascais, 2750-800

Fax: +351 214 824 899 / 824 860

A modern marina with all facilities, laundry, ATM, free WiFi, internet, chandlery, mail pickup, bars, restaurants, provisions, and... Read More

Marina de Sesimbra

Address: Posto Náutico do Clube Naval de Sesimbra, Porto de Abrigo, Sesimbra, 2970-143

All facilities, fuel, laundry, WiFi, ATM, bar and restaurant, security. Boatyard with a 6-ton crane, 70-ton boat hoist, repairs. max. length 18m.

Advisable to call before... Read More

Marina de Sines

Address: Setubul, Sines, Portugal,

Transit berths located on the NW pontoon. Secure to the hammerhead (fuel dock) and report to the marina office. All facilities. Excellent shower, toilet and... Read More

Marina do Freixo (Polo Fluvial do Freixo)

Address: Location 41° 08' 32"N, 08° 34' 47"W (just above the Ponto do Freixo bridge), Estrada Nacional 108, Porto, 4300 - 316

Run by the Sports Club do Porto. All facilities, fuel, max. length 18m. 24hr security. 10-ton boat hoist, repairs, restaurant.... Read More

Marina Parque das Nacoes

Address: Edifício da Capitania, Passeio de Neptuno, Lisboa, 1990-193

A 400 berth marina for yachts up to 25m located in the Southern Basin, however due to silting space is limited. Has an access lock... Read More

Marina Porto Atlantico

Address: Molhe Norte de Leixoes, Leca da Palmeira, 4450-718

Arriving yachts should berth at the reception dock, to port against the mole, and check in at the marina office.

All facilities, fuel berth (1000-1800), Wi-Fi... Read More

Marina Swing Bridge

Address: Portugal,

Open each hour, on the hour. Announcement by loudspeaker. Also opens on request (may have to circle in the river).... Read More

Maritime Port Authority

Address: Rua do Forte, Edifício Fialho, Sines, Portugal, 7520-200

Nazare Marina

Address: Caixa Postal 1, Nazaré, 2450-075

All facilities, fuel (in the NE corner of the harbour), laundry, WiFi, ATM, restaurant. Boatyard with a 4-ton crane, 15-ton travel lift. Some repairs and... Read More

Porto de Lisboa Port Authority

Address: R da Junqueira 94, Lisbon, Portugal, 1349-026

This Authority administers all the marinas "recreational docks" and their website has a good overview table showing all facilities available at each marina.... Read More

Porto de Recreio de Oeiras

Address: Estrada Marginal – Praia da Torre, Oeiras, Portugal, 2780-267

Opening hours: 24h / day, 365 days / year

Max. length: 25m. Max. depth: 3m. All facilities, fuel, laundry (wash and dry), free WIFI, ATM, boat... Read More

Troia Marina

Address: Ponta do Adoxe, Ed. Administrativo, Troia, Carvalhal, Grandola, Portugal, 7570-789

All facilities, fuel, laundry, WiFi, ATM, provisions, bars and restaurants, swimming pool. Security. No repair services.

Depths in the marina vary from 2.5m to 4m. max.length... Read More

Troia Marina

Address: Location 38° 29'N, 08° 54'W, Carvalhal GDL, Portugal, 7570-789

A modern resort marina with all facilities, fuel, laundry, provisions, bar and restaurant, WiFi and internet facilities, 24hr security, max length 18m, max depth 4m.... Read More

Viana Marina

Address: Rio Lima, Viana do Castelo, Portugal,

Waiting pontoon outside marina with electricity and water. Inside - 160 berths, 20 reserved for visiting yachts up to 14m. There is also a single... Read More
Yacht Clubs
Related Businesses
Associacao Naval de Lisboa

Address: Av Brasilia, Doca de Belém, Lisbon, Portugal, 1400-038

Clube de Vela Atlantico

Address: Av da Liberdade, Leca da Pameira, Portugal, 4450-718

Tel: +351 229 963 547 (+351 229 952 725 restaurant)

Fax: +351 229 952 825

Overlooking harbour and marina with Restaurant.... Read More

Clube Mar de Coimbra

Address: Avenida de Espanha, Figueira da Foz, 3080-801

Occupies the area behind the repair shops.... Read More

Clube Nautico de Figueira da Foz

Address: Avenida de Espanha, Figueira da Foz, 3080-801

Small clubhouse adjacent to the marina. Bar and restaurant.... Read More

Clube Nautico Viana do Castelo

Address: Argagosa-Meadela, Viana do Castelo, Portugal, 4900-000

Small but friendly club at the east end of the marina basin which welcomes visiting yachts. Bar overlooking the marine which also serves light meals.... Read More

Clube Naval da Nazare

Address: R. Mouz. Albuquerque, 63,

Private yacht club that welcomes visitors. Reported to be very friendly. Limited visitor berthing, so it is recommended to call or email in advance. Individual... Read More

Clube Naval de Leca

Address: Port Atlantic Marina, North Wharf, Leixoes, Portugal,

Clube Naval de Peniche

Address: Edif. Lotavelha Peniche, Peniche, Leira, 2520618

The headquarters is in the small fort near the root of the west breakwater, beyond the red-doored lifeboat house. Limited facilities. Bar/cafe (closed on Mondays).... Read More

Marina de Portimao

Address: Yacht Havens Marina, Marinas De Barlavento, Turisticos SA, Travessa De Sao Placido 52-A, Lisbon, 1200-854

The Clube Naval Povoense

Address: Rua da Ponte, nº 2 - apartado 24, Póvoa de Varzim, 4490-523

Large premises overlooking south breakwater. Visiting yachts made welcome. Bar and restaurant. Wi-fi available. The restaurant does excellent, cheap daily lunch menus.... Read More

Viana Marina

Address: Rio Lima, Viana do Castelo, Portugal,

Waiting pontoon outside marina with electricity and water. Inside - 160 berths, 20 reserved for visiting yachts up to 14m. There is also a single... Read More
Places
Portugal, Povoa de Varzim, West Atlantic Coast (Portugal)