Previous Page
General Info
Peniche is a busy fishing town with a large harbour, lying in the shelter of a large headland. Until the mid 18th century it was an island, but silting has now joined it to the mainland. The town is well-known for its consistent surfing conditions and its lace-making.
Position 39° 20.80'N, 09° 22.45'W (harbour entrance)
Clearance
This is an official Port of Entry.
See the Noonsite/Portugal/Formalities page for full details of clearance.
Visiting yachts can clear via the marina, who speak English.
Alternatively, go to the Instituto Portuario do Centro Office at the main port gate (tel +351 2627811153), however, it´s unlikely that any English will be spoken.
Last updated April 2018.
Docking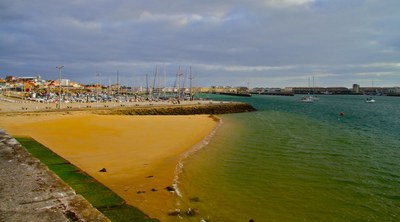 This harbour has all-weather access but often has an uncomfortable swell inside.
Marina
The marina is inside the port on the south side of the peninsula (photo courtesy of Kieran Higgs).
The marina has a visitors' pontoon (the long outer pontoon). If this is full just find a space where you can, possibly on the inside or berthing alongside someone. Rafting up is best avoided in a heavy swell.
It is possible to moor against the wall on the opposite side of the harbour. However, because of the tidal range and amount of wash from the ferries and fishing boats, care is needed. It can be bumpy here.
Anchoring
It is also possible to anchor inside the southern breakwater in the SE part of the harbour. The holding here is good, but the ground is possibly foul. There is also an anchorage on the north side of the peninsula.
Ilha Berlenga
This island is a nature reserve just 7 km west of the Peniche Peninsula. There is an anchorage on the SE side, below the lighthouse, which has moorings used by day tripper boats that are available to use for overnight. A bar/restaurant, a simple shop and fort used as a hostel is all that is here. The clear water is particularly good for diving and snorkelling, however, this is only suitable for overnight if conditions are settled.
Last updated: September 2018
Yacht Clubs
Places
Peniche, Portugal, West Atlantic Coast (Portugal)