Philippines: Pirates Board Sailing Vessel on Delivery
Pirates boarded a sailing vessel that was being delivered from Olongapo to Cebu in the Philipines – this report from the yacht's owner who was not on board at the time.
Published 1 year ago
Image supplied of the location of the incident.
The incident happened at about around 10 or 11pm at night about six miles off the coast of Kalibo, according to a comment posted on Noonsite by the vessel's owner.
"According to a report from the delivery captain, a speed boat came behind them. He said their engine was like those Thai speed boats (see image below) and apparently rammed them slowly, since there is visible paint and scratches on the vessel (see image below)," said owner Randy Horton.
"Around 11 guys all armed with long arm rifles were there and when they pulled along side, several of the men jumped onto the vessel and entered the cabin and looked around to which as originally told, the big boss told them to leave them alone and they left. I think they stole something but it must've been from the crews own personal stuff since they didn't mention anything about our stuff."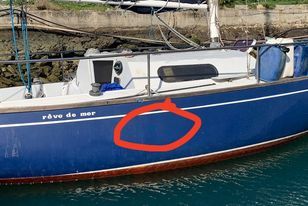 Randy told Noonsite that he believed it was the latest in a number of incidents that had occurred in the last few months, but were not being reported because it was an area close to a tourist region.
"I believe the pirates showed mercy to the crew who were local filippinos and were just delivering the boat," he said.
"I have lived in Cebu for a while and this is a supposedly safe route but it has shocked me considerably and I would advise sailors to stay away from this area. A report was made to the Coast Guard, but the dangers are real, so I would advise sailors to travel far offshore and avoid night travel. Also, try to anchor in an area with others, not alone."
Images supplied by Randy Horton.
Related Links:
Other Philippines Security Reports.

The opinions expressed in this article are the author's own and do not reflect the view of Noonsite.com or World Cruising Club.