Previous Page
General Info
COVID-19: OPEN PORT
See Biosecurity for details of the latest yachting protocol.
Description:
Kavieng is the main port on New Ireland. The harbour is formed by three connecting islands and is very sheltered from the west and the east, but is exposed in northerly and southerly winds.
Gas, diesel, LPG refills, and provisions are available here. For yachts heading north for FSM, Palau, or points north, or coming south from FSM, Kavieng is a useful provisioning and refueling stop.
Position:
02° 35.11'S, 150° 46.91'E (safe anchorage)
Clearance
See Formalities for full details on clearing into and out of the country.
Customs and Immigration are in the same building. They have moved in the past year to a new location that is on the main street where the larger grocery stores are located. Enter the building, past the guards and walk up the stairs to the very top of the building.
Quarantine is in a small building diagonally across from the fuel station near the market.
Every vessel arriving in Kavieng is expected to clear in and out. If possible, contact Customs 48 hours prior to your arrival and departure. This will often help speed up formalities as it allows them to prepare the necessary paperwork in advance.
Email: Cyril Pagol at [email protected]
Documents required on arrival include: Inward Clearance (outward clearance from last port), passports, general declaration, crew list and port call list.
On departure, ensure you have clearance papers for your next port.
Cruisers report that clearance here is very simple.
Last updated: February 2018
Docking
The safest anchorage is off the Nusa Island Retreat, in "the Duck Pond" (02 35.11S, 150 46.91 E), where there are people who are only too happy to keep an eye out for the many yachts that anchor there. The villagers on Nusalik island where the resort is located are very friendly and keen to encourage yachts to visit.
Kavieng is an excellent place for reprovisioning, and if you have any issues with your engine or fridge, there are people here who can help. Prices tend to be high however as most goods are shipped from Australia.
Adam and Danielle Smith operated a yacht charter business here for many years. They left in May 2013, however, are happy for cruisers to contact them with any questions they may have on sailing through the area. Email: [email protected]
Security
Most people here are friendly and helpful, but basic precautions should be taken and it is recommended not to leave the boat after sunset. If anchored off the resort, ask if they can provide a night watchman. Locals warn that this is a dangerous port.
Last updated: February 2018
For information about Emirau Island, 70nm NW of Kavieng, see comment below. Photo courtesy of Graeme Ward.
Related Businesses
Nusa Island Retreat

Address: Papua New Guinea,

The owner Shaun is yacht friendly and will help you with water/fuel/laundry etc. The resort has a great bar with good buffet meals. If you... Read More
Courtesy Flag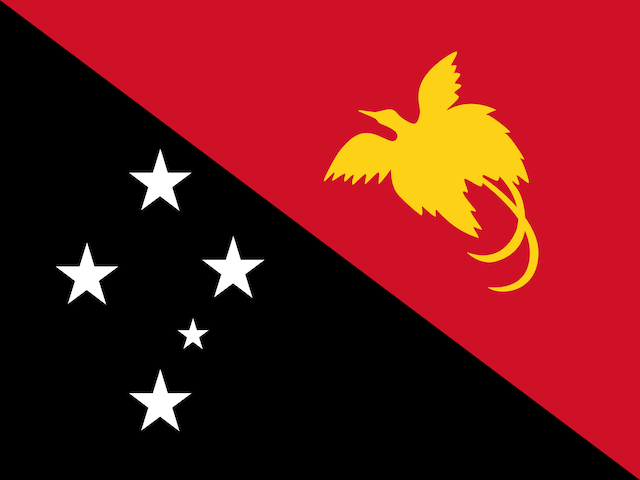 YachtFlags.com offers a discount to Noonsite members.
YachtFlags.com provides high quality courtesy flags that are manufactured in durable Knitted Polyester fabric. Knitted so that the fabric itself does not deteriorate in the constant movement that marine flags are usually exposed to, and polyester so that the flag does not weaken in the strong UV-light usually found in the main sailing areas of the world.
Use the coupon code NOONSITE_5A2B when checking out to get 10% off today.
Buy Now On YachtFlags.com
Places