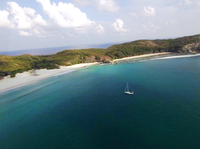 Description:
The Andaman Islands lie about 450nm northwest of Phuket in the Bay of Bengal. They are a popular destination for boats from Thailand, especially those on their way to the Red Sea. Many yachts stop here on their way to Sri Lanka or India and onto the Maldives etc., however it is an isolated spot with very little ashore. Go prepared to be self-sufficient and the only boat in the anchorage most days.
The best time to visit these islands is between December and February when the weather is most stable. In February and March there is very little wind so expect to be motoring for three days out of five.
Cruiser Highlights:
Beautiful isolation; pristine white beaches; underwater attractions; an active volcano; uninhabited islands. An annual yachting rally was established in 2018 – Sail the Andamans Rally – to encourage yachting tourism in the islands. The rally takes place in February/March and includes some organised events as well as free cruising around the islands.
Entrance Notes and Cautions:
The WGS84 datum is out by half a mile in this area and, due to the 2004 Tsunami the correction factor is 0.092° S 0.106° E. Depths in the middle and south islands are 2m deeper.
Eyeball navigation is essential!
Fishing is strictly prohibited.
You are not allowed to dive from your own boat, only with registered dive companies.
Care should be taken if snorkeling or diving here as tourists have been mauled by crocodiles in recent years. Request local advice before swimming.
There are strict daily limits on the amount of alcohol you may buy.
Yachts visiting the area have reported, "extreme bureaucracy" including having to report in via the radio each day. Whilst the bureaucracy can be tiresome it can be minimized by respecting the authorities you deal with. It is possible to obtain clearance within 24 hours but showing any disrespect or argument can extend that period by days.
Position:
11° 41.31'N, 092° 42.72'E (Preferred Port Blair anchorage)
Last updated: February 2023