Previous Page
General Info
Cartagena is a popular place for yachts to stop prior to making their way to the Panama canal.
The government is trying hard to encourage this influx of visitors and there are plans to build two new marinas. In addition, the Club Nautico has been upgraded.
Bahia de Cartagena is a well-protected anchorage. Entrances to the bay are through the large ship channel – the Boca Chica strait, or the northwest entrance – Boca Grande (Escollera).
The Boca Chica entrance is the easier and is the one used by most recreational sailors.
The Boca Grande entrance tends to be used by yachts coming from the north and east but should be approached with caution. The Colombian Navy has re-installed the red & greenlighted to mark the small vessel channel at the Boca Grande entrance. Guaranteed "official" depth is about 8 feet, greater depth might be possible if there is limited swell and conditions are not otherwise unfavorable. Cruisers report the echo sounder never going below 3.2 metres. Advice is to follow the marked channel and don't cut corners.
Cartagena de Indias Cruisers' Net (facebook page)
Position 10° 23'17″N, 75° 34'13″W.
Clearance
Full details on the formalities required for clearing into and out of Colombia can be found at Colombia Formalities.
All vessels approaching Cartagena (5 miles from the entrance at a minimum) should call CARTAGENA PORT CONTROL on VHF CH16 or 14. They have good English speakers on hand (who can also assist with emergency calls).
Anchor in the inner bay. This is the area inside the Peninsula of Bocagrande adjoining the Island of Manga (where Club Nautico is located) and the Historic Centre. It is not advisable to anchor near the entrance at Bocagrande.
Remember, an agent is required to clear into and out of Colombia, so no attempt at contacting the Port Captain should be made, except through your nominated clearing agent (Agencia Maritima) on arrival.
There are now several English-speaking agents here (see Clearance Agents) or visit the Club Nautico website and download the sidebar "A cruiser's guide". The information includes the names and contact numbers of several customs clearance agents.
Last updated February 2015.
Docking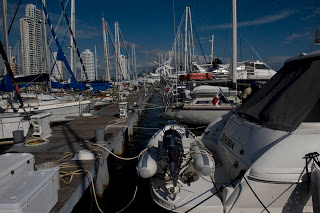 Anchoring
Bahia de Cartagena is a well-protected anchorage and for longer stays in Colombia offers a much more cost-effective solution than Santa Marta. Cruisers who have spent some time here, however, have reported rapid fouling.
It is advisable to anchor in deep water (10m+) with a long scope as the sudden southerly squalls can cause dragging in the shallower water. The holding in the shallower water closer to the marina is reported to be poor.
Marinas
The Club Nautico completed renovations of its marine and shoreside facilities in June 2015.
If berthing here (see photo courtesy of SV Wings), be aware that wave action and local weather (occasional violent squalls) can make conditions unpleasant at times. This is a harbour with a lot of speedboats, water taxis and activity. Wakes are constant during daylight hours. In order to guard against the swell, be sure to have very stretchy dock lines and make sure that your spreaders are not matched up to the boats beside you.
The Club is busy, but spaces do come available for transient yachts. Many cruisers, however, choose to anchor off and use the marina's facilities including the dinghy dock, rubbish disposal and WiFi. The Club make a small charge for this.
It is also worth emailing Club de Pesca de Cartagena as they sometimes have slips available for transients. Barnacles can be a problem for boats left for a period of time.
Security
The Bay of Cartagena has seen a decrease in the amount of dinghy thefts over the last 12 months, possibly due to better crime control by the officials and more awareness on the part of cruisers. That said, thefts still continue to be reported so stay alert. Information about thefts is broadcast immediately by VHF on Channel 68 (Monday to Saturday at 8 am).
Last updated December 2017.
Places
Caribbean Coast (Colombia), Cartagena, Colombia