Previous Page
General Info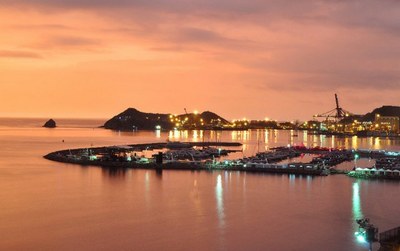 Located on the north coast of Colombia, Santa Marta was one of the first cities to be discovered in the country and is also known as "Ciudad Mágica" (the Magic City). Santa Marta is located to the north of Cartagena (150 Kms – 3 hours and 30 minutes by car) and Barranquilla (90 Kms- 1 hour and 30 minutes by car) – two of the best known and most beautiful cities on the Colombian coast
Santa Marta is reported to be a safe town to visit and a great place from which to explore the wonderful hinterland of Colombia with its snow-capped mountains and natural parks, such as the renowned Tayrona Park. This historic city is about 100nm NE of Cartagena.
With the opening of the new IGY Marina Santa Marta, it is poised to become a central destination for those cruising to and from Panama, Venezuela, Aruba, Trinidad and Tobago.
Position 11° 14.67'N,  74° 13.05'W (marina entrance).
Clearance
Full details on the formalities required for clearing into and out of Colombia can be found at Colombia Formalities.
For a list of agents see Clearance Agents.
Remember, an agent is required to clear into and out of Colombia, so no attempt at contacting the Port Captain should be made, except through your nominated clearing agent (Agencia Maritima) on arrival.
Marina Santa Marta now has the authorisation to act as a clearance agent. The marina will organise all clearance on behalf of the yacht owner. The only cost for clearing into Colombia at this marina is the cruising permit charge – however, it does mean 5+ days berthed in the marina. On your 5th day in the marina, the agent will contact the officer from Customs-DIAN, who will inspect the boat and give the TIP. This process takes 48 hours.
Yachts at anchor cannot use the services of the marina for clearance, however, there are a number of shipping agents in town who offer this service for approx. US$130.
Go alongside the eastern dock or anchor south of the dock. Officials for clearance prefer to board at the dock.
Ensure that your zarpe lists Santa Marta as your next port of call, otherwise you may find yourself in severe difficulties and/or paying a stiff fine.
Last updated December 2017.
Docking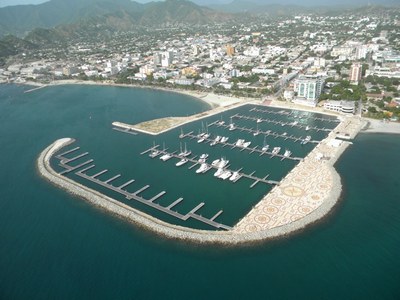 The new Island Global Yachting (IGY) marina here is making Santa Marta very popular with cruisers (photos by Kieran Higgs). Call the marina on VHF channel 16 or 72 (staff are very helpful and some speak good English) and they will organise everything.
Head to the east side of the bay, the entrance is about 0.3 km south of the container cranes. You will see some masts over the wall but not many as this is mostly a motorboat marina. The entrance runs north to south and is marked with a yellow (yes, yellow) and green buoy.
If there is no reply from the marina, then pull onto the huge fuel dock on the port side of the entrance. The docks are not marked but you are now facing E Dock and the letters run towards the shore E D C B A – you will be directed to turn to port to one of these as F dock on the west side is for superyachts.
Anchoring
You cannot anchor once inside the marina.
It is possible to anchor south of the moored small boats in the port and north of the new marina, but there is no safe or sensible place to land the dinghy. The marina does not have a dinghy dock.
Many cruisers prefer to head to Taganga Bay in the National Park, 3NM north of Santa Marta, whilst waiting for their clearance paperwork to be completed (which can take up to 2 weeks). A permit is required which should be requested via your agent on arrival. There should be no extra charge for this permit. In Taganga Bay there is a little fishing village, with friendly locals, basic services and supplies and nearby alternative anchorages (see report adjacent). To ensure that your agent has arranged permission for you to anchor here FIRST. Be aware also that boardings and robberies have occurred in this bay, see reports adjacent.
For details of various shops and services in the city, see Santa Marta Guide by Constance Elson. Fuel is available at Santa Marta Marina.
Note: During dry weather, black dust on the decks can be a problem in this port, probably from the dark sandy beaches nearby or the coal transfer at the port.
Feedback from Cruisers about Santa Marta can be found in related user comments and in this report.
Last updated: June 2017
Places
Caribbean Coast (Colombia), Colombia, Santa Marta