Previous Page
General Info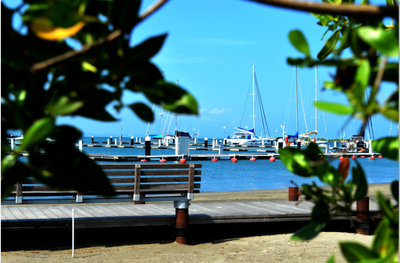 This marina built in 2013 is located between Barranquilla and Cartagena. Puerto Velero is a popular beach resort and the marina is built on a reef and huge sand bar that extends from the mainland.
Reports from cruisers are good and state that it is more affordable here than Cartagena or Santa Marta. The area is clean and developing and a large anchorage is also available should you not wish to dock in the marina.
The marina is however rather remote and services and amenities ashore for shopping are limited. The only way out of the marina is by taxi and is 25 minutes by road from Barranquilla where provisions can easily be restocked. There are plenty of bars and restaurants in the area.
Position 10° 56′ 40″N, 75° 02′ 22″W.
Clearance
Full details on the formalities required for clearing into and out of Colombia can be found at Colombia Formalities.
For a list of agents see Clearance Agents.
Remember, an agent is required to clear into and out of Colombia, so no attempt at contacting the Port Captain should be made, except through your nominated clearing agent (Agencia Maritima) on arrival.
The marina acts as a Maritime agency so can help with paperwork and clearance procedures.
A trip into Barranquilla to check-in with Immigration is required. This can be done by local bus or taxi (Cost approx. $80US).
Last updated: January 2019
Docking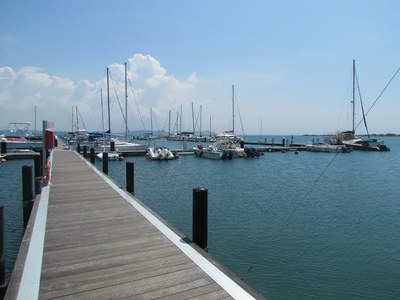 Approach
There is a green buoy at the entrance to the marina (photo courtesy of Puerto Velero Marina). Call on VHF channel 08 prior to arrival.
Marina
There are power and water on the pontoons, some fingers (most of which are Med style mooring) and the marina can get fuel. The showers and washroom are clean, and laundry is possible via the marina office (not self-service).
Anchorage
The very large bay here provides a sheltered anchorage with a sandy bottom, 3-10m deep. The water here is reported to be very clean so you can swim off the boat and on many days see the bottom.
Other Services
The marina has an adjacent boatyard with haulout facilities. A wide range of repair and maintenance services are now available.
You will need to take a taxi out of the marina to the main road, however once here a bus can be taken to Puerto Colombia, Barranquilla or Cartagena.
Last updated: January 2019
Places
Colombia, Mainland - Caribbean Coast, Puerto Velero