Previous Page
General Info
COVID-19: OPEN PORT
Cape Verde's air and sea borders re-opened on 13 October, 2020, with restrictions.
See Biosecurity for more information.
Description:
This is the largest of the Cape Verde islands and Praia is the capital of the country. The mountains here cause a much higher rainfall than in many of the other islands and it is, therefore, much greener with areas of rain forest. It is an island worth exploring.
Entrance Notes or Cautions:
Security
This island has a very bad reputation for theft and Noonsite has always recommended skippers organize security on board whilst anchored here. Following four separate reports of armed boardings and robbery in November 2017 (see reports) another cruising boat was boarded, held at knifepoint and robbed here in January 2020. Spending the night is not recommended in this port and if a visit is absolutely necessary, visit with caution and secure your boat and valuables accordingly.
Also, beware pickpockets ashore working in teams.
Position:
14° 54.23′ N, 23° 30.2'W (harbor entrance)
Clearance
This is a port of entry. See Cape Verdes Formalities for full details of clearing into and out of the country.
Call the Port Authority on VHF ch 16 on approach before entering the harbour, although there may not be an answer.
Yachts can either berth at the fuel pontoon or anchor off the old jetty next to the Policia Maritima for clearance.
Visit Immigration (Policia de Fronteira), based in the new passenger terminal. All passports must be presented but not all the crew need to be present.
If not already cleared into Cape Verdes, then the Policia de Fronteira will come out to visit the yacht for which a charge will be made. In this circumstance, then it is advisable for no one to leave the yacht before their visit. They work 08:00-16:00 (Mon-Fri).
If a crew member is leaving by air, be sure to obtain their visa from the Policia de Fronteira in advance, otherwise, they will not be permitted to board their flight.
Check with the Policia de Fronteira as to which authority should be visited next as this changes frequently. Ships papers are held until departure.
Be sure to visit both required offices before departure to pay the fees, retrieve ships paper and obtain a zarpe, especially important if leaving for the Caribbean.
If planning to stop at Fogo or Brava after leaving, ensure to get permission. It is not always granted.
Last updated January 2018.
Docking
Anchoring
There are several anchorages here, but it is reported that the water quality is very bad. The pollution is caused by a sewer opening into the river at the head of the bay. If you use a watermaker then purification is essential.
The best anchorage is west of the fishing harbour in about 5m. The holding here is good in firm sand. Some protection from the swell is provided by the breakwater.
Up to 2m of swell can appear in this harbour from the south, making the anchorage uncomfortable, or sometimes, untenable. The holding in parts of the harbour is poor.
Dinghies can be left at the fuel pontoon where for a small fee (agreed in advance) there are various small boys who will watch it.
Docking
Cruisers have reported that it is now possible to berth alongside the first boat to port as you enter the fishing harbour. This is owned by Pinto and Quintino. Contact them on +238 9983099 (WhatsApp also). There is a night guard at the fishing harbour.
Security Concerns
This island has a very bad reputation for theft. See details above in Location.
Last updated:  November 2018
Related Businesses
Pinto and Quintino

Address: Praia (Santiago), Southern(Sotavento) Group, Cape Verdes,

Tel:+2389983099 (WhatsApp)

Chandlery service, alongside docking, boat watch.... Read More
Courtesy Flag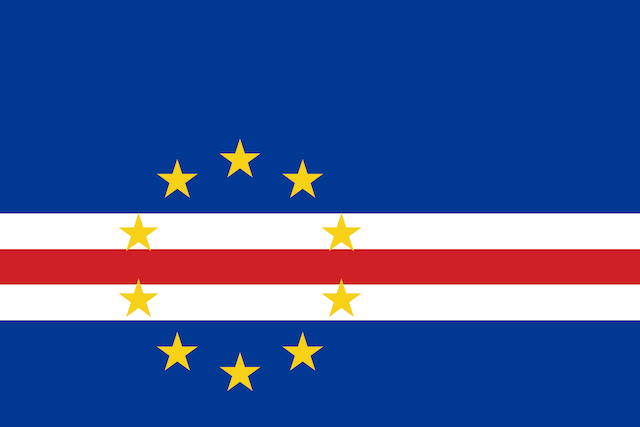 YachtFlags.com offers a discount to Noonsite members.
YachtFlags.com provides high quality courtesy flags that are manufactured in durable Knitted Polyester fabric. Knitted so that the fabric itself does not deteriorate in the constant movement that marine flags are usually exposed to, and polyester so that the flag does not weaken in the strong UV-light usually found in the main sailing areas of the world.
Use the coupon code NOONSITE_5A2B when checking out to get 10% off today.
Buy Now On YachtFlags.com