Previous Page
General Info
COVID19: OPEN PORT
Cape Verdes opened its borders on 12 October, 2020.
For full details of Covid-19 protocols for visiting yachts see Biosecurity.
Contact should be made prior to entering port with the Port Police (VHF Ch.16) or the marina (VHF Ch. 72).

Port Police (VHF Ch.16)
Mindelo Marina: +238 938 7832, E-mail: [email protected], VHF Ch. 72.
http://www.marinamindelo.cv/english/
Description:
The island of Sao Vicente has 80.000 inhabitants (approx. 70,000 of those live in Mindelo) and stretches 16 km from north to south and 24 km from east to west. It has several very beautiful beaches, all very different from each other.
Mindelo was, historically where most yachts went a quick refueling stop, but it now attracts yachts, including the ARC+, as a stopover to explore the island and the restored colonial town. The town is situated at the edge of a subsided volcano crater, the harbor is naturally formed and is one of the most protected in the archipelago.
The town is in Porto Grande Bay which gives total protection from NW through E to S and partial protection (with a fetch of up to 2M) from S around to W. Occasionally a westerly swell can set in which can make anchoring here, or berthing in the marina, rather uncomfortable.
Entrance Notes and Cautions:
Marina Mindelo recommends yachts approaching the harbor to keep to the north of the bay after passing the big rock "Ilhéu dos Pássaros" in the middle of the channel.
On entering the harbor keep a distance of approx. 100m off the commercial pier.
Cruisers have commented that a night entry here can be difficult as the navigation lights are impossible to distinguish from the ones onshore and those of the anchored ships in the bay. A chart plotter is practically essential.
Marina Mindelo has reported that a clear landmark to spot at night is the bright white/red ferry called ARMAS moored to the end of the commercial part of the harbor. They recommend keeping it clear to port and enter the marina or anchorage area at moderate speed as many of the anchored yachts do not use anchor lights.
See SV Seefalke's useful approach video from January 2019.
It is normally very windy here (15-25kn at all times) so protect your lines accordingly.
Position:
16°53.13'N,24°59.56'W (marina)
Clearance
See Cape Verdes Formalities for full details of clearing into and out of the country.
International Clearance:
Arrival: Yachts must fly the "Q" flag until cleared in, after which the courtesy flag must be flown. These can be purchased from the chandlery at the marina or at "Casa das Bandeiras" in the town.
The skipper should go ashore to see Immigration and Port Officials as soon as possible (be aware of the time difference between Canary and Cape Verde).
All offices are just next to each other behind the ferry terminal.
Ship's papers will be held by the Authorities while in the harbor. However, they will accept a laminated copy.
Passports are no longer retained but must be stamped by the Immigration Office.
Departure: To check out of the country the skipper must first go to the Police and then to Customs. Take all passports and documents. Yachts can clear out up to 24 hours before departure. If you wish to depart on a weekend you must clear out the Friday before.
Domestic Cruising:
If coming from another island, it is only necessary for the Skipper to visit the Police. If departing for another island customs will issue domestic clearance.
Last updated: January 2020
Docking
This harbor offers good shelter from the NW through E to S and partial protection (with a fetch of up to 2M) from S around to W. Very occasionally a westerly swell can set in and this can be a problem both at anchor and in the marina.
Anchoring
You may anchor here for free, but be aware that holding can be patchy as there are areas of volcanic gravel.
Yachts can anchor beyond the commercial port, in the northern part of the bay. Prevailing winds are from the NE (the trade winds), Force 3 to 5, and are pretty much constant. The harbor is subject to strong gusts, especially in winter, so make sure the anchor is well dug in. (The old steel motor yacht which previously provided a mooring is no longer there).
Getting Ashore:
The marina allows anchored yachts to land and leaves tenders at their floating bar for a charge of 4 Euros a day. The marina has 24-hour security.
It is possible to drop off garbage outside the marina, in the small building just before you get to the street. Ask one of the marina staff to unlock it for you – there is a nominal charge. Locals may offer to dispose of garbage for a small fee, however, be cautious in accepting this help as there is a problem in Mindelo with garbage being dumped out of sight, not in the proper receptacles.
Another option is to ask permission to leave the dinghy at the fishing/diving club pontoon to the left of the marina near the ferry terminal – normally not a problem if you have a drink and some food at their bar. It may also be possible to leave garbage here.
It is not recommended to leave your dinghy unattended at the city beach of Mindelo (as in many other cities around the world).
Security:
Exercise caution if you contract someone to look after your boat or dinghy while you are away, this is not always a guarantee for safe anchorage. Locals swim in the bay where yachts are anchored and there have been incidents of stolen dinghies at the beach or from yachts that were being looked after by local watchmen.
The only guaranteed safe place to leave a dinghy is at the designated dinghy pontoon in the marina. However, local police recommended not leaving your dinghy on the pontoon or beach at night.
Whether at anchor or in the marina, it is recommended to keep your boat locked at all times. Avoid walking around at night.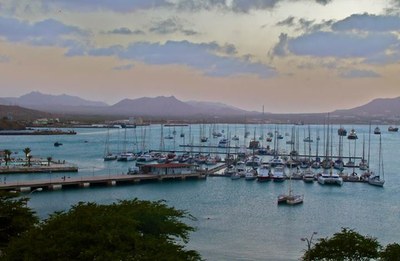 Marina:
Marina Mindelo opened here a few years ago. It provides slightly better shelter than the anchorage and has 24-hour security. Should a W swell set in during your stay here, be prepared with springs and rubber guards for mooring lines.
Pontoons are anchored to the seabed without fingers. Instead, there are mooring buoys for trying to. The floating pontoons run roughly from NW to SE, so make sure that your berth is on the SW-side of the pontoons so will be blown off the pontoon. There is always some swell here and movement of the pontoons.
Daily rates are comparable to the Mediterranean, however, long-term discounts are much more economical than in the Canary Islands and Europe. See report from SV Kandu for more detail.
Provisions & Water:
Whilst basic provisions are found here for re-stocking, a much wider range is available in the Canary Islands.
Water is a scarce commodity here. The electricity company is also responsible for the water supply on the island. They use the desalinization process to get sweet water, meaning that every liter is produced by diesel and consequently limited, and expensive.
Water at the marina is approx. 2 Euros for 100 litres. Berth holders are given an access card.
Last updated: December 2019
Related Businesses
Berthing Master

Address: Mindelo (Sao Vicente), Northern(Barlavento) Group, Cape Verdes,

Harbour Master – Mindelo (Sao Vicente)

Address: Porto Grande, Mindelo (Sao Vicente), Northern(Barlavento) Group, Cape Verdes,

This office deals with commercial shipping and mega-yachts.... Read More

Marina Mindelo

Address: Cais Alfandega Velhain, Mindelo (Sao Vicente), Northern(Barlavento) Group, Cape Verdes, 1191

120 berth marina with all the necessary facilities. Charges are based on m2 but do not include water, electricity, and WiFi. All new arrivals are... Read More
Yacht Clubs
There are two yacht clubs, the old, nostalgic Clube Nautico just outside Marina's pier  (open Mon – Saturday, morning until midnight) and the floating Sailor's Bar / Restaurant inside the Marina (also available for Dinghy clients).
Courtesy Flag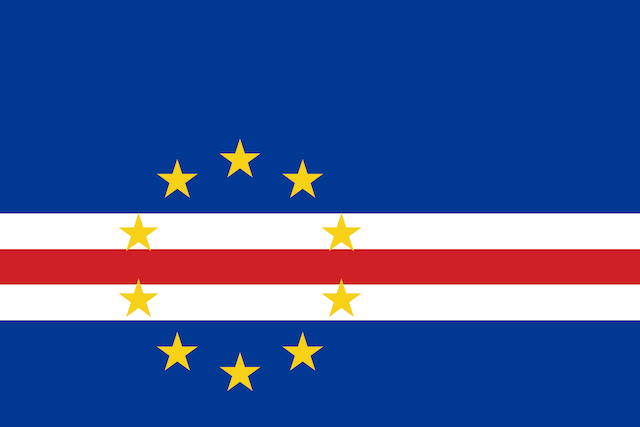 YachtFlags.com offers a discount to Noonsite members.
YachtFlags.com provides high quality courtesy flags that are manufactured in durable Knitted Polyester fabric. Knitted so that the fabric itself does not deteriorate in the constant movement that marine flags are usually exposed to, and polyester so that the flag does not weaken in the strong UV-light usually found in the main sailing areas of the world.
Use the coupon code NOONSITE_5A2B when checking out to get 10% off today.
Buy Now On YachtFlags.com