Previous Page
General Info
COVID-19: OPEN PORT
See Biosecurity for entry yachting protocols.
On arrival, hoist the yellow flag and stay on board – call on VHF Channel 16 for an appointment to go to the maritime police in the port and present passports and crew.

The Policia Maritima are located at the foot of the big port-side Ferry-jetty. Look for 2 boats of the Policia Maritima, they are moored in front of a large white tent. A police officer (on a bike) will pick you up and walk you to another tent at 5 minutes distance, where you get an antigen-test. After 15 minutes you get back your passports and receive a document stating the results of the test. Costs: 15 Euros – pay cash. No further entrance fees apply.
Once cleared replace the yellow flag with the courtesy flag.

Description:
Palmeira lies on the western side of the island of Sal, on the north shore of a large bay. Sal is 40nm north of Boa Vista and is one of the most tourist-orientated of the Cape Verde islands. It is a small, friendly town.
Due to the prevailing winds, the Palmeira anchorage is generally very sheltered. It has been reported to be a very hospitable harbor, however, dinghy and outboard theft have been a problem here in the past.
Entrance Notes and Cautions:
It is not advisable to enter at night here because of the various wrecks, and also the lighthouse might not be working. Most of the lighthouses in this area of the Cape Verdes are dilapidated and don't work.
Position:
16° 45.19'N, 22° 58.79'W (anchorage)
Clearance
This is a Port of Entry. See Cape Verdes Formalities for full details of clearing into and out of the country.
Yachts must fly the "Q" flag until cleared in, after which the courtesy flag must be flown.
The Policia Maritima are located at the foot of the big port-side Ferry-jetty. Look for the Policia Maritima boats.
Immigration are located in the same building.
The Police are present all day, however, Immigration does spend time at the international airport, so tend only to be present in the mornings.
If you want to depart before opening hours, you can get the exit stamp the day before to avoid any delays. If you are planning to clear out of the country at a different port (for example Mindelo,) you don't need to get an exit stamp when you leave.
The ship's papers will be held by the authorities until departure, so even if you don't need an exit stamp, you will need to collect them before you depart.
Last updated: December 2021
Docking
A breakwater extension was completed here in 2013 and deep water buoyed channel established. This development may not be on your charts or pilots and care is needed, especially if entering at night.
The best anchorage is in Baia da Palmeira at 16° 45.19'N, 22° 58.79'W in about 4m of water over thin sand. Be sure to not anchor too close to the cargo ship dock as the ships need to turn before leaving.
The bay can be windy, but holding is good, however, it's not a good anchorage in a strong southerly.
The moorings here vary in quality, so it is recommended to double check by diving on your mooring.
Jay is a local who will take his boat out to greet you. He will take your trash for a small fee and will also offer a ride to shore for a small fee. See comments for additional detail.
Water and fuel can both be delivered to the boat.
A good place to land by dinghy is just to the left of the beach. Other boats are also tied up there. You may find local boys who will watch your dinghy or tender for a small fee, while you are ashore.
Bahia da Mordeira, to the south of Palmeira, is a marine protected area and anchoring is not allowed.
Last updated: January 2019
Courtesy Flag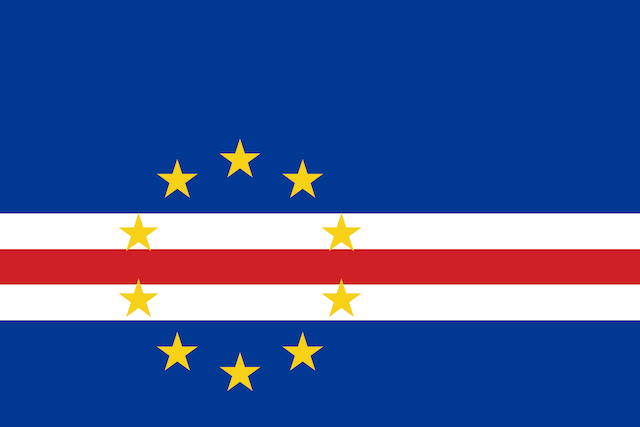 YachtFlags.com offers a discount to Noonsite members.
YachtFlags.com provides high quality courtesy flags that are manufactured in durable Knitted Polyester fabric. Knitted so that the fabric itself does not deteriorate in the constant movement that marine flags are usually exposed to, and polyester so that the flag does not weaken in the strong UV-light usually found in the main sailing areas of the world.
Use the coupon code NOONSITE_5A2B when checking out to get 10% off today.
Buy Now On YachtFlags.com