Covid-19 Field Report: Trapped in the Maldives
Previous Page
Report Intro
Americans Sherman and Judy Sundin are sailing the world on their 41ft Bristol, "Fairwinds 1" having left Florida in 2012. In 2020 their plan was to sail from Sri Lanka across the Indian Ocean to South Africa, and then back to the Caribbean to complete their circumnavigation. However, on arrival in the Maldives mid-March everything changed, borders closed, and 70 days later they are still enduring a confinement that is testing both their patience and mental health as they try to find a way forward in this time of uncertainty.
Last Update - May 28, 2020
Report Content
On 12 March 2020 we sailed away from Sri Lanka on our way to the Maldives with plans to transit the Indian Ocean, around South Africa and back to the southern Caribbean, completing our circumnavigation. With news of a new Corona virus barely entering our thoughts, our time had been spent looking at weather, getting supplies, fixing issues and planning our passage. We arrived in Uligan in the northern Maldives early on the 15th March and in that short time frame so much had changed. The authorities and our agent arrived in a small speed boat, gloved and masked and we were asked to bend our heads down so our temperature could be taken. All good, so papers were asked for and our check-in continued while we all remained in our respective vessels. Our agent delivered a small tub of ice cream to us as a nice welcome gift. We had arrived and it was beautiful.
We arrived just in time…
In conversation our agent mentioned that we were very lucky to have arrived when we did as they were about to shut their borders, and did so at midnight on the 20th March. Yachts in transit on their way here would not know of this news and messages were sent via Satellite to alert them. One boat was only 34 miles off the coast and had decided to wait until the next day before coming into the harbour. A frenzy of radio calls ensued to try and reach them to say come in now. All to no avail. They and several other boats that arrived after the closure were provided with rest, fuel, food and water, but asked to leave the Maldives.
With borders closing like falling dominos we wondered what our fellow cruisers would face as they had no choice but to continue south or further west and were grateful we could officially stay put. Access to shore was prohibited but we could swim around our boats. Sim cards and supplies were provided via our agent and an ATM run to another island was organised with military precision. Surely this situation would only last a few weeks and then cruising permits would be issued and we could move south at leisure visiting these jewel-like atolls. There were now 12 yachts anchored off the reef and waiting.
The waiting begins….
Waiting for a release from quarantine. Waiting for news of a country to welcome us, one with adequate medical facilities. Both of us are in the high risk category. In our sixties and with medical conditions that could be life threatening if we were to catch this virus. We contacted our Embassy and we were told to go home asap. But our yacht is our home. I guess the governments of the world had bigger issues to worry about. How serious is this situation? How long will it last? Has the world gone mad? Lots of questions, no answers.
We look at our options. Can we sail back to Australia? We are in the northern hemisphere, Australia is in the southern hemisphere, thousands of miles away. We look at the trade winds and cyclone paths and decide that at this time of the year we would never make it back home in one piece. One of the yachts that arrived after the borders closed and with few options did make it to Christmas Island and as I write this there is a cyclone brewing in that very area heading for the west coast of Australia. There is nowhere to go. Literally every country in every direction has shut the borders with the exception of Tanzania. Another yacht left here and arrived safely, happily holed up in the marina in Tanga with seven other boats. With our own health care concerns we couldn't go to a country that has basically ignored this virus, other than to suggest herbal tea and prayer as a cure.
20+ days and still confined on board….
Life at this point is not too bad. After 20 days or more we are given permission to mingle with each other. We can now converse in person rather than via the many WhatsApp groups that have been set up. Our friends around the world, now being restricted in their movements, are looking on and thinking not a bad place to be stuck. But as the weeks pass our small home becomes even smaller. 36 steps for a round trip on deck, 7 ½ steps from bow to stern below decks and two paces across.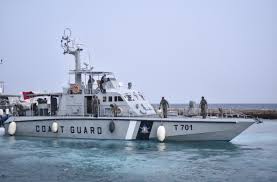 We have the constant presence of the Coast Guard boat watching us, but need no such reminder that we are in lockdown. We watch the local tourist boats and fishing vessels zipping in and out of the lagoon and the locals walking on the beach with envy. We hear news reports of other tourists being released after 14 days quarantine and have some hope.
That is soon dashed as Covid-19 cases start to explode in the capital city of Male. A city of approx. 220,000 people on an island 8.3 square kilometres, on of the most densely populated cities on earth. What was once mild curiosity and perhaps annoyance at our presence in this small community is slowly turning into fear. Foreigners bringing disease to their pristine home.
We are told by our agent we will never be issued with permission to go ashore. By this time my muscles are starting to cramp and I have eaten my way through our snack supplies. Out of chocolate and out of alcohol!
Finally we are given permission to move across the lagoon to a small uninhabited island. You can only walk around it at low tide, but we are not complaining. Finally we can get off the boat. The winds turn once more and are coming back out of the east making our new anchorage untenable so it is back six miles to Uligan.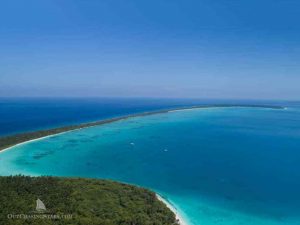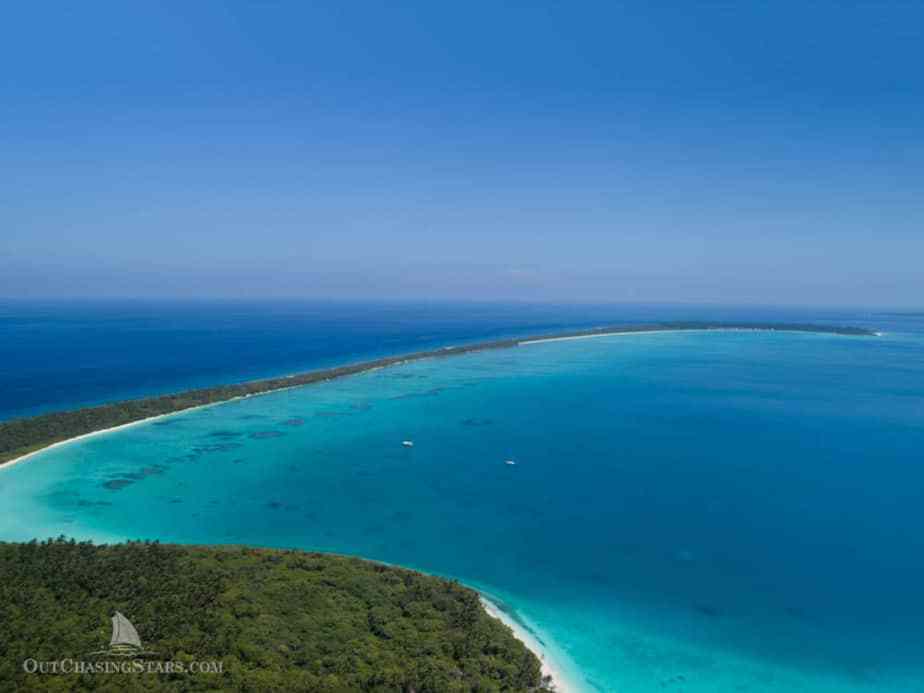 Quarantine for over a month…
In the mean time, behind the scenes many of our fellow cruisers have been toiling away tirelessly organising supply deliveries and alternative anchorages that we might get permission to go to. The southwest monsoon season is nearly upon us and we need to be able to find a safe anchorage. With a strict no movement order in place this is just not getting any traction. It appears the Government would like us to stay in one group as a pack. Someone organising a sailing rally said it was like herding cats, and I would agree. Each captain must make decisions based on what is best for crew and vessels and this varies.
We once again make contact with our Embassies to see if they can seek permission for us to return to Malaysia. We have been in quarantine now for more than a month and there is literally no where for us to leave our boat here and fly home, even if there were flights available, which there are not. Several boats successfully seek permission to sail to Male and prepare to continue on their journey. Some have permits to go to BIOT (Chagos), other EU registered vessels have received permission to go to Reunion. Both of these places are still closed to us.
The weather is turning and the wind is shifting now, so we move across once more to the western side of the lagoon and find some protection behind the reef and the small island of Innafinolhu. It is a bit bumpy and lumpy at times, but after several days our agent is able to secure us permission to go ashore here. After six weeks of limited exercise my first walk on the island was bliss. We had turned a corner somehow and the fact that we could once again resume 'sundowners' on a beach, life was back to being good. Our conversations could be about trivial things instead of about our stagnant situation.
Constant weather concerns…
A cyclone was forming in the Bay of Bengal, not that far away, but heading north. Its tail was sucking all the energy out of this side of the Indian Ocean and we were about to get hammered. The forecast was for no more than 25 knots and we felt this anchorage would be OK in that amount of wind, but not much more. For six days the wind howled and waves came up and over the reef into our anchorage – 25 to 35 knots sustained for more than 24 hours, and squalls that came through pushing the wind speed up to 48 knots. We broke two snubbers from the bouncing up and down and replacing those in these conditions was potentially very dangerous as waves crashed over the bow.
Our agent, horrified at the videos sent to him showing our conditions here, immediately calls the Embassies on our behalf to try and get them to put pressure on his government to give us permission to move to other anchorages for our safety. He has been trying for two weeks to get this with no luck. We each receive calls from the US Embassy to check how we are doing and a day later we receive permission to move further south if the wind dictates. A small victory and we are glad of it but for the now the winds have died down to steady trade winds and the sun is shining.
Waiting for positive news…
There are six boats left, soon to be five with one more moving south to Male tomorrow. The rumour is that the Seycelles will open up on June 1st, but where to after that? Now with a combination of the restricted movement order and bad weather our supply boat has not made it up this far north. Our supplies are getting low. We have parts that we ordered many weeks ago and they finally arrive in Male, and Sherman needs medication that he could not get in Sri Lanka, so the supply boats carry more than our food. It has been 70 days of waiting for something to change.
Sailors like to say that our plans are written in the sand at low tide and never has that been more true than now. So we continue to wait for news of any path to open up either east or west. This confinement has surely tested our patience and our mental health. The uncertainty and worry about weather, boat parts and supplies has been never ending.
Sherman and Judy Sundin
SY Fairwinds 1
…………………………………………………………………………………………………………………………………..
…………………………………………………………………………………………………………………………………..
Please share your current experience with COVID-19 restrictions and how it has affected your cruising plans. Contact Sue at [email protected] with your field report.
…………………………………………………………………………………………………………………………………..
The opinions expressed in this article are the author's own and do not reflect the view of Noonsite.com or World Cruising Club.
Places
User Comments
You must register first or be logged-in to leave a comment.
No comments for this post.