Previous Page
General Info
COVID-19: OPEN PORT
See Biosecurity for yachting protocols.
Description:
Lying about 129 kms (80 miles) south of Grenada, Chaguaramas is a sheltered bay. It lies on the extreme western end of Trinidad's northern coast, about 10NM from Port-of-Spain.
Cruiser Highlights:
The majority of boatyards and marine services are located in Chaguaramas.
Cruising guides, apps and happy-hour chitchat can all be good sources of information for sailors in the Caribbean. Tune into the Trinidad Cruiser Net at 08:00 on VHF Channel 68, daily.
Pot Luck BBQ – Thursdays – everyone welcome!
Entrance Notes or Cautions:
The approach is via the narrow Boca (be aware of strong currents). Once clear of the Boca and turning to port, you will see the confusing view of Chaguaramas Bay opening up. While it often seems totally blocked by ships, easy passage is made to the head of the bay.
Beware of a sunken barge at Latitude 10-40.465N, Longitude 61-38.319W. It is in 70ft of water but can snag anchors. Other sunken vessels have been reported in this anchorage.
Safety & Security
In the past much has been reported about crime and theft towards yachties in Chaguaramas. While unemployment has triggered an increase in theft from yachts in the Chaguaramas area over the past few years, one must note that Trinidad has the highest concentration of boats for hurricane season in the Caribbean. Co-operation between the local marine business community, the cruising community and the authorities have improved the situation considerably. Security patrols at night have helped to reduce the number of thefts from boats here, this is IN ADDITION to the security service that each and every yard and marina has, however thefts do still occur.
Position:
10°40.71'N, 61°38.17'W (marinas in the main harbour)
Clearance
COVID-19 CORONAVIRUS: New procedures are in place for arriving yachts – see Biosecurity for details.
For full details on clearing into and out of Trinidad, see Noonsite's Trinidad Formalities.

Important information:
If you arrive or depart Trinidad & Tobago Waters outside of regular office hours (08:00-12:00, 13:00-16:00 Mon-Fri, except public holidays and which can also include lunch hours 12 – 1 pm). ), you will be charged overtime. This refers to the time you sail into the country's waters, not the time you go ashore to clear in. It is therefore advisable to time your arrival and departure WELL within normal office hours and go ashore immediately to clear. Even if you finish your check out procedure within working hours, you still must pay if your actual leaving time is after 16:00.
General Clearance:
Be sure to fly the Q flag.
Entry formalities can be completed here as there is a permanent Customs office.
Tie up to the Customs Dock, which is located next to Crew's Inn Marina, at the eastern end of Chaguaramas Bay. It is at the base of the red-striped lighthouse. This must be done even if you have a reserved berth in the Crew's Inn Marina.
Proceed with all the crew, passports and papers to the Customs Office (there are direction signs to it in the marina). The Immigration office is close to the Customs office and authorities are reported to be very helpful.
Conservative attire is the standard and is expected of visitors when clearing in/out.
A clearance-out certificate (zarpe) from the last port will be required. Additional forms are required if any crew are leaving Trinidad by air.
Immigration and Customs are both open 24 hours a day, seven days per week.
There is a US $100 charge if remaining at the Customs dock overnight.
Related Businesses
Customs Office – Chaguaramas

Address: Chaguaramas, Trinidad, Trinidad and Tobago,

Opening hours: 24 hours a day, 7 days a week (however note regular business hours below to avoid overtime fees)

The Customs and Excise office is... Read More

Immigration Office – Chaguarama

Address: Chaguaramas, Trinidad, Trinidad & Tobago,

Arrival and Departure Procedures - The Immigration office is located at Crews Inn Hotel & Yachting Centre.... Read More
Docking
Docking

There are a number of marinas here, all with varying levels of security. Transient berths are in demand so booking in advance, if possible, may be advisable.
Moorings
The cylindrical or round orange buoys are marked and owned by YSATT. Moorings are also available from Tardieu Marine and Simon, the Diver.
Do not pick up any other mooring ball in the harbour. It is either a private mooring, or marks a wreck, or it is manifestly unsafe. If a float or tag line is attached, it is allocated to someone else. Find another mooring, or use your own anchor.
There are about 25 cylindrical mooring buoys in the Anchorage area controlled by Tardieu Marine. These are checked monthly for wear and tear. Moorings cannot be reserved in advance of arrival; they are strictly accommodated on a first come first served basis. Upon arrival in Trinidad, contact Tardieu Marine or speak to a water taxi operator to advise of your need for a mooring.
If using these moorings, be aware that while it can blow for days from the east with flat seas, when a W or NW wind blows the bay is wide open and provides no protection. The seas and surge make up quickly and one must be careful to secure the mooring lines to prevent chafe.
The Trinidad and Tobago Sailing Association in Harts Bay also have mooring buoys available, however, this is not in Chaguaramas. Prices are cheap, however, the facilities are basic and there is no security.
Anchoring
The harbour is crowded, messy and deep and the holding can be poor.
It is also possible to anchor off the town or close to Carenage Bay. The bay can be rolly in a southerly wind as well as uncomfortable due to the number of craft operating around the bay at high speed. Be sure to anchor in the designated anchorage area.
Another option is to anchor in Escondida Cove. It is exposed in westerly winds but otherwise, well sheltered.
There are a number of local water taxis that routinely operate in the area. Call on Channel 16/68. Check for prices, but a trip across the harbour should cost in the region of $10TT.
Note that Chaguaramas is a commercial harbour, and there are frequent oil and diesel spills here. Also, there are party boats that play loud music until well into the night.
Last updated: July 2021
Related Businesses
Coral Cove Marina & Boatyard

Address: Western Main Road, Chaguaramas, Trinidad, Trinidad & Tobago,

40 slips (up to 90ft Monohulls and wide slips for catamarans up to 45ft) and boatyard. All facilities, swimming pool, launderette, internet access. Call on... Read More

Crews Inn Hotel & Yachting Centre

Address: Point Gourde, West Indies, Chaguaramas, Trinidad, Trinidad & Tobago,

All facilities with 68 slips, do-it-yourself laundry, WiFi, internet, restaurant, bar, cafe, 24hr security, pool, and accommodation. The Customs office is located here.... Read More

Fortress Woodworking

Address: Western Main Road, Chaguaramas, Trinidad, Trinidad & Tobago,

Peake Yacht Services and Marina

Address: Lot #5 Western Main Road Chaguaramas, Chaguaramas, Trinidad, Trinidad and Tobago,

Peake marina has seventeen stern-to moorings accommodating vessels up to 120 feet and includes a dinghy dock. Has water, electricity, and wifi. Alongside docking can... Read More

Simon the Diver

Address: catamaran "Detour", Chaguaramas, Trinidad, Trinidad and Tobago,

Has 15 red mooring buoys for hire.... Read More

Sweetwater Marina ( was Humming Bird Marine)

Address: #2 Stella Maris Drive, Western Main Road, Chaguaramas, Trinidad, Trinidad and Tobago,

100 berths. Water, electricity, telephone, restaurant.... Read More

Tardieu Marine

Address: Chaguaramas, Trinidad, Trinidad and Tobago,

Manage the moorings at Chaguaramas. Fully responsible for maintaining/insurance/collections and all inquiries should be directed to them.... Read More

Trinidad & Tobago Sailing Association

Address: P.O. Box 3140, Carenage Post Office, West Indies, Chaguaramas, Trinidad, Trinidad and Tobago,

These moorings are located approx. 8nm east of Chaguaramas. The Association has a great number of moorings for locals and visitors, however, the mooring area... Read More

Tropical Marine Ltd

Address: Western Main Road, Chaguaramas, Trinidad, Trinidad and Tobago,

Tel:(868) 634 4502/4453 Fax:(868) 634 4502/4453

30 in-water berths, water, electricity, office services, retail shops, fiberglass material, fiberglass repair, diving equipment, tools, wind generators, restaurant.... Read More
Yacht Clubs
Related Businesses
Trinidad and Tobago Yacht Club – TTYC

Address: Bayshore, Western Main Road, Chaguaramas, Trinidad, Trinidad and Tobago,

This is a members-only marina and has no space for visitors. Close to downtown Port of Spain, it has all the facilities. A restaurant and... Read More
Courtesy Flag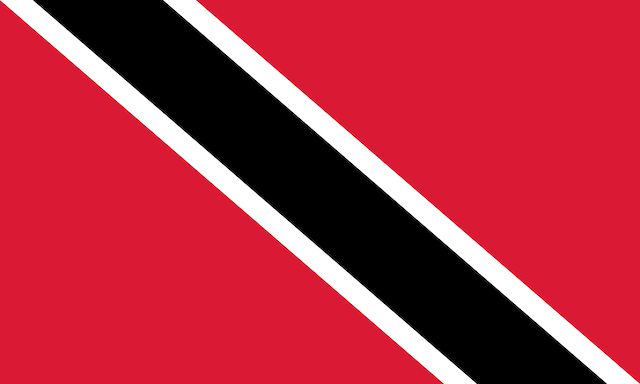 YachtFlags.com offers a discount to Noonsite members.
YachtFlags.com provides high quality courtesy flags that are manufactured in durable Knitted Polyester fabric. Knitted so that the fabric itself does not deteriorate in the constant movement that marine flags are usually exposed to, and polyester so that the flag does not weaken in the strong UV-light usually found in the main sailing areas of the world.
Use the coupon code NOONSITE_5A2B when checking out to get 10% off today.
Buy Now On YachtFlags.com
Places