Previous Page
General Info
Description:
Soufriere is a small, rustic, picturesque town, set amid a scenic wonderland dominated by the towering Pitons. When approaching Soufriere Bay from the North, beware of the shoal which extends out from the South side of Anse Chastanet.
The whole area between Anse Cochon and Gros Piton is part of the Soufriere Marine Management Area (SMMA) and anchoring is strictly controlled to preserve the underwater coral reefs.
https://www.facebook.com/SMMAInc
Entrance Notes or Cautions:
Security
This bay has a history of yacht break-ins and burglaries. Security over the years has been questionable, however, following an attack on a yacht by a group of youths in October 2017 the bay is now patrolled at night, much of the time in a coordinated way, between the SMMA officers and the police. Unfortunately boardings do continue however, the latest in February 2020 when a solo sailor was boarded by 3 armed men, assaulted and robbed. See Security reports for details.
In 2018 security at the dinghy dock was improved by moving the security gate and adding security cameras and security wardens who are in place from 9 am to 5 pm. Additional lighting has also been installed and a motion sensing light on the way. The Soufriere Dock Master can be reached on VHF 16 and contact is encouraged for those entering the bay.
Visit this area with due diligence however and if going ashore or leaving the boat at any time, keep a watchman on board (it is possible to speak with locals and hire a watchman).
Dinghy and outboard thefts continue to be a problem and it is vital to lift, lock and secure your dinghy at all times when it is unattended. Do not leave any items on deck or in cockpits that could be easy targets for would be thieves.
See security reports for more information.
Position:
13°51′N, 61°04′W (bay entrance)
Last updated: July 2022
Clearance
Soufrière is an official Port of Entry.
See StLucia/Clearance for full details on clearing into and out of Saint Lucia.
Customs are open seven days a week from 08:00-16:30, otherwise, Tel.+1 758 459 5656.
Immigration has moved further down the road and are now opposite the gas station in the area of the main dock.
Unfortunately, the authorities here do not use SailClear (unlike the other Ports of Entry in St. Lucia) so the slow process of filling out paper forms in quadruplicate is still required here.
See latest reports about the officials here in the Related User Comments section.
Last updated: December 2018
Docking
The whole area between Anse Cochon and Gros Piton is part of the Soufriere Marine Management Area (SMMA) and anchoring is strictly controlled to preserve the underwater coral reefs.
https://www.facebook.com/SMMAInc
Moorings
Moorings have been laid down in Anse Chastanet, just north of Soufrière Bay, off the Hummingbird Beach Resort north of Soufrière town, Malgretout just south of Soufriere and between the Pitons. Although the mooring systems are well maintained by the SMMA, as indicated by a yellow tag on the pick-up line, make sure your buoy is holding the vessel as intended, and that the system is secure.
Important Note: In 2016 the marine park has had some management and finance problems and quite a few moorings have been lost. Locals have put down their own moorings to accommodate visiting yachts, but they are nothing to do with the SMMA and the moorings are of unknown quality/too close together. All the private moorings are right off Soufriere town, If a vendor approaches you to put you on a mooring say you want to be on an SMMA mooring, not a private one. Only give him the tie-up fee.
Fees
The use of the moorings requires a Coral Conservation Permit. The cost of the permit depends on vessel size and length of stay and must be purchased from a uniformed SMMA Ranger. Call SMMA on VHF channel 16 if in doubt.
Permit fees can be found at http://www.smma.org.lc/fee/
There is also a fee of US$2 per person/per day.
Anchoring is forbidden within the SMMA, except in the designated areas for which a permit is required. Anchoring is only permitted during daytime hours of 06:00 to 18:00. Due to the depth, it is necessary to tie off the stern of your boat to a palm tree.
Authorised members of the Soufrière Water Taxi Association will help tie stern lines and are available for all water transfer services. Rates are standard and they also provide watchman services when boat owners are ashore.
Last Updated: April 2016.
Courtesy Flag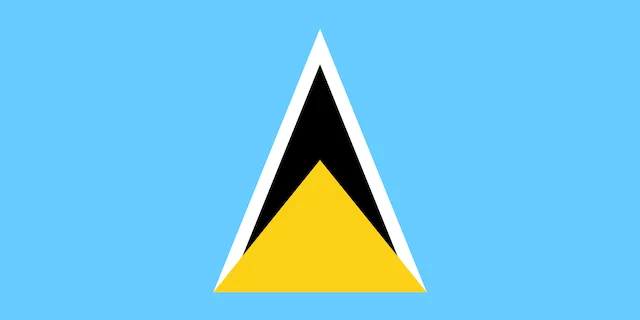 YachtFlags.com offers a discount to Noonsite members.
YachtFlags.com provides high quality courtesy flags that are manufactured in durable Knitted Polyester fabric. Knitted so that the fabric itself does not deteriorate in the constant movement that marine flags are usually exposed to, and polyester so that the flag does not weaken in the strong UV-light usually found in the main sailing areas of the world.
Use the coupon code NOONSITE_5A2B when checking out to get 10% off today.
Buy Now On YachtFlags.com