Previous Page
General Info
COVID-19: OPEN PORT
Description:
Marigot Bay is located mid-way along the NW coast of Saint Lucia. It lies approximately 3.4 miles to the SSW of Castries Harbour. It is a small inlet almost completely invisible from the sea until you are almost upon it.
James A Michener, the US Novelist, is famously quoted as describing it as "The Most Beautiful Bay in the Caribbean", it is also a historic landmark has played a roll in a number of battles between the French and Royal Navy. Legend has it that a British admiral hid his fleet from the French here by tucking themselves inside the bay and tying palm fronds to their masts to camouflage them.
It is famed as the setting for the 1967 film version of Hugh Lofting's classic Doctor Dolittle books, which starred Rex Harrison and Anthony Newley. The bay is used for the scenes involving the shipwreck, the fictional Great Pink Sea Snail and the construction of the harness for the Giant Lunar Moth.
Consequently, Marigot is the most visited bay on St. Lucia and popular with tourists, excursion boats and yachts alike.
When watching for the entrance, keep an eye open for the prominent house with the bright red roof on the cliff top at the southern entrance. The channel is lit with port and starboard markers (IALA B – American buoyage system – red right returning).
Cruiser Notes or Cautions:
Incidents of theft and attempted theft, at night and when owners are ashore or away from the boat, have been reported over the past few years and continue to be reported to both CSSN and noonsite (see reports adjacent).
It is recommended you remove all unsecured items of value from the deck/cockpit before entering the bay, and keep a record of serial numbers/photos stored in a secure place for purposes of investigation and proof of ownership should a theft occur. Be sure to properly secure all hatches and doors when leaving the boat unattended or asleep, hide all valuables, and secure your dingy and outboard at all times.
Position:
13°58.1′N, 61°01.8′W (harbor entrance)
Last updated: December 2018
Clearance
Coronavirus: Saint Lucia have implemented new entry measures in response to novel coronavirus (COVID-19) and restricted ports of entry. See Formalities for more details.
See St Lucia Formalities for full details on clearing into and out of St. Lucia.
Marigot Harbour is an official Port of Entry for Saint Lucia.
The Customs and Immigration Office is located in the Marina Village. Remember you are now on Caribbean time, so don't expect officers to be punctual. Opening time is listed as 8 am, however, it's unlikely all officials will be present at that time.
Cruisers have reported that if you arrive on a Sunday after Customs has closed (4 pm), it is perfectly fine to wait and clear in on Monday morning in order to avoid overtime rates.
Last updated: March 2018
Docking
Marigot Harbour is a completely sheltered anchorage and one of the best hurricane holes in the region.
Anchoring
It is possible to anchor in the outer bay outside of the channel near the entrance to the bay. The outer anchorage can be busy with numerous tourist boats and hotel guests in sailing dinghies. It can also get very crowded with yachts anchoring, so a watch is recommended.
Marina & Mooring Buoys
The marina and resort located in Marigot's inner bay were taken over by Capella Hotels and Resorts in 2013. Hurricane season berthing is offered and the marina promotes itself as an exclusive superyacht facility.
Mooring buoys are provided by the marina in the inner bay. The nightly charge does include the use of the hotel facilities, which are very nice, although prices are not cheap. Pay at the marina office once you are tied up.
It is likely a number of small boats will approach you as you enter offering to help with mooring. One of these may well be from the marina mooring field in the inner bay. Others may be touting unofficial mooring balls, so take care.
Last updated: October 2017.
Related Businesses
Capella Marina at Marigot Bay

Address: Marigot Bay, Saint Lucia,

The marina now has on-site Customs and Immigration.

Primarily a super yacht marina, although some berths are allocated to smaller yachts. Mooring is stern-to with a... Read More
Courtesy Flag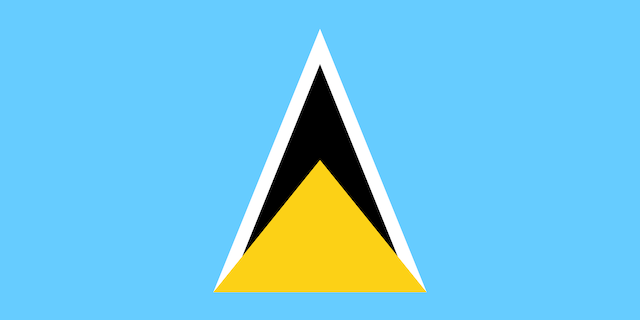 YachtFlags.com offers a discount to Noonsite members.
YachtFlags.com provides high quality courtesy flags that are manufactured in durable Knitted Polyester fabric. Knitted so that the fabric itself does not deteriorate in the constant movement that marine flags are usually exposed to, and polyester so that the flag does not weaken in the strong UV-light usually found in the main sailing areas of the world.
Use the coupon code NOONSITE_5A2B when checking out to get 10% off today.
Buy Now On YachtFlags.com
Places